Riders trade Lemon to Argos for Sewell, Gale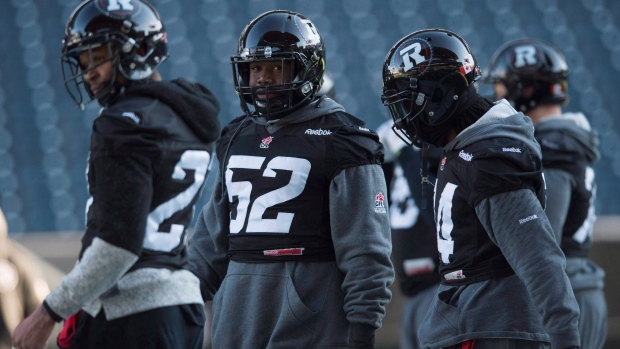 TORONTO — The Toronto Argonauts acquired defensive lineman Shawn Lemon and a conditional 2018 CFL draft pick from the Saskatchewan Roughriders on Saturday for offensive lineman Matt Sewell and quarterback Mitchell Gale.
Lemon signed with Saskatchewan as a free agent in January after spending part of last year with the Ottawa Redblacks.
The six foot two, 251 pounder had 15 defensive tackles and six quarterback sacks in nine games with the Redblacks in 2015. He also forced three fumbles and had two tackles for a loss as Ottawa reached the Grey Cup.
Lemon played an integral part of the Calgary Stampeders' Grey Cup win in 2014 when he suited up in 18 games and registered 26 defensive tackles and 13 sacks.
Sewell, 26, was selected eighth overall by the Argonauts in the 2013 CFL draft and is in his third professional season. The former McMaster Marauder has played in 35 regular season games.
Gale is 9-for-29 passing for 100 yards and two touchdowns in 33 regular season games. The 26-year-old also ran for 91 yards and a touchdown on 33 carries.
Toronto also signed defensive lineman Joshua Watson to its practice roster. Watson spent training camp with the Argos in June and had 148 tackles over four seasons with the Clemson Tigers of the NCAA.
Toronto defeated the Roughriders 30-17 in Week 2 CFL action on Thursday.