Rielly, Hanifin on the road to NHL stardom
Toronto Maple Leafs' third-year defenceman Morgan Rielly and Carolina Hurricanes rookie blueliner Noah Hanifin have had their share of ups and downs this season, which, as TSN's Mark Master writes, is all a part of their paths to stardom.
Mark Masters, TSN.ca Staff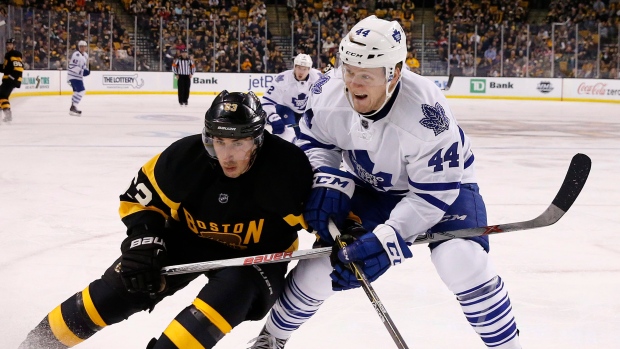 TORONTO – There have been many ups and downs for Morgan Rielly this season. Last week, the young Toronto Maple Leafs defenceman helped hold the NHL's leading scorer, Patrick Kane, mostly in check at even strength while potting his fifth goal of the season against the surging Chicago Blackhawks. But, on Tuesday, Rielly's turnover on a rush into the offensive zone led to Philadelphia's tying goal in the third period.
"A play that I want back," Rielly admitted. "I mean, if I could do it again I would just put the puck on net, but he [Shayne Gostisbehere, who intercepted the pass] made a good read."
Rielly and head coach Mike Babcock didn't have any discussion about the play. They didn't have to. Rielly knew exactly what went wrong.
"Obviously, he's got work to do on his game," Babcock said. "He's still got to improve a lot in the D zone and he's getting better and he's shutting down more plays. At the same time, we've got to get him to be better offensively, when to go and when not to go … He's like all kids, trying to get better."
Rielly wants to be considered an elite defenceman in the NHL one day. In a season where the results on the ice are secondary to the development of the younger players, Rielly's pursuit of that lofty goal has been a key area of intrigue and promise for the Maple Leafs.
Babcock has matched Rielly and veteran Matt Hunwick against the other team's top forward lines since early in the season. It's been a challenge, but one Rielly has embraced.
"There's lots of room to improve, for sure," said Rielly, who will turn 22 in March. "Playing against the top guys, you have to be ready every night. You've got to learn every night and get better. And that's the most important thing for me moving forward is to be ready every night, to be ready to play against those top guys."
Rielly believes he has taken the biggest strides this season when it comes to playing in his own end. "Just defensive awareness," he said. "Mike's been good about that. Boxing out is a term that he uses a lot. But I have a long way to go and a lot of things to improve on."
Babcock was asked what will be the biggest challenge for Rielly as he tries to develop into a No. 1 defenceman.
"Learning the game, learning the players you're playing against and learning when to go and when not to drift and how to box out and when to make a play and when to go off the glass and how not to turn it over, all those things," Babcock said.
The coach stressed that Rielly's development arc is really not much different than that of emerging stars on other teams.
"There are lots of great players. We like them all on the other team because all we see is the good things they do, but all their coach sees is all the turnovers they make and all the times they get caught on the wrong side and all the bad [stuff]," Babcock noted. "That's just hockey."
So patience and experience will be very important. Babcock spoke earlier in the season about keeping Rielly and fellow smooth-skating defender Jake Gardiner "in the barn" until the team gets more comfortable playing his system.
"He just wants us to do what's best for the team," Rielly explained. "I don't think it's a matter of being on a leash, I think it's a matter of playing the right way and I think we've been able to do that for the most part. There's times when he'll come down and have a conversation with us, but it's just a matter of trying to help the team. If we're down, he wants us to get going and join the rush. If we're up, he wants us to protect the lead."
Babcock has made it clear that Rielly is a key part of the long-term plan in Toronto. And nurturing such an asset is important.
***
The Carolina Hurricanes are going through a similar process with their group of young defencemen. Head coach Bill Peters is icing three rookies on the blueline most nights, including Noah Hanifin, picked fifth overall in last June's draft.
"There's growing pains and Smitty [assistant coach Steve Smith] has done a good job with video and one-on-one meetings and making sure they know if they make a mistake they're going right back out there," said Peters, an assistant with Babcock in Detroit, who will also work with the Leafs' bench boss at the upcoming World Cup of Hockey.
"We expect them to make some mistakes, but we expect them to learn from their mistakes and not repeat the same mistakes more than once, twice or three times. Their compete level has gotten better, but there's still room for growth."
Hanifin got a rude welcome to the NHL this season. On his first shift in his first preseason game against the Pittsburgh Penguins, Hanifin pinched along the boards in the offensive zone, only to watch Phil Kessel chip it by him to spring Sidney Crosby for a breakaway. It was one of many learning experiences.
"I've grown a lot as a player and as a person," Hanifin said. "I've learned what it takes to be a professional athlete and the sacrifice required. When you first step into the league you're playing against superstars you grew up watching and it can be a little weird, but you settle in after a while."
Young defenders tend to give other team's stars too much respect.
"You need the confidence to be gapped up against good players," Peters said. "The first time they play against an Alexander Ovechkin or a Vladimir Tarasenko or a Nicklas Backstrom or an Evgeny Kuznetsov, just to have your ability to trust your skating. If you give those skill guys too much room that's when you really get exposed and beat with guys heading east-west."
Rielly has seen his power-play time limited this season as the Leafs coaching staff wants to keep him focused on the defensive side of the game. Peters has also been wary of overburdening Hanifin, an 18-year-old who was playing high-school hockey a couple years ago.
"Early in the year we put him on the power play and it didn't go as well individually or team-wise as we would've wanted, so we took him off it," Peters explained. "We put him back on three or four weeks ago and he's been real good on it and that's the growth in his game."
Hanifin, who said dealing with the physicality that comes with an 82-game schedule has been a big challenge, has also sat as a healthy scratch three times.
"And he will be (a healthy scratch) again," said Peters. "What happens to those young guys is they hit the wall. You see it, I see it, they know it. They won't admit it, but you see their energy levels flailing and so we'll take a guy out and freshen him up a little bit. It happens."
It's all part of a journey. A journey that Rielly and Hanifin are hoping ends in NHL stardom.