Rielly: Leafs 'D' takes criticism a little personally
TSN Toronto reporter Mark Masters checks in daily with news and notes on the Maple Leafs. The Maple Leafs practised at MasterCard Centre on Monday.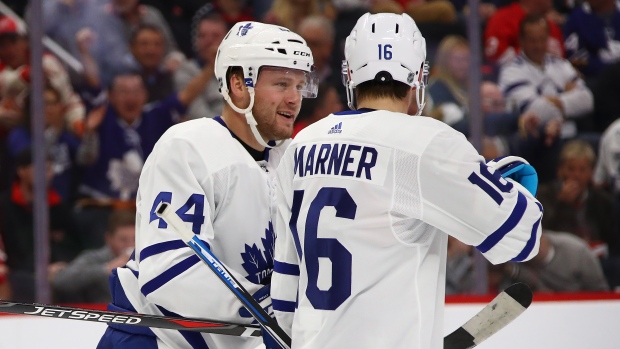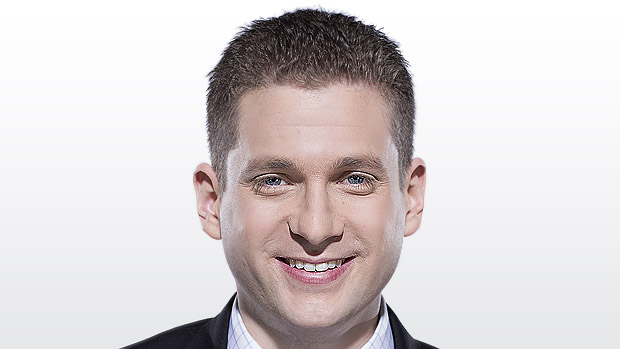 TSN Toronto reporter Mark Masters checks in daily with news and notes on the Maple Leafs. The Maple Leafs practised at MasterCard Centre on Monday.
---
After Saturday's ​big win in Pittsburgh, Mike Babcock was asked about the play of​ Morgan Rielly, who is leading all NHL defencemen with six goals and 18 points. And while the offensive explosion is impressive, the Maple Leafs coach chose to highlight a different contribution.
"There's no one who likes being a Leaf more on our team than Morgan and he provides leadership that way," Babcock told reporters. "He's got unbelievable enthusiasm every day and a zest for life and he shares that with the guys."
Did Rielly hear about the comment?
"Yeah, I did," he said with a shrug. "I think he was just in a good mood, because we won."
But Babcock reiterated the sentiment after Monday's practice.
"He comes in here every day fired up," Babcock said. "And you know people like that and you know people who aren't and who do you want to hang out with?"
So, where does this boundless energy come from?
"It's just nice coming to the rink every day," Rielly said. "It's a pretty good job and I think we should appreciate it and do our best to have a good attitude."
—-
Asked if he's feeling more confident this season, Rielly starts shaking his head.
"I feel fine," he said. "We play well as a group and that tends to reflect kindly on individuals and that's about it."
Rielly always seems to downplay his personal accomplishments even with his teammates, who will often give him a hard time about his modesty.
"We call him, 'Big Dog,' or different nicknames," revealed Jake Gardiner, Rielly's old roommate. "He doesn't like it too much. I don't think he loves the attention that he's leading the league, but he's playing so well he deserves it."
Whether Rielly wants to admit it or not, he certainly seems to have found another gear this season.
"His confidence has gone through the roof," gushed 21-year-old defenceman Travis Dermott.
Another example came on Saturday night in Pittsburgh when Rielly jumped into the rush to score the game's third goal midway through the second period.
"You have no idea how he ended up with a breakaway or half breakaway, but he saw his opportunity and went and read it perfectly," marvelled Dermott. "I don't know if I'd be jumping up at the start of the rush but, I mean, if he has confidence in himself that way then hopefully I can get that one day as well."
Rielly started the play in his own end with a quick pass to Kasperi Kapanen in the neutral zone before skating hard up the ice and into the offensive zone.
"He was coming through with speed there," observed Mitch Marner. "He saw the puck was on the right side and the left side was open so he got in the hole there."
"That just shows the confidence he has," said Gardiner. "Obviously, he had the ability the whole time, but he's brought his game to a new level, I think. Every time he has the puck, I would say 98% of the time he's making the right play."
Rielly finished this particular play with a beautiful shot that went in off the post.
"He hasn't missed his chances when he's had them either so that's going to give him confidence," noted Marner.
It was John Tavares who fed Rielly on the goal and the presence of the reliable two-way centre contributed to the defenceman's read on the play.
"Just a good play by Johnny," Rielly recalled. "I mean, you know who you're out there with and he's able to make plays and is responsible defensively so when he's the guy with the puck you feel a bit more comfortable with it, for sure."
Rielly is averaging 3.3 shots per game this season up from 2.4 a year ago.
While Rielly is reluctant to talk about his own play, it's clear he feels a responsibility to the group as a whole. And he is well aware that much of the chatter around the team in the off-season was about whether this defence is good enough to contend.
"We all take it a little personally," Rielly admitted. "There's lots of talk about our D corps needing to improve and as players we went home and worked hard all summer and made sure in training camp we were ready to go."
The 24-year-old has already been an alternate captain for a couple seasons in Toronto and seems increasingly comfortable in the role. Marner notes that Rielly is often the guy organizing dinners during road trips.
"All of us that came in my first year, he took us in right away and made us feel a part of the team and he still does that," Marner said. "He still brings us in and makes us feel a part of that family. It's a special talent he's got."
"He's always happy," said Dermott of Rielly. "He's not a guy who will show up upset about practice or not wanting to be here so it's great seeing him every day with a smile on his face and ready to come to work. That's a great trait to have in a leader."
Rielly is also taking a leadership role when it comes to community initiatives. For example, he's the face (pardon the pun) of the team's Movember campaign.
"I think it's important," Rielly said. "When you play for this team, you get opportunities to be part of this community and do things that can help."
Rielly also confirmed he's looking to expand his role in the community moving forward. So, it's shaping up to be a big year for him in more ways than one.
"It's nice seeing that," said Marner when asked about Rielly's growing confidence. "It should be a special year for him."
—-
In recent social media posts, Marner has been using a goat emoji – in reference to the Greatest of All-Time acronym – to refer to the 39-year-old Patrick Marleau.
"He's the GOAT," Marner explained nonchalantly after Monday's practice. "There's no question about it. He's the Tom Brady of hockey. I mean, he's an unbelievable guy. He does a lot for us in this locker room ... he's a special talent on the ice. You see how he moves out there. He still looks like he's 20. It's a lot of fun being around him and joking around with him."
After a slow start, Marleau is beginning to heat up with goals in consecutive games. Saturday's tally was Marleau's 538th moving him into a tie with Keith Tkachuk for 32nd on the all-time list.
Marleau is due to enter the top 10 on the career games played list later this season.
"Probably the most humble guy I've met," said Gardiner, "for a guy who's played almost 1,600 games."
Considering his understated nature, how is Marleau liking his new nickname? 

"He doesn't like it too much," Marner admits. "But it doesn't stop us from calling him that. So, he's the GOAT."
—-
The Leafs actually outscored the Penguins talent-rich power play in Saturday's win. Zach Hyman posted the club's first shorthanded goal of the campaign late in the third period while Toronto killed off all five Pittsburgh man advantages.
"When we get our feet moving and breaking up the other team's breakout it's pretty frustrating for the power play," Marner explained. "We made it hard on them to get out of their zone and when you do that to a team it really frustrates them. It starts on the first power play against. We were ready to go for that first PK."
Marner, who's getting consistent penalty-kill minutes for the first time in his NHL career, had a couple chances to score shorthanded.
"We're not really trying to get too many offensive chances," the winger insisted. "We're just trying to get it down the ice and use our speed to our advantage. I think if we keep doing that we'll get chances off that."
Thanks to the performance in Pittsburgh, Toronto's penalty kill (82.5%) is now ranked eighth in the NHL and third in the Eastern Conference.
—-
Lines at Monday's practice:
Hyman-Tavares-Marner
Marleau-Kadri-Kapanen
Johnsson-Lindholm-Brown
Ennis-Gauthier-Leivo
Moore
Rielly-Hainsey
Gardiner-Zaitsev
Dermott-Ozhiganov
Marincin-Holl
Andersen
Sparks
Power play units at Monday's practice:
Rielly
Tavares-Kadri-Marner
Marleau
Gardiner
Ennis-Johnsson-Leivo
Moore^
^ Likely a placeholder for Hyman who was working with PK