Rielly's role growing as he closes Norris gap
Maple Leafs blueliner Morgan Rielly is smack in the middle of the Norris Trophy conversation this season and Toronto head coach Mike Babcock is counting on him to play an even bigger role with injuries to fellow defencemen Jake Gardiner and Travis Dermott, Mark Masters writes.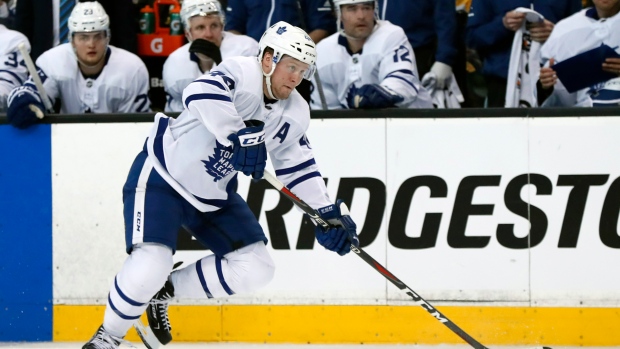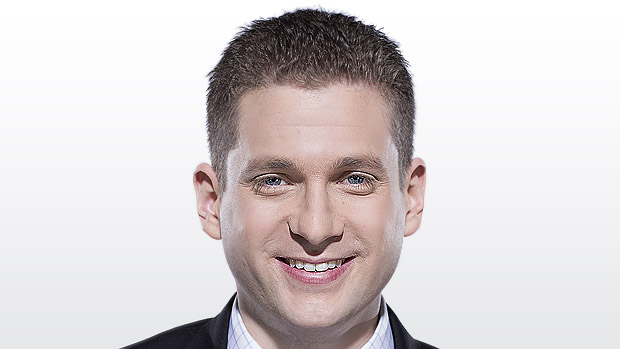 TSN Toronto reporter Mark Masters checks in daily with news and notes on the Maple Leafs. The Leafs and Calgary Flames skated at the Scotiabank Saddledome ahead of Monday's game.
With defencemen Jake Gardiner (back) and Travis Dermott (shoulder) sidelined the next few weeks, the Toronto Maple Leafs will be leaning even more on Morgan Rielly.
"We're going to need him to be special here tonight," said Leafs coach Mike Babcock. "​He's an important player for us, especially when you take Gards and Dermy out of the mix, we don't have the same kin​d of puck skill on the back end that we normally do or skating so more comes back to him, but I'm sure he'll be fine."
Rielly, who's averaging 22:49 of ice time per game, saw his minutes increase in the last two outings as he logged 23:22 against the New York Islanders last Thursday and 24:32 against the Buffalo Sabres on Saturday.
"He's an elite player," Babcock said. "To me, he's a top-10 d-man if not more in the National Hockey League, who can play with and without (the puck)."
Rielly may actually be a top-three defenceman this season as his 16 goals and 46 assists have him smack in the middle of the Norris Trophy conversation. He's never previously received a vote for the award, but his opponents tonight always saw the potential.
"I had Riels at one world championship and he was fantastic, very competitive," said Calgary coach Bill Peters. "He's got way more offence to him than people think and you're starting to see a lot of that here this year. The partner that he plays with primarily in Ron Hainsey is plus-33 so obviously they know how to play and they feed off each other."
Rielly leads all defencemen in goals and trails only San Jose Sharks' Brent Burns in points.
"I love the way he plays," Flames captain Mark Giordano said. "I met him a few times, he's a great guy, a great person, but I love the way he plays. He's an elite skater and he can get up and down the ice and that's pretty special. He's put it all together. I've always thought he was a great defenceman. I mean, maybe the numbers this year are better offensively for him, but he moves the puck well, jumps into the play and he's put it all together and is having a great year."
Monday's battle thrusts the Norris debate into the spotlight as Giordano won the mid-season vote held by the Professional Hockey Writers' Association edging out Rielly, who was the runner-up. But the Leafs blueliner wanted to keep the focus on his team this morning. After all, Calgary is the second best squad in the NHL and offers Toronto a measuring-stick moment to prepare for what lies ahead.
"It's important that we treat these last games, last month of the year, like playoff hockey and start preparing for a playoff series and that's what we've been doing," said Rielly, who already has 10 more points than he accumulated in 76 games last season.
----
Despite being more than a decade older than Rielly, who will turn 25 later this week, Giordano is closing in on his first ever Norris nomination.
"He's earned every opportunity," Rielly gushed. "He's worked hard to get to where he is and I really like watching him and I really like talking to him and he's a guy I watch a lot."
What stands out the most?
"Just how complete he is. He's really good at both ends of the ice. He's a leader, he plays physically, he joins the rush and he's dangerous."
The Flames have leaned heavily on Giordano all season and Peters readily admits it's not ideal.
"He plays in all situations," the coach noted. "We'd like to, at some point, cut his minutes back a little bit, it's just games are too tight and he makes too much of a positive impact on the game so we're not able to do that."
Giordano, who has 14 goals and 47 assists while averaging 24:41 of ice time per game, isn't concerned one bit.
"I feel fresh, I feel good," he insisted. "I don't know what it is. I think maybe I haven't been to many of the international things and tournaments like that so maybe my body, as a 35-year-old, I feel fresher and haven't had as much wear ... We're at game 65 and there's no reason to think that I'm not going to feel good going right into the playoffs."
A love for the game has certainly been a factor in Giordano's longevity.
"As you get older I think you realize, especially with the whole (Jarome Iginla) ceremony the other day, you realize how quickly it goes by and it's not going to last forever so, yeah, love being here and love being around the guys and then I have a son now who's going to be six soon so I try to get him any time (on the ice) I can on days off and let him get that feel too."
So, even though the Flames were given Sunday off, Giordano was back at the Saddledome.
"Didn't put his skates on, but had a little guy out there trying to teach him crossovers," Peters noted with a smile.
What position is Giordano's son going to play?
"Oh, he's going to be a defenceman if I have any say in it," Giordano said with a smile, "but he told me the other day he really likes to score goals so I don't know."
----
Tonight's game features Canada's top two teams in the standings and both the Leafs (won four of five) and Flames (won seven of eight) have been playing well.
"They've got a good team," Babcock said. "I like their group; their back end can really skate and really move the puck. Obviously, good depth up front and in goal and they're well-coached. They're having fun. These are top teams in the league; they're going to go at it here tonight. Both teams took yesterday off, both teams should be able to skate, it should be a fun game. We have to do our part to make sure that happens."
The Leafs (3.58) rank third in goals per game with the Flames (3.57) trailing just behind in fourth. Peters was asked to handicap Toronto's offensive weapons.
"We don't have enough time to go through the whole litany of the list," he said. "It's dangerous throughout the lineup, right. It's dangerous, dangerous, dangerous. Smart, skilled, intelligent hockey IQ in that group, real good. So we got to play the game the right way, got to get it in behind, make their D turn and establish a forecheck, but they can score throughout four lines."
The one forward Peters mentioned by name is Andreas Johnsson, who's having a breakthrough rookie season with 19 goals and 17 assists.
"I was able to see Andreas Johnsson when he won the MVP of the Calder Cup. I saw Games 6 and 7 and he was dominant there and now, all the sudden, he's finding his way here, so there's another guy and a shot-tip guy on the power play, so just relentless with the attack offensively so we got to make sure we make them spend some time in the D zone."
----
Babcock was asked what makes Mitch Marner so effective.
"He's smarter than everybody else," the coach stated. "He's got better edges so he can go faster. He's like (Pavel) Datsyuk was, he's faster with the puck than without it, but he's an elite defensive player. He can check it back as good as anybody in hockey. And, he likes hockey. When you've got great personal energy and you bring it every day, you make your teammates better around you. He's an important player for us."
Does he see similarities between Marner and fellow diminutive playmaker Johnny Gaudreau?
"For sure, I do," Babcock said. "They both have the puck a lot, they both make plays, they're wingers who drive their line like a centre would and that's what makes them special."
----
Lines at Monday's Leafs morning skate:
Forwards
Hyman-Tavares-Marner
Johnsson-Matthews-Kapanen
Marleau-Nylander-Brown
Ennis-Gauthier-Moore
Petan, Kadri
Defencemen
Rielly-Hainsey
Muzzin-Zaitsev
Marincin-Ozhiganov
Holl
Goaltenders
Andersen starts (he's 7-1-1 vs. the Flames)
Sparks
Power play units at Monday's Leafs morning skate:
Rielly
Matthews-Johnsson-Marner
Tavares
Muzzin
Ennis-Kapanen-Nylander
Marleau