Rockhold unhappy with state of UFC middleweight division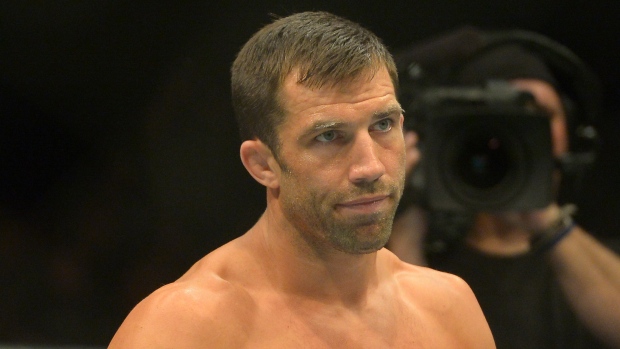 Former UFC middleweight champion Luke Rockhold had some harsh words about Georges St-Pierre, Michael Bisping and the state of the division where he used to hold the title.
"I'm ready to come back, I'm tired of what's going on, it's pretty sad to see the route they've taken and I'm ready to go back and correct the situation," Rockhold told TSN's Aaron Bronsteter at UFC 210.
Rockhold has not competed in the Octagon since his title dropping loss to Michael Bisping at UFC 199. Since that fight in June of 2016, he was scheduled to face Jacaré Souza last November, but was forced out of the bout with an krodinjury.
The former champion is perplexed by the fact that former welterweight champion Georges St-Pierre is returning to the UFC with an immediate shot at the middleweight belt, a title that Rockhold does not believe the Canadian MMA legend even plans to keep if he is successful.
"Georges isn't going to fight anyone in the middleweight division, you guys know that, we all know that," said Rockhold. "He's going to fight Bisping, he isn't going to fight any of us, he's going to go back down if he does happen to win. Great fighter, but it doesn't make any sense."
The 32-year-old even went a step further, suggesting that considering the two men Bisping has and will defend the belt against (Dan Henderson and GSP), there should be an interim middleweight bout.
"An interim title is very justified at this point, two irrelevant title fights back to back is stupid," said Rockhold. "Dan was one thing, but this is just stupid right here. An interim title is just a guarantee at a title shot, If I'm going to fight the best guys in the world, I want a guarantee that I'm going to fight for the title."
Rockhold also confirmed that he has accepted a fight with Anderson Silva for UFC 212 in Rio de Janeiro and is waiting for his opponent to make the bout official.
"This is a fight he'll have to get up for," said Rockhold. "I know I'll get excited for it and I know the fans will get excited and that's what I'm all about right now. If I'm not going to fight Yoel (Romero) or Jacare, I want the fight that's going to get me excited and this fight has been a long time coming."