Roughriders fire Chamblin and Taman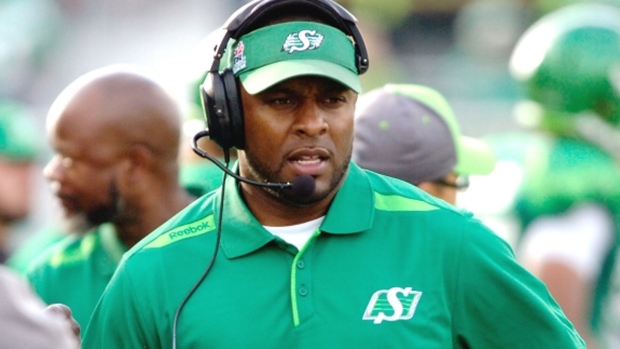 After an 0-9 start, the Saskatchewan Roughriders are cleaning house, firing head coach Corey Chamblin and general manager Brendan Taman Monday night.
Jeremy O'Day will take over as interim VP, football operations & general manager, and Bob Dyce will take over as interim head coach. A full search to fill both jobs on a permanent basis will be conducted at the end of the season.
"We are not meeting our expectations or our standards on the field and these changes were necessary to move us forward," Roughriders President & CEO Craig Reynolds said in a team release.
The 38-year-old head coach held a 29-34 record with the Riders and guided the team to a Grey Cup win in their home stadium in 2013. Chamblin also won the Coach of the Year award that same year.
He was named head coach of the Roughriders prior to the 2012 season.
The Roughriders have yet to put up a win this season and lost starting quarterback Darian Durant to a torn Achilles tendon in the second quarter of Week 1.
The Riders opened the 2014 season 8-2 under Chamblin before Durant suffered a season-ending elbow injury. The team finished 10-8 and lost in the Western Semifinal playoff game.
Chamblin has been in the CFL since working as the defensive backs coach of the Winnipeg Blue Bombers in 2007. He held the same position with the Calgary Stampeders from 2008-10, and then spent one season as defensive coordinator of the Hamilton Tiger-Cats.
He received a multi-year contract extension in March of last year.
"Brendan and Corey worked tirelessly for this organization and I thank them for all that they have done for our team," continued Reynolds. "But we are in a results oriented business and the current position of our team is unacceptable and this decision was necessary for us to build this team towards sustained success."
Taman joined the Riders in June of 2009 and built the 2013 Grey Cup championship team.
He has spent 28 seasons working in the CFL, and also held the general manager title with the Winnipeg Blue Bombers from 2004-08.
Under Taman, the Roughriders posted a 44-55 record.
He received a contract extension through the 2017 season in April of last year.