Jones, Riders refute Manziel workout report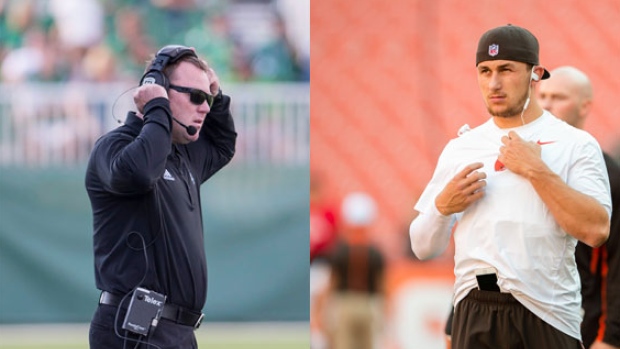 Chris Jones and the Saskatchewan Roughriders and Johnny Manziel's spokesperson are refuting a report that the team illegally worked out the quarterback.
Earlier Thursday, 3Down Nation reported the Riders worked out the former NFL quarterback in violation of the league's rules, since Manziel is on the negotiation list of the Hamilton Tiger-Cats.
The report claimed the Riders worked out Manziel ahead of the Senior Bowl on Jan. 27 without permission from the Tiger-Cats.
Jones, the head coach and general manager of the Roughriders, denied the report to TSN Senior Correspondent Gary Lawless and said the team is considering legal action against the website.
"The Saskatchewan Roughriders have not held or attended a workout involving Johnny Manziel," Jones said in a statement released by the team. "With that, I will not be commenting further on the report."
The league is currently looking into the report.
"We are investigating," CFL director of communications Paulo Senra said in a statement. "The Riders tell us that they did not work out Manziel. So at this point, it appears the report is false.
"Should other evidence come to light, we will deal with it accordingly."
Jones added a workout could not have been conducted by a team official without his knowledge.
Manziel has been out of football since being released by the Cleveland Browns after the 2015 NFL season. The former Texas A&M star appeared in 15 games for the Browns over two seasons, throwing seven touchdowns and seven interceptions.
The Roughriders were disciplined twice last season for violating CFL rules, first for roster violations ($60,000 and salary cap reductions) and then for staying on the team's midfield logo during team introductions ($5,000) less than a week later.