Rush looking for NLL Champion's Cup three-peat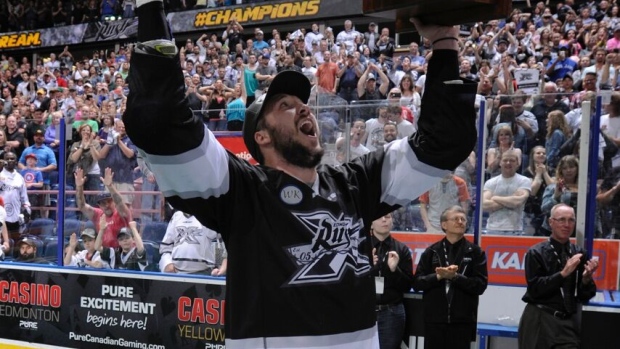 Rush goalie Aaron Bold isn't worried about the National Lacrosse League's Champion's Cup final stretching over three weekends. He's confident he and his Saskatchewan teammates will sweep the Georgia Swarm and keep it a short series.
"It'll be two weeks," Bold said with a laugh when asked about the drawn-out schedule. "Yeah, two weeks."
The Rush travel to Duluth, Ga., on Sunday for Game 1 of the best-of-three series. Game 2 will be in Saskatoon on June 10 and, if Bold's prediction is incorrect, Game 3 will be back in Georgia on June 18.
The series pits experience against youth as Saskatchewan's group of close-knit veterans looks to overcome Georgia's up-and-coming squad to capture a third consecutive title.
"We're grateful to have this opportunity," said Bold. "We're very grateful and fortunate to be in this situation because there's not a whole lot of players that get the opportunity to actually play in a championship, let alone three in a row.
"For myself, getting older, since 32 is apparently old in this league, I'm going to take advantage of these moments because I don't know how many more I'll have."
Bold was named Champion's Cup MVP last year after his 9.50 goals-against average and .825 save percentage helped the Rush to a two-game sweep of the Buffalo Bandits. A Saskatchewan three-peat will be only the second in league history, but Bold says the word "dynasty" is not used in the Rush locker room.
"I don't know if it's a dynasty, you know?" said Bold. "There's a bunch of guys that just like to play together and we're all friends on and off the floor and there's no real cliques. If the label dynasty comes into play, then so be it.
"Our mentality is being modest and humble and just playing the game."
The series will feature the two players with the top point totals in the regular season. Lyle Thompson (45 goals, 71 assists) led the Swarm and Mark Matthews (40 goals, 73 assists) is the focal point of Saskatchewan's offence.
Matthews, who was the Champion's Cup MVP in 2015 when the then-Edmonton Rush defeated the Toronto Rock in another two-game sweep, doesn't care if he draws defensive double teams if it helps Saskatchewan's cause.
"I just have to do what I can to help my team," said Matthews. "Whenever you can get personal accolades at the end of the year it's pretty cool but our goal is to win that Champion's Cup and if I have to go zero and zero for us to do that then that's fine with me."
It was announced on Tuesday that Atlanta-based rapper Ludacris, best known for hits "Stand Up," "Get Back," and "Southern Hospitality," as well being a co-star in the Fast and Furious series of action movies, would perform between the second and third quarters of Game 1.
"It's pretty sweet to have someone like that playing at halftime," said Matthews. "We won't be able to see or probably hear him, so it's kind of a bummer that way, but it will be cool for the fans. Hopefully it will bring a few more people into the crowd and get that building a little more rocking."
---
Follow @jchidleyhill on Twitter