Russia advances to World Cup semis; North America eliminated
Russia will meet Canada in Saturday's semifinal after blanking Finland 3-0 at the World Cup of Hockey. Russia's win ends Team North America's run at the best-on-best tournament. The under-23 team needed Finland to win in order to move on.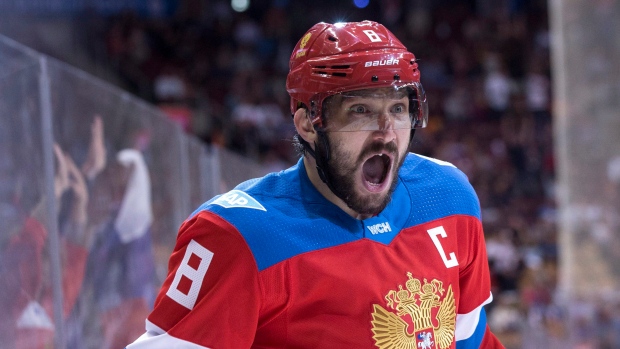 TORONTO — Vladimir Tarasenko didn't have to think hard to recall his favourite Canada-Russia clash. The St. Louis Blues sniper was part of the Russian team that beat Canada to win gold at the 2011 world junior hockey championship in Buffalo, N.Y.
Five years later, at the World Cup of Hockey, Tarasenko's game-winner on Thursday set up the latest meeting between Canada and Russia on the international stage. Russia blanked Finland 3-0 to advance to Saturday's semifinal.
"I think this is one of the greatest rivalries ever: Canada against Russia," Tarasenko said. "We know how they play because we play in Pittsburgh before. They have a really good team, good players, (the) best players in the world so we need to be good in a couple days."
Ivan Telegin and Evgeni Malkin had the other goals for Russia (2-1-0), while Sergei Bobrovsky made 21 saves for the shutout.
Finland's Tuukka Rask made 19 saves in his second loss.
The World Cup of Hockey is the first senior tournament in which Finland (0-3-0) went winless. The Finns scored just one goal in nine periods of action.
"We only scored one goal. It's not the way we want to end this tournament, but tough game," said Leo Komarov. "I'm happy for the boys, they came out and played the game. It's not fun.
"We just didn't come up to the level we could. The first game against North America was tough. It was a lot of speed there. Didn't really do the things we wanted to do."
Russia's win ends Team North America's run at the best-on-best tournament. The under-23 team needed Finland to prevail in order to move on.
Veteran Russian forward Pavel Datsyuk missed the final preliminary round game due to a minor injury. Post-game coach Oleg Znarok was uncertain of Datsyuk's availability for Saturday.
Finland nearly opened the scoring three minutes into the second period as Mikael Granlund beat Bobrovsky glove-side, but rang his shot off the post.
Moments later Tarasenko got Russia on the board finishing off a give-and-go with captain Alex Ovechkin for his second goal of the tournament at 3:42 of the second period.
"We started off well and played pretty good first period," said Finnish coach Lauri Marjamaki. "We created so many good scoring chances, but we didn't score. After penalty killing second period, we have a good scoring chance, for example, Granlund, but he (hit the) post, and then (the) goal against. And everybody understands that if you score, you get so much energy and positive thinking in your team."
Telegin, who has exhibited his shot-blocking abilities in this tournament, picked up a Vadim Shipachev feed and powered around Rask for his first of the tournament at 5:01 of the second.
Malkin scored his first of the tournament at 3:39 of the third period to give Russia some insurance.
Canada and Russia met in pre-tournament competition with the Canadians edging the Russians 3-2 in overtime.
Ovechkin is looking forward to the re-match.
"I play (in) Olympic Games in (Canada) and everybody is gonna be crazy," he said. (The) atmosphere's gonna be unbelievable. It's gonna be a great match to play, to be involved in, to be in the stands and be able to watch."
Team Europe will play Sweden in the other semifinal on Sunday afternoon.