Blackhawks even Stanley Cup final
Brandon Saad scored the winner 6:22 into the third period as the Chicago Blackhawks beat the Tampa Bay Lightning 2-1 on Wednesday in Game 4 of the Stanley Cup final. The best-of-seven series is now tied 2-2, with Game 5 set for Saturday in Tampa.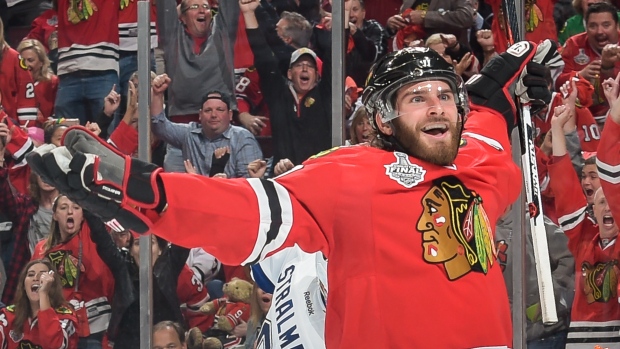 CHICAGO - Joel Quenneville forecasted the Chicago Blackhawks' best hockey was ahead of them. They didn't get it in Game 4, but gave themselves at least two more chances.
With the prospect of staring elimination in the face in a few days, the Blackhawks had what Brad Richards called their worst game in a while. But with so much on the line, their top players were at their best and they beat the Tampa Bay Lightning 2-1 Wednesday night at United Center to even the Stanley Cup final at two games apiece.
"We really wanted it, but we just kept getting in each other's way," Richards said. "The good thing is we're experienced enough and good enough that we got through it. We got big plays by different people and big saves and then we got going."
It was a showcase performance for game-winning-goal-scorer Brandon Saad, whose growth into a young NHL star is nothing new, and for "Captain Everything" Jonathan Toews, who again earned the nickname Lightning coach Jon Cooper bestowed on him.
With Saad and Toews providing the goals and Corey Crawford backstopping the Blackhawks with 24 saves on 25 shots, they improved to 41-14 in Games 4 through 7 under Quenneville.
"The big guys always want that pressure on their shoulders," said forward Patrick Sharp, who assisted on Toews's career-high 10th playoff goal. "They want to make a difference. I think that's why we're a successful team. Those guys love those moments."
The moments will only get bigger as the series shifts back to Tampa for Game 5 Saturday.
On Wednesday night the Blackhawks looked hesitant from the get-go. The Lightning pulled a surprise by starting rookie goaltender Andrei Vasilevskiy with Ben Bishop out with an undisclosed injury, but Chicago put only two shots against him in the first period.
Vasilevskiy settled in and finished with 17 saves.
"I thought he was our best player," Lightning defenceman Jason Garrison said. "He kept us in it."
But the playoff-tested Blackhawks pushed, took the lead when Toews scored and reclaimed it in the third after Alex Killorn beat Crawford. Saad's winner came 6:22 into the third period when he got the puck back off Vasilevsky's blocker and backhanded it in.
"I was really pretty lucky," Saad said. "I just tried to get some wood on it and get it to the net and found a way through his legs."
Saad's goal stood up as the game-winner only after a flurry in the final minutes. The Lightning got four shots on net in what Andrew Desjardins called a "scrambly" situation, and the best opportunities came from Steven Stamkos.
Tampa Bay's captain had a point-blank shot from in front that Crawford stopped and then had a wide-open net staring at him. Blackhawks defenceman Brent Seabrook got a piece of the shot to send it wide.
"A couple of times guys almost had their hands in the air," Stamkos said. "That's the way it goes. You can't ask for a more eventful minute and a half in a six-on-five situation. That's exactly what we want. Just didn't go in."
Crawford made some of his most important saves in those final minutes and was the player of the game in Quenneville's opinion. For all the criticism he has taken in the series, Crawford bounced back in a big way.
"Call it a goalie win," Quenneville said. "Loved how he battled."
Call it a goalie win or call it a necessary win for the Blackhawks, who again showed off the polish of champions to make this a best-of-three series.
"It's good for our morale in here too, get our spirits up and get a smile on our faces," defenceman Niklas Hjalmarsson said. "This team gets pretty miserable losing games, and a lot of pissed-off faces around here.
"We can have a smile on our faces tomorrow and start thinking about Game 5 again."
Notes — Cooper said Bishop would play again in this series, "no question," but added he didn't know which game. ... Blackhawks defenceman Kimmo Timonen made his series debut after being a healthy scratch for five straight games. He replaced Kyle Cumiskey, and forward Kris Versteeg went in for Bryan Bickell. ... Jonathan Drouin was scratched again as the Lightning went with 11 forwards and seven defencemen.
---
Follow @SWhyno on Twitter