Sabres beat Red Wings for 9th straight win
Sam Reinhart and Tage Thompson scored in a seven-round shootout to give the Buffalo Sabres their ninth consecutive victory, 3-2 over the Detroit Red Wings.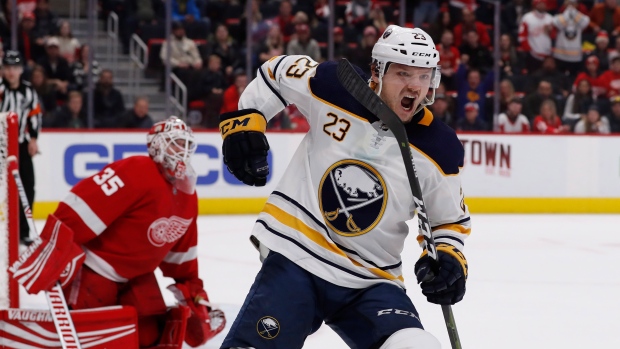 DETROIT — The Buffalo Sabres continue to find ways to win.
Sam Reinhart and Tage Thompson scored in a seven-round shootout to give the Sabres their ninth consecutive victory, 3-2 over the Detroit Red Wings on Saturday night.
Buffalo (16-6-2) is one win away from its franchise record of 10.
"I think during this streak you can look at it and see how many different heroes we've had," said Sabres star Jack Eichel, who had an assist. "There are guys stepping up in key situations. You've got Tommer (Thompson) going out for the shootout and putting on an incredible move. Linus (goalie Linus Ullmark, who made 35 saves) stepping in and playing out of his mind, making huge saves.
Jeff Skinner and Thompson scored for Buffalo in regulation.
"I think first of all, I have to give credit to our guys, and that's everybody that's played through these six games in nine nights," Sabres coach Phil Housley said. "It has been a grind and the guys continue to find energy and ways to win hockey games. It wasn't pretty, it was sometimes sloppy, but we found a way to win."
Dylan Larkin, Anthony Mantha scored for Detroit, and Jimmy Howard stopped 33 shots. Andreas Athanasiou scored in the shootout for the Red Wings.
"We had enough chances to win the hockey game for sure," Detroit coach Jeff Blashill said. "We got to score on our chances. When you get that many breakaways you got to find ways to score."
Ullmark denied Mantha, about eight minutes into the second period, and Larkin, a little over six-and-a-half minutes into the third, on breakaways.
"I give a lot of credit to Linus. For him to make those huge breakaway saves was great," Housley said.
Mantha tied it at 2, with 6:28 left in the third. He poked in the rebound off the goal post. It was Mantha's seventh goal and came four seconds after a Detroit power play ended.
Thompson gave the Sabres a 2-1 lead 7:40 into the third period with a power-play goal on a one-time slap shot from the left circle. It was Thompson's third goal.
Larkin tied it at 1, 53 seconds into the second period when his harmless-looking wrist shot from the outside of the left circle along the boards from a bad angle went in off Ullmark. It was Larkin's ninth goal.
Skinner's power-play goal 3:37 into the game gave Buffalo a 1-0 lead. He put in the rebound, of a shot by Eichel, from the slot. It was Skinner's league-leading 18th goal and his fourth in three games.
Ullmark was forced to make an unexpected spectacular reverse pad save when a dump in from the neutral zone took a weird bounce in the left circle and was headed for the empty net as Ullmark came out to play the puck.
NOTE: Buffalo was without C Patrik Berglund because of an upper-body injury. ... Detroit was without D Jonathan Ericsson (undisclosed) and Darren Helm (upper body).
UP NEXT:
Sabres: Host San Jose on Tuesday night.
Red Wings: Host Columbus on Monday night.