Sabres' Beaulieu: 'I'm pretty frustrated'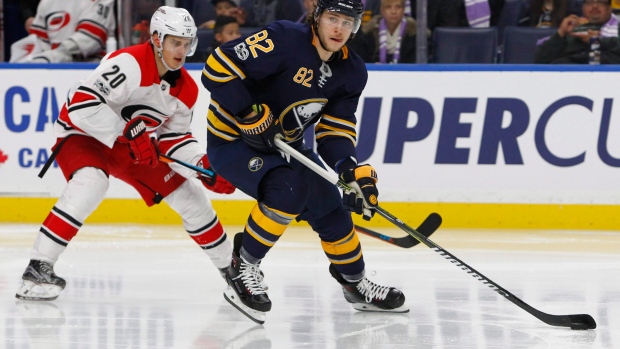 It's been more than a month since Nathan Beaulieu's agent, Kent Hughes, said the Buffalo Sabres defenceman would prefer to be traded if his role did not change with the team.
Beaulieu has dressed in just one game since Hughes spoke to The Associated Press on Jan. 16 to clarify that he hadn't formally requested a trade. The 26-year-old admitted Monday he's unhappy in Buffalo.
"I'm not going lie. I'm pretty frustrated. I don't really know what to tell you," Beaulieu told the Buffalo News.
"It's important for me to keep grinding away here. Time is ticking. There's not many games left and you want to get in as many as you can. But it's tough. You try to stay in shape and practise hard. It's tough but part of being a pro. I have to make the most of the situation I'm in."
Beaulieu is in his second season with the Sabres and played in 59 games with the team last year, posting one goal and nine points with a minus-19 rating. Through 27 games this season, he has three goals and seven points with an even rating.
When he has entered the lineup, he's averaged 14:46 of ice time per game and Beaulieu said he believes he's worthy of a bigger role with the team.
"Of course, I think I should be in the lineup every night," Beaulieu said. "But that's just me as a player being competitive and that's how we are. It's a difficult spot. Call it what you want. I don't really know what it is. I'm just trying to be a pro here."
The former Montreal Canadiens defenceman carries a $2.4 million cap hit this season and is scheduled to become a restricted free agent - with arbitration rights - in July. He said Monday he'll miss his teammates in Buffalo if he is moved ahead of next week's deadline.
"I've come to love these guys in this locker room and the biggest thing for me is to work hard," Beaulieu said. "Guys on this team can look to me as a leader. I take pride on being a good teammate and it's something I've worked hard at even though I never expected to be in this situation. When you're dealt a hand, you kind of just have to play it."
Beaulieu has 11 goals and 76 points in 311 career games with the Canadiens and Sabres.