Sabres end 14-game skid with win over Canadiens
Former Canadiens captain Brian Gionta got the game-winning goal as the Buffalo Sabres ended a 14-game losing streak with a 3-2 victory over Montreal on Tuesday night. Gionta's goal capped a three-goal first period for the Sabres (15-33-3), who won three of four meetings with Montreal (32-15-3) this season.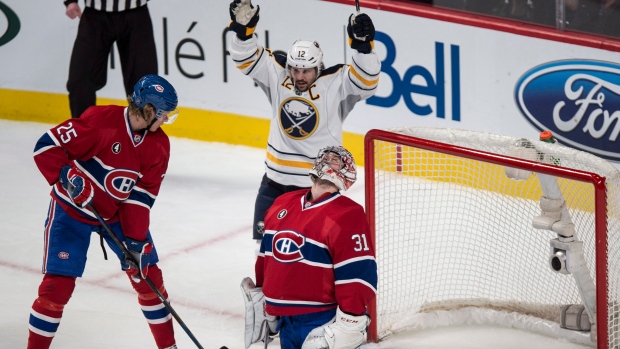 MONTREAL - The long drought is over for the Buffalo Sabres.
The Sabres scored three times in the opening period and Jonas Enroth made 32 saves in a 3-2 victory over the Montreal Canadiens that ended a franchise record 14-game losing streak on Tuesday night.
Players raised their arms in triumph as they gathered around Enroth after the team's first victory since a shootout win Dec. 27 against the New York Islanders and a first regulation time win in 21 games since a 4-3 effort on Dec. 11 against the Calgary Flames.
"I hope it allows us to relax a bit," said Buffalo defenceman Josh Gorges. "Just go out and play. Not think about all the bad things that could happen. Just go out there and play the game, have some fun doing it and, hopefully, get some confidence back."
Former Canadiens captain Brian Gionta, who signed with Buffalo last summer, got the game-winner late in a three-goal first period for the Sabres (15-33-3), who remain last overall in the NHL. Drew Stafford and Matt Moulson also scored.
Brandon Prust and David Desharnais replied for the Canadiens (32-15-3), who lost a second game at home in a row.
Montreal had a 34-18 shot advantage.
In Buffalo's post-game dressing room, the mood was of relief.
"It's been a frustrating couple of weeks, no doubt," said Gorges. "We've had games where we play well in spurts, but then we'd always find a way to beat ourselves.
"We had mental lapses that cost us. And when you get in those situations you become a bit of a fragile team, especially as young as we are. Any time adversity hit during a game we seemed to crumble. So to get this win takes a bit of weight off us."
The Sabres won three of four meetings and took seven of eight points from Montreal this season.
"For some reason we played well against them this year," said Gionta. "But at this point, it was more about getting the win and getting on the right track. It definitely feels good."
The Sabres were three losses short of the NHL record for consecutive defeats set by the 1974-75 Washington Capitals and 1992-93 San Jose Sharks.
The Canadiens, coming off a 3-2 loss at home to Arizona, are struggling on attack with only six goals in their last four games, two of which were 1-0 wins thanks to shutouts by Price.
"One game, one line is hot and the next game, it's another line, but we'd like to score more goals," said centre Lars Eller. "The bottom line is that most of the time, we've found ways to win games even if we haven't been scoring a lot.
"That's a good thing, but when you lose, it stands out more."
The game was only 5:21 old when Stafford was left alone in front and scored on his second whack at the puck to put Buffalo ahead. It ended Price's shutout streak at 158 minutes 24 seconds.
Prust came out of the penalty box, knocked down Tyler Myers and then finished a two on one with David Desharnais to tie it at 8:15.
But Moulson was alone in front to spin and beat Price between the pads at 14:53 and then Gionta had a pass go in off defenceman Nathan Beaulieu's skate at 19:19.
Desharnais was right on the doorstep to bang in a Dale Weise feed 4:20 into the third frame.
"We weren't alert on our defensive assignments at the start," said Montreal coach Michel Therrien. "It wasn't a lack of effort, it was a lack of focus."
The Sabres ended a four-game road trip and start a five-game homestand Thursday against St. Louis. The Canadiens next play at home Saturday against New Jersey.
Notes: Price allowed more than two goals for the first time since Jan. 6. Before that, it was Dec. 6. . . Jacob de la Rose made his NHL debut for Montreal and took a regular shift on the third line.