Sabres fire Nolan after last-place finish
The Buffalo Sabres fired head coach Ted Nolan and all of his top assistants on Sunday. Nolan was let go just 17 months into his second stint with the franchise but after the Sabres finished with the fewest points in the NHL for a second year in a row. Nolan went 40-87-17 as Buffalo's coach over the last two seasons.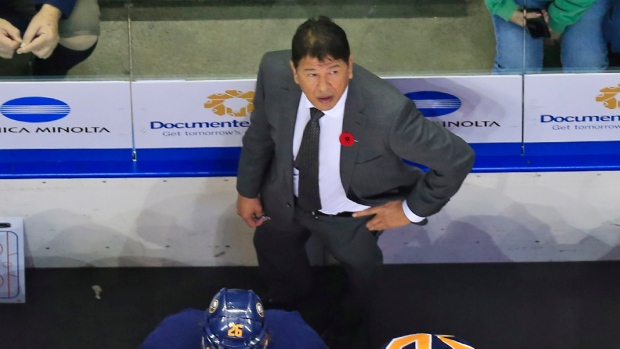 BUFFALO, N.Y. - Two last-place finishes and an imperfect working relationship led Sabres general manager Tim Murray to the conclusion to fire coach Ted Nolan on Sunday.
The decision was made after a lengthy evaluation which ended with Murray's exit interviews with Sabres players, a day after Buffalo (23-51-8) closed its season with a 2-0 loss to Pittsburgh.
"I don't think it was a bad fit. I don't think it was a great fit," Murray said. "Maybe it's just chemistry. Maybe it's just two different personalities."
Murray also felt the move to fire Nolan, a little more than a year after the coach signed a three-year contract, was needed to improve a team in the midst of a rebuilding process.
"I know this isn't a popular thing," Murray said. "To me, it's about getting better. I feel this was an opportunity for us to improve and keep improving. And that's certainly no disrespect to Ted."
Nolan was in good spirits but declined comment when reached by The Associated Press. "I'm just going to reflect on it and come out with a statement in the next couple of days," Nolan said.
Nolan is out for a second time in Buffalo, after he spent two seasons coaching the team in the mid-1990s. Nolan's first tenure ended after winning NHL coach of the year honours in 1997. He left while feeling disrespected by then-GM Darcy Regier, who offered Nolan a one-year contract extension.
Nolan returned to Buffalo on an interim basis in November 2013 when Ron Rolston was fired as part of a front-office shakeup. Regier was fired at the same time, and former Sabres captain Pat LaFontaine was brought in as president of hockey operations.
LaFontaine then hired Murray in January, before stepping down abruptly after a little more than three months on the job. Nolan lost his biggest backer in LaFontaine. Murray provided the coach an opportunity by signing him to a contract extension despite having no previous working relationship with Nolan.
"We said we hoped it would work, and we would try to make it work," Murray said. "There were no big fights or arguments or anything like that. There might have been a somewhat lack of communication, and that's as much on me as him."
The Sabres are searching for their third coach since Lindy Ruff was fired a month into the NHL's lockout-shortened season in February 2013.
Murray said he has no timetable on when he intends to hire the next coach. He is also willing to wait for potential candidates on current playoff contenders in order to cast as wide a net as possible.
"Certainly, in a perfect world it would be somebody that we have a good relationship, and respect each other and communicate with each other if not every day but on a regular basis," Murray said.
One potential candidate is former NHL defenceman Luke Richardson, who is in his third season coaching the Ottawa Senators' AHL affiliate in Binghamton, New York. Murray previously served as the Senators assistant GM and worked closely with Richardson.
The Sabres are entering a critical phase of their lengthy rebuilding process this off-season. The team is guaranteed having no worse than the second pick in the draft in June. That puts Buffalo in a position to land one of two highly prized centres: Erie Otters' Connor McDavid or Boston University's Jack Eichel, this year's Hobey Baker winner.
Murray acknowledged Nolan was placed in "less than ideal circumstances" taking over a team rebuilding from scratch, and featuring as many as nine players who opened the season in the minors.
"I hope that he moves on and finds a fit that's better, a fit that suits his style and I hope he flourishes from that," Murray said.
Overall, Nolan went 40-87-17 over the past one-plus seasons.
Nolan had difficulty putting together his coaching staff last summer, and failed to bring in a proven defensive-minded assistant to groom Buffalo's young core of defencemen, who struggled with consistency this season.
Three of Nolan's assistant coaches also won't be returning. Hall of Famer Bryan Trottier and Tom Coolen's contracts were not renewed, and Danny Flynn was fired, the team announced.
Murray did retain goalie coach, former NHLer Arturs Irbe, who has one year left on his contract. Murray credited the work Irbe did handling the Sabres goalies this season, saying it earned him an opportunity to be considered for the job by the next coach.
Nolan also coached the New York Islanders before being fired after his second season in 2008. In his first year, New York went 40-30-12 to make the playoffs.