Sabres' O'Reilly out 3-4 weeks with LBI
Buffalo Sabres leading scorer Ryan O'Reilly will miss three to four weeks with a lower body injury. Coach Dan Bylsma provided the update following a 4-3 loss to Pittsburgh on Sunday. O'Reilly did not play and was hurt in a 4-0 win at Columbus on Friday.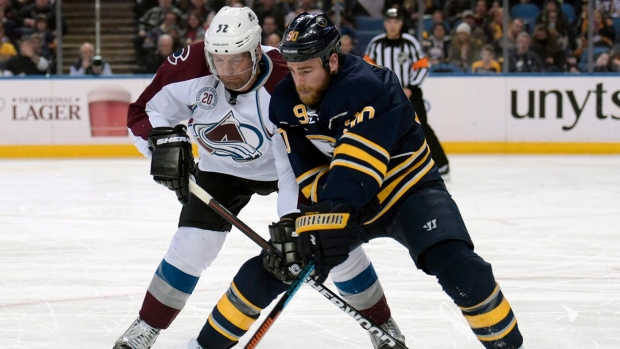 BUFFALO, N.Y. - Coach Dan Bylsma and the Buffalo Sabres are going to find out just how difficult it'll be to play without top-line centre Ryan O'Reilly over the next month.
"He's your No. 1 guy, and that's something you can't replace," Bylsma said following a 4-3 loss to the Pittsburgh Penguins on Sunday.
O'Reilly did not play against Pittsburgh, and Bylsma announced following the game that the top-line forward will miss three to four weeks with a lower body injury.
Bylsma did not reveal the exact nature of the injury after O'Reilly was hurt during a 4-0 win at Columbus on Friday.
The injury presents a big blow to a team that had been finding its chemistry. The Sabres had a 3-0-1 streak snapped and had been 5-2-3 in their previous 10 games.
Buffalo hits the road for a three-game West Coast road trip that opens at Anaheim on Wednesday.
O'Reilly plays a key role in every element of the Sabres game plan, including special teams and faceoffs. Buffalo's lone All-Star game representative, O'Reilly leads the team with 49 points and Sabres forwards in averaging nearly 22 minutes of ice time through 59 games this season.
Bylsma noted that O'Reilly's absence was apparent in a game the Sabres unraveled by giving up three straight goals and falling behind 4-1 after outplaying the Penguins in the first period.
"We needed someone to step over the boards and take control of the game in that second period," Bylsma said. "And it's got to be one of our players now currently on our team."
Bylsma specifically placed the emphasis on rookie forwards Jack Eichel and Sam Reinhart, who will shift to centre, and forward Johan Larsson. To fill O'Reilly's spot, Buffalo recalled rookie forward Justin Bailey from AHL Rochester.
Buffalo acquired O'Reilly in a multiplayer trade with Colorado in June and soon after made him their top-paid player by signing him to a seven-year, $52.7 million extension.
The Sabres are already playing minus forward Tyler Ennis, who remains out indefinitely after having already missed 23 games with a concussion.
Defenceman Cody Franson's status is uncertain after he missed his first game since sustaining a neck injury against Columbus.