Sanchez, Stroman remain vital to Blue Jays rotation
There's upside to some of the young arms battling to earn a spot this spring, but the key to Toronto's rotation is still two pitchers who have shown flashes of brilliance in the past, Scott Mitchell writes.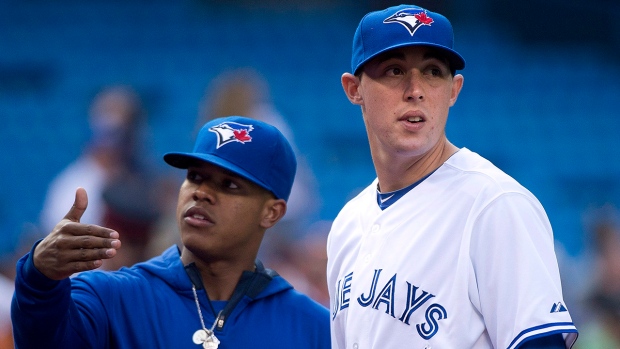 DUNEDIN, Fla. — Ross Atkins didn't pull punches this winter when talking about his off-season to-do list.
Starting pitching was a clear priority for his Toronto Blue Jays.
In order to satisfy that need, Atkins went out and signed veteran right-hander Matt Shoemaker, and traded for veteran lefty Clayton Richard and young righty Trent Thornton.
While the added depth is a bonus and there's upside to some of the young arms battling to earn a spot this spring, the key to the Jays' rotation in 2019 is still the two men who have shown flashes of brilliance already: Marcus Stroman and Aaron Sanchez.
Coming off a career year in 2017, Stroman was dogged by shoulder inflammation early in 2018 and then blister issues late, which never fully allowed him to find a groove.
Stroman finished with a 5.54 ERA, but the 3.91 FIP and a low strand rate suggest there are better days ahead … if healthy.
Sanchez knows all about that caveat.
It's now been almost 29 months since the California native pitched the Blue Jays into the 2016 playoffs on the final weekend of the regular season in Boston, but the Sanchez camp is optimistic finger surgery last September has him on the right track heading into spring training.
Pitching coach Pete Walker has already been closely monitoring both of them.
"Health is a primary focus at this point," Walker said Wednesday as players started showing up at Dunedin Stadium for medicals. "Obviously, Sanch and Stro, coming off the years that they had with some issues, but right now they look great and they're feeling good. Very excited about watching their 'pens so far and the way the ball is coming out. So early indications are very positive and I'm real excited about that."
Here's a look at how the rotation stacks up as pitchers and catchers officially report for work Thursday:
ROTATION
1. RHP Marcus Stroman
2. RHP Aaron Sanchez
3. RHP Matt Shoemaker
4. LHP Ryan Borucki
5. LHP Clayton Richard
Health permitting, the top three are set.

You can probably extend that to four because it would take a spring implosion from 24-year-old lefty Ryan Borucki for him to be left off the opening-day roster, but the front office wants him to earn his rotation spot.
After giving up prospect Connor Panas to get him, 35-year-old southpaw Clayton Richard is the leader in the clubhouse, so to speak, when it comes to the fifth and final spot, but that could change over the next six weeks.
Richard, who could easily shift to a bullpen role, will be pushed by a number of young arms that you'll see listed below, led by the likes of Thornton, Sean Reid-Foley, Thomas Pannone and Sam Gaviglio.
Acquired from the Houston Astros in exchange for Aledmys Diaz, Thornton and his exceptional spin rates are something to keep an eye on this spring.
TRYING TO IMPRESS
RHP Trent Thornton
RHP Sean Reid-Foley
LHP Thomas Pannone
RHP Sam Gaviglio
RHP Jacob Waguespack
RHP Julian Merryweather (Elbow: Questionable to start season)
RHP T.J. Zeuch*
RHP Hector Perez
RHP Patrick Murphy
RHP Yennsy Diaz
*Not on 40-man roster
If everything goes according to plan, these names, for the most part, will be making up the Triple-A and Double-A rotations in Buffalo and New Hampshire, respectively.
There's also a chance one or two of them end up in the bullpen to start the season, but there are a lot of moving parts in that equation.
One thing is certain: There's more depth than the past couple of years.
"Right now, it's open," Walker said of the competition. "There's a lot of competitive guys and guys that are hungry to pitch at the major-league level, so it's kind of one of those things where you have spring training to sort things out. I'm not pencilling anybody into any spot right now. It's more or less just let guys go out and compete and show what they can do and, I think, it'll all take care of itself."
SPRING STORYLINES
Can Aaron Sanchez stay healthy and return to 2016 form?
The 2016 season is so far in the rear view that the Jays will settle for healthy at this point.
Long-term, there's no reason why Sanchez can't get back on track after two years of finger issues created by blisters and freak suitcase mishaps.
He's only 26 and the stuff was still good at times in 2018, even if he didn't know where it was going most of the time.
Sanchez's innings will be monitored, and with only two seasons of contractual control remaining, the Jays are hoping the right-hander can turn back the clock in time to be traded.
A healthy Sanchez performing reasonably well would be an attractive chip to peddle both at the deadline and next winter.
How long will Marcus Stroman be a Blue Jay?
His name mentioned in trade rumours all winter, Stroman's time in a Blue Jays uniform seems to be running out.
If he wasn't coming off the worst season of his career, he may have already been dealt.
Like Sanchez, Stroman is under contract for two more seasons, and the best return may come at the trade deadline this summer if he goes out and pitches like he did in 2017 when he posted a career-best 3.09 ERA.
If he's over the health issues that plagued him last year, Stroman is a good bet to bounce back.
Will one of the young arms win the fifth spot in the rotation?
No offence to Clayton Richard, but he's a stopgap at best.
He's also a stopgap who may not be fully healthy until March, after undergoing season-ending knee surgery at the end of August.
Even when he was physically right, Richard pitched to a 5.33 ERA in the National League West last season, which is a much different climate than the American League East.
When you combine those two factors, there's a clear opportunity for one of the young starters to begin the season in the rotation with a strong spring.
The two most likely candidates are Thornton and Reid-Foley, but Pannone, Gaviglio and Waguespack are all on the 40-man roster and in the mix.
Don't rule out another addition from outside the organization, either, as there are still a number of veteran arms on the market and the price tags are dropping by the day