Sanderson Farms could be building block for Conners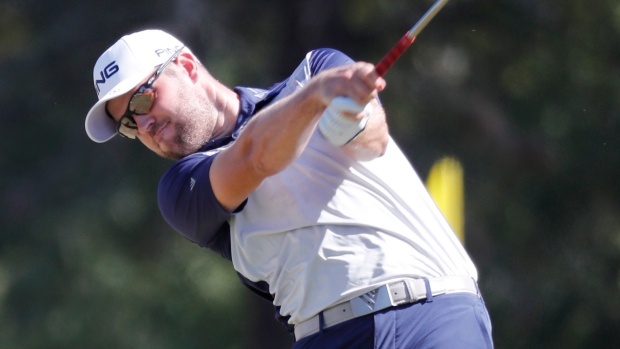 Corey Conners wasn't able to finish off what might have been a storybook ending to a perfect week, but he came awfully close. And in the process, he may have launched into what could be a wonderful year.
Just a week and a day after marrying his longtime girlfriend Malory, Conners came within a few swings of recording his first PGA Tour victory at the Sanderson Farms Championship. He ended up finishing second, the best position of his brief PGA Tour career, two shots back of winner Cameron Champ.
"A lot of credit to Cam," Conners stated after walking off the 72nd hole. "He played really great today and finished off really strong. But definitely proud of how I played. Definitely lots to build off of."
The Listowel, Ont., native started the day four shots back but made three birdies on the front side. Coupled with some errant play from Champ, who turned in one over, Conners found himself tied for the lead.
But the long-hitting Champ caught fire on the back nine, rolling off a stretch of birdies, dropping putts on 13 and 14. On the 15th hole, Champ's drive came up short of the drivable par 4 while Conners hit a near-perfect shot, coming to rest seven feet from the hole, setting up a great chance for eagle. But his putt was short while Champ chipped it close and equalled Conners' score of three.
"I really hit a good putt," he stated. "There is a lot slope around that hole. Definitely wanted to make that one. Knew if I made that one it would give me a lot of momentum going into the last three holes. Yeah, just slid by.
"I would say maybe that was a turning point. Cam made an awesome birdie. We ended up tying that hole, and he kept his lead and 16 buried a long putt on me."
That long putt measured 38 feet and even Champ admitted after the round that he wasn't thinking of it ending up in the cup.
Conners made a bogey on the final hole, just his second in his last three rounds, to end up with a 68. That's a far cry from the last two times he played in the last group on Sunday of a PGA Tour event. A year ago, at the Valspar Championship, he struggled to a 77 and ended up tied for 16th. Just a week later he was in the final group at Corales Puntacana Resort & Club Championship but once again had difficulty, ending with a 76 and a tie for 13th.
This time was different, however. Conners played well enough to win but a great final nine holes from Champ was just too much to overcome.
"Overall it was a fun day," Conners summed up.
Indeed it was. And the performance was important in so many ways for the 26-year-old. It showed that he can close out a tournament and play well down the stretch. That should give him plenty of confidence as he heads into the rest of the season.
It also gave him 165 FedEx Cup points. A year ago, Conners was 130th on the points list with 353 resulting in limited status so he's already got a huge jump in getting back inside the top 125.
And he earned just over $475,000 for his finish, meaning his upcoming honeymoon should be a good one.