Saskatchewan sends Dunstone, Anderson to nationals
Saskatchewan cancelled its provincial curling championships on Thursday due to the COVID-19 pandemic. Matt Dunstone will represent the province at the Tim Hortons Brier and Sherry Anderson will skip the Saskatchewan team at the Scotties Tournament of Hearts, CurlSask said in a release.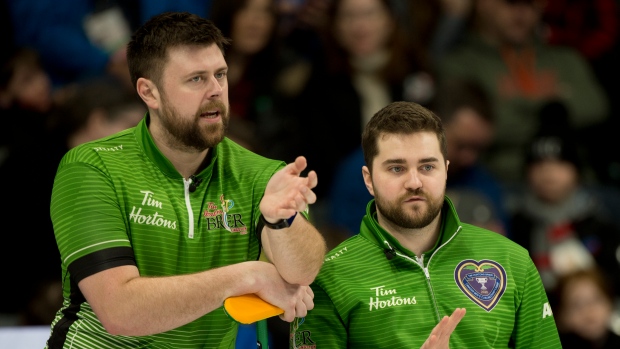 Three more entries were confirmed for the Scotties Tournament of Hearts on Thursday as Sherry Anderson was named Saskatchewan's representative, Jill Brothers accepted the Nova Scotia invite and Laurie St-Georges took the Quebec spot.
In announcing the cancellation of its provincial championships due to the pandemic, CurlSask also confirmed that Matt Dunstone would wear Saskatchewan colours at the Tim Hortons Brier. Mike Armstrong and Ashley Quick will be representatives at the Canadian mixed doubles championship.
Brothers, meanwhile, confirmed in a text-message to The Canadian Press that she had accepted an invite from the Nova Scotia Curling Association. Her team took a few days to reach a decision.
Curling Quebec previously announced the cancellation of its provincial playdowns. Mike Fournier was named as Quebec's representative for the Brier on Thursday.
All national events are scheduled to be played in a so-called bubble setting at Calgary's Markin MacPhail Centre. The Feb. 20-28 Scotties will be the first of six bonspiels to be held at the Canada Olympic Park venue, with competition continuing through late April.
Several provinces have cancelled playdowns due to the pandemic, with many turning to 2020 championship results to make their picks for nationals.
CurlSask, however, made its team selections based on performance over a two-season window.
Dunstone, who won last year's provincial title, is the highest-ranked team from Saskatchewan in the Canadian rankings at No. 7.
Anderson is 14th in the national women's rankings. She's four spots behind 2020 Saskatchewan champ Robyn Silvernagle, who only has two returning members from that team, one short of the required minimum.
"We would like to take this opportunity to extend our well-wishes & congratulations to Team Sherry Anderson," Team Silvernagle said in a statement on Twitter. "We know that you will be great representatives going forward into the national Scotties event in Calgary.
"This has been a very challenging year for CurlSask navigating through a pandemic and we thank you for going above and beyond during this challenging time. Your efforts and hard work did not go unnoticed. We are all Team Sask and we will be cheering hard as per usual."
Saskatchewan recently extended its ban on team sports until Jan. 29.
It's still possible for Silvernagle to land one of three wild-card spots that will be available in the 18-team field. The 3-of-4 returning players rule applies to two wild-card berths but the criteria for the third spot has yet to be determined by Curling Canada.
The wild-card picks for the Scotties and Brier will be formally announced once all 14 member associations have made their team selections or completed their championships.
Curling Alberta, which recently cancelled its playdowns, is expected to decide on team reps over the coming days. That decision should provide some clarity on the wild-card picture.
On the women's side, four skips from Alberta were in the top 20 of last season's rankings, which will be used to determine the first two wild-card spots.
They include No. 5 Chelsea Carey (free agent), No. 6 Kelsey Rocque, No. 7 Laura Walker (2020 Alberta champ) and No. 19 Casey Scheidegger. Rocque's team only has two returning members.
The Alberta association also has an intriguing decision to make on the men's side with four top-20 teams.
Reigning provincial champion Brendan Bottcher is ranked fourth in the country, two spots ahead of Kevin Koe, who didn't participate in the 2020 Alberta playdowns since he had a direct Brier entry as Team Canada.
Jeremy Harty is ranked 15th in Canada and Karsten Sturmay is 16th.
This report by The Canadian Press was first published Jan. 14, 2021.
Follow @GregoryStrongCP on Twitter.