Scottie Barnes is growing in all directions at once
The Raptors rookie has been improving from game to game, and showing signs of potential in all areas.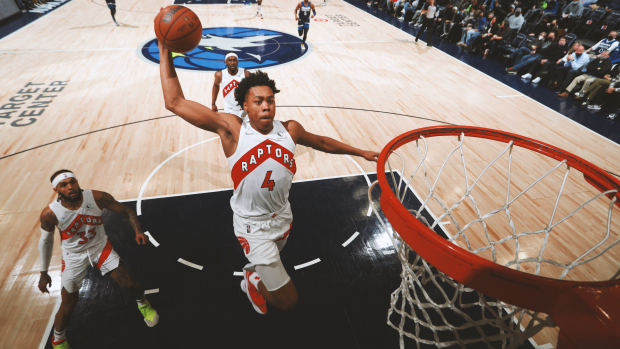 At first, when you were watching Scottie Barnes in the earliest stages of his NBA career, you could almost see his growth from moment to moment. His game was developing in all directions at once, and every few games — if not every few plays — he would do something new that he hadn't done before. Going into the NBA, Scottie was supposed to be a little more of a project, but it became apparent early on that he was a plus player from Day 1. Right away, we found out about the many things that he could do, and at times it felt like Scottie was discovering those things along with us. Every time he pulls in a rebound and runs the ball in transition to hit the cutter with a no-look dime, you can feel him thinking, Oh, I can do this, too?

There's joy, wonder and amazement in his game. Scottie is a 6'9 tabula rasa with the athleticism to make all kinds of plays as well as the IQ to make the right one. The combination of these traits, as well as the sense that we're just scratching the surface of each, is what makes him feel so special. In a recent overtime game against the Chicago Bulls, Scottie put his shoulder into Nikola Vucevic — one of the league's preeminent strongmen — and forced his way into a score at the rim. Throughout the season, he's also done this to Jonas Valanciunas, Domantas Sabonis and other traditional power bigs. There's a point of disbelief for everyone, where you've seen enough to realize just how comprehensive his game is and how far the rabbit hole goes. A 20-year-old, bullying the brutes? That one was mine.
Scottie is averaging 14.6 points, 7.6 rebounds and 3.4 assists in his rookie season. He guards one through five and plays hyperactive defense off the ball, whether in zone or as help. He's the perfect fit for these Raptors and the wildest dreams of their brain trust. This team plays funhouse positionless basketball, all jumbo wings and fast bigs that can play Nick Nurse's most absurd defensive schemes and run the court like crazy. ​​Lineups with four power forwards aren't supposed to work, but they do because the Raptors force turnovers at a league-leading rate and get out in transition as much as possible. Whoever gets the rebound takes it and runs. Even though their offense struggles in the half-court, they're a top-10 team on that end because they don't turn the ball over, they turn the other team over and they put back their own misses.
In this setting, Scottie plays all sorts of roles. The Raptors play through Fred VanVleet, Pascal Siakam and OG Anunoby, hunting mismatches as much as possible, and Scottie is connective tissue. He can be a short-roll playmaker or a high-post DHO hub, sort of like a turbocharged Marc Gasol, but also an energy player on the boards who can run point on the fast break or otherwise bang in the paint. There's so much variety and so much possibility in his skillset that you wonder what a finished product will look like, but that might be an open question for a long time still.
Coming out of the draft, the knock against Scottie was his shooting. It was his one missing thing, and to be fair, a pretty big deal. Jalen Suggs was considered the consensus pick for the Raptors at No. 4, and popular with fans that wanted to see the VanVleet-Kyle Lowry lineups live on after Lowry. The Scottie pick came as a mild stunner, but he's nothing if not open to encouragement. In November, Nurse told reporters, "I'm disappointed that Scottie isn't taking three or four threes a game." Since then, he's attempting 3.3 threes per game. He's only making 31.3 percent of those and his form can be a little stiff, but shooting the shot is of course the first step. The midrange is there (40.7 percent, including pull-ups and the rare post fade) and if the three-pointer comes, then you start thinking there really are no ceilings.
For now, the discovery is in the doing. Scottie plays with such a profound and obvious joy that categorization seems beside the point. It's endearing even when he makes mistakes, because he tries so hard and learns so fast that you can feel his enthusiasm for the game. This is more anecdotal than anything, but he runs around out there like a wild child, limbs flailing and wide-eyed, accidentallying himself into a full stat line. He probably isn't going to be the Rookie of the Year — Evan Mobley is the rare rookie playing like an All-Star and remains the heavy favourite for that award, while players like Cade Cunningham, Franz Wagner and Josh Giddey are coming on strong — but how could you care about the accolades when you watch Scottie? It's already obvious that he's a special sort of prospect, the sort that makes you feel like you've won just in the act of rostering, and he plays like he's excited to find out just what he is. He makes it fun.
At the moment, the purest form of Scottie Barnes comes in the fast break, where the game is at its most unscripted. Anything goes on the fast break, and the only defined limit is your own sense of what you want to try. It's a little too early for us to talk in specifics about who Scottie is going to be in the NBA, but you can get a good glimpse when he's playing point-center in transition, full-sending the break after a rebound and trying to figure out the best way to make something happen.