Seattle NHL group completes arena deal, adds local partners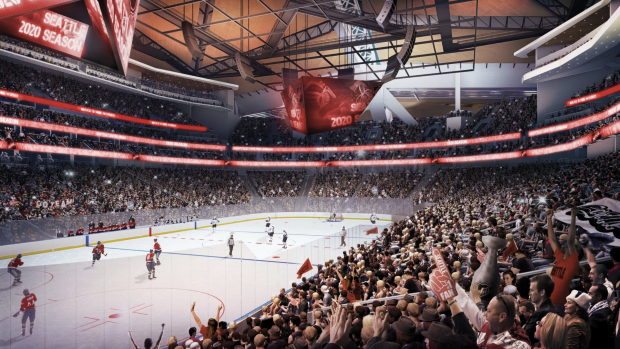 The ownership group for Seattle's prospective National Hockey League franchise announced on Wednesday that they had come to an agreement with the city to help renovate the KeyArena, the facility that would play host to the franchise.
The Oak View Group submitted a development agreement, a lease agreement and integration agreement to Mayor Jenny Durkan and were introduced to Seattle city council.
The KeyArena is the current home of WNBA finalists Seattle Storm and the former home of the NBA's Seattle SuperSonics. Built in 1960, the facility last underwent renovations in 1995.
This comes ahead of the group's presentation to the NHL's Board of Governors' executive committee on Oct. 2.
"Less than 12 months ago, we signed the Memorandum of Understanding with the City of Seattle for the privately financed development of the new Seattle Center Arena. We are making tremendous progress and are looking forward to these next few weeks as we move into the City Council's review of our agreements," said Oak View Group CEO Tim Leiweke in a release. "These agreements reflect tremendous hard work by all sides. This is a process that we hope will conclude shortly as we're ready to start breaking ground on an arena that will be world class when completed."
The group also introduced a number of new minority owners that include CEO of Amazon Web Services Andy Jassy and Adrian Hanauer, the majority owner of the MLS's Seattle Sounders.
"Securing a future ownership group of local investors has been an area of focus as we look to build a franchise that is reflective of the Seattle community," said Seattle Hockey Partners majority owner David Bonderman. "Each of these local investors brings skill and experience that will continue to help us achieve our goals."
Durkan said an NHL franchise in Seattle would be a cornerstone of the revitalization of the city centre.
"For decades, the Arena has been an iconic part of Seattle, and now the next generation will have incredible arena - home to the country's best sports teams along with the music and entertainment Seattle Center is known for," Durkan said in a statement. "And trust me, I won't rest until we have new team banners for our championship Seattle Storm, an NHL team and our Seattle Sonics hanging proudly."
The prospective NHL franchise would begin play in the 2020-21 season.