Senators beat Canadiens to force Game 6
The Ottawa Senators avoided elimination on Friday with a 5-1 victory against the Montreal Canadiens in Game 5 of their first-round series. Montreal still leads the best-of-seven series 3-2. Bobby Ryan scored twice, while Patrick Wiercioch, Erik Karlsson and Erik Condra supplied the remainder of the scoring for the Senators.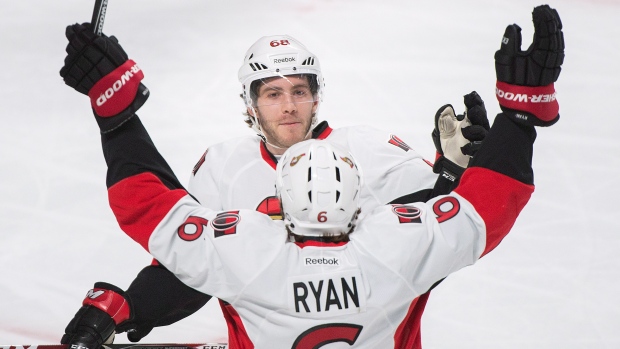 MONTREAL - The Ottawa Senators have found new life in the their playoff battle with the Montreal Canadiens since veteran Craig Anderson took over in goal.
The 33-year-old, who had a hand injury and lost the starting job during Ottawa's improbable playoff push in the final two months of the NHL regular season, has been sensational since taking over from rookie Andrew Hammond in Game 3 of the best-of-seven first-round series.
Anderson made 45 saves in Ottawa's 5-1 Game 5 victory on Friday night and has now stopped 120-of-123 shots in three starts.
"He has a history of being a real good goalie in crucial games in the playoffs," said Ottawa coach Dave Cameron. "I don't know why anyone's surprised."
The Senators trailed the series 3-0 but have closed the gap to 3-2 and can tie it up on home ice with a win in Game 6 on Sunday at the Canadian Tire Centre.
"It's such a long road to go," said Anderson, who lost his first start 2-1 in overtime, then shut out Montreal 1-0 in game 4. "We have to be ready for the next one.
"I'm just trying to find the puck as best I can. The guys in front are doing a great job as far as letting them get (only) one shot. We're doing a good job of battening down the hatch in front. And, right now, I'm getting lucky."
It was Hammond's heroics that helped the Senators clinch a playoff spot on the final weekend of the regular season. Anderson played only four games in the final two months, but hasn't shown any rust since taking over in the playoffs.
His play recalls 2013, when he was all-but unbeatable when Ottawa upset Montreal in five games in a first-round series. He is now 6-2 against the Canadiens in post-season play.
"The last two months it seems everything's going our way and we kind of build off that," said Anderson. " When we went down 3-0 we knew we had a tough hill to climb, just like it was back at the end of January or February.
"We're in that same situation and we're trying to string some wins together and give ourselves an opportunity."
Bobby Ryan, with two, Patrick Wiercioch, Erik Karlsson and Erik Condra scored for Ottawa, which got a lot of traffic in front and made the most of its 25 shots on Carey Price.
Tom Gilbert scored for Montreal.
"It's definitely a bad feeling right now that we weren't able to win tonight," said Canadiens forward Max Pacioretty. "But it's not going to help us to think back on it and be upset about the last two games. We have to worry about the future."
"You have to give their goaltender credit," said Canadiens defenceman P.K. Subban. "He made some big saves.
"He's hot right now."
Montreal's anaemic power play went 0 for 3 and is now 1 for 19 for the series.
The Canadiens stormed out and the Senators didn't get a shot on Price until the 8:42 mark. But Ottawa scored on its second attempt, when Ryan fired one through a Mika Zibanejad screen at 9:29.
Wiercioch had time to wait for a screen to form and then picked the top of the net with a shot Price has no way of seeing at 15:39, giving Ottawa the first two-goal lead by any team in the series.
Karlsson scored on a blast from the point on a power play 14:29 into the second frame to make it 3-0.
The Bell Centre crowd sprang back to life when Gilbert's shot from against the left boards at the point got through with Dale Weise parked in front of Anderson 1:44 into the third period.
Condra sealed the win, however, when he caused a turnover and went in alone to deke out Price at 14:02.
There was a late skirmish when Anderson poked Brandon Prust near the crease and he was speared in return. Subban and Eric Gryba got 10-minute misconducts for an entertaining wrestling match on the same stoppage of play.
Ryan tipped in Mike Hoffman's shot on the ensuing power play at 19:10.
Notes — Ottawa's Clarke MacArthur left after the second period with a lower-body injury and Jean-Gabriel Pageau was limping after blocking a shot with a foot. Cameron said they were day to day . . The Senators put fourth liner Alex Chiasson back in after sitting out two games in favour of Chris Neil, who was a healthy scratch.