Senators face Ducks amid major slide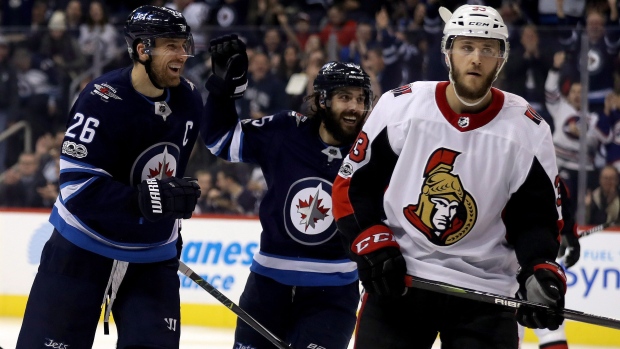 The Ottawa Senators are taking on the Anaheim Ducks Wednesday night at the Honda Center in their fourth game of a season high, seven-game road trip, and currently at the height of their recent struggles.
The Senators, sitting sixth in the Atlantic Division with a 9-10-6 record, are coming off a 5-0 drubbing at the hands of the Winnipeg Jets Sunday.
The loss was Ottawa's eighth in the past nine games, a 1-7-1 stretch where they've been outscored 33-15 and netted more than two goals just once, in their lone win, 6-5 over the New York Islanders on Friday.
A number of the Senators' top players have failed to generate much offence at all during the team's recent struggles, highlighted by captain and two-time Noris Trophy-winning defenceman Erik Karlsson, who has no points in the past nine games. It is the longest such streak in Karlsson's career, whose previous high was eight games during the 27-year-old's rookie season in 2009-10. Prior to Karlsson's current point-less streak, the Swede was averaging 1.5 points per game.
Other players failing to live up to their offensive reputations the past three-plus weeks include new acquisition Matt Duchene, who has just two points in 11 games since being acquired from Colorado Avalanche, and Bobby Ryan and Derrick Brassard, who have just two points each during the Senators' recent slide.
The Senators' recent problems can't just be blamed on the offence, however; the back end has been just as shaky lately. Since a shutout win against the Calgary Flames Oct. 13, starter Craig Anderson has posted a 4-8-1 record with a 3.76 goals-against average and .873 save percentage. Anderson has given up 19 goals in six starts during the Sens' slide while backup Mike Condon has let in 10 goals in the other three starts.
"We have had too many of these types of losses lately," Karlsson said. "We have to find some way out of this, but I do not think we are too far off. I think we need to find a way to stay focused when things do not go our way."