Senators select C Brown with 11th pick
The Ottawa Senators selected centre Logan Brown with the 11th overall pick at the NHL draft on Friday. Brown scored 21 goals and 53 assists in 59 games in his second season with the Windsor Spitfires.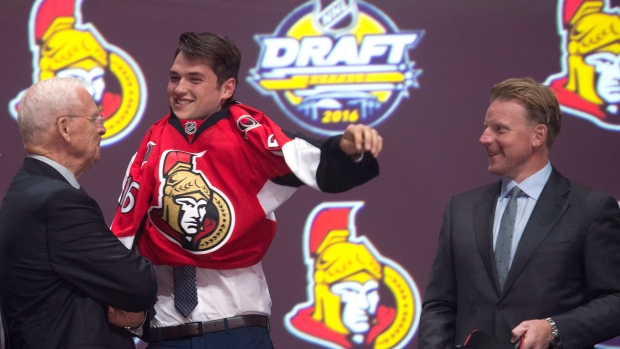 BUFFALO, N.Y. — For as long as he can remember, Logan Brown has wanted to play for the Ottawa Senators. It became reality on Friday at the NHL Draft at First Niagara Center.
The son of former NHL player Jeff Brown, the six-foot-six and 218 pound centre was selected by the Senators with the 11th overall pick. Brown scored 21 goals and 53 assists in 59 games in his second season with the Ontario Hockey League's Windsor Spitfires.
"Growing up I always kind of dreamed of being a Senator. It's a dream come true and words can't really describe the feeling right now," said Brown.
Ottawa traded up one spot to acquire Brown, sending its 12th overall selection and the Senators' third-round pick in this year's draft (80th overall) to New Jersey.
Bob Lowes, Ottawa's chief amateur scout, said the Senators had been targeting Brown and were very happy to find a trading partner in the Devils to move up that one spot.
"He's six-foot-six with a great skill set. In today's NHL, whenever you can get a big, skilled centreman with a great upside, they aren't easy to come by," said Lowes. "And that he's a local kid with a local flavour, and he's got great pedigree with his dad having played in the league... those are just bonuses."
It's a homecoming of sorts for Brown, with most of his immediate family still living in the Ottawa area. Father Jeff was born in Ottawa and has been the head coach of the OHL's Ottawa 67's for the past two seasons.
Logan spends his off-seasons in the Ottawa area and trains with the Senators' strength coaches at Canadian Tire Centre.
"It's pretty unbelievable. I've spent pretty much every summer of my entire life there. I'm really familiar with the organization and city," said Brown.
After a slow start to the season that saw Brown score 32 points in his first 28 games, a second-half surge of 42 points in 31 games propelled Brown up the draft boards of several teams.
The 18-year-old Brown, who was born in North Carolina but raised in St. Louis, credits his second-half improvement to added confidence and some extra time spent in the gym.
"I really established myself, gained a lot of confidence and really figured things out. I also cut down my weight and added some strength to my body," said Brown.
"Today's game is so fast, you have to be lean and you have to be fast. I took a lot of big steps with that and figured a lot of things out. I really started to gain confidence and just wanted to be the best player on the ice."
Lowes was impressed with Brown's maturity and development in the second half.
"He seemed to find another gear. He really self-evaluated himself, that's the biggest thing. He even said he wasn't very good, which is not easy to do for a young player. He became more committed in all aspects of the game. I also thought his Under-18 tournament with the Team USA was exceptional and that brought him to another level."