Senators share condolences for Karlsson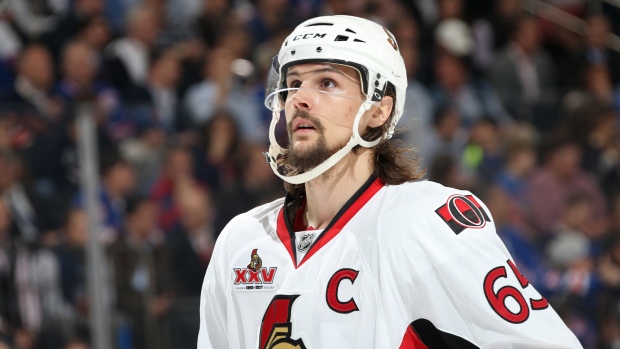 Erik Karlsson was absent for the Ottawa Senators' game against the Florida Panthers on Tuesday following the loss of his son.
The Senators announced the death in a statement Tuesday afternoon. After their game against the Panthers, Karlsson's teammates and head coach shared their condolences for the team captain and his wife, Melinda.
"I can't even imagine what Erik and Melinda are going through right now," defenceman Mark Borowiecki told the Ottawa Citizen. "It puts some perspective on life and the way things are going here. It's important for them to take time together to grieve. We've got so much love coming out of this dressing room for them. We truly are a family in here and it hurts."
Karlsson announced in November that he and Melinda were expecting and had a gender reveal in December. Their due date was scheduled for late spring.
"Our hearts go out to them and we hope they're doing okay," added forward Zack Smith, who told the Citizen his wife is pregnant. "It hits a little deeper. You realize what it would be like, the feeling, the attachment you get to something like that. It's devastating. I just feel terrible for them right now."
There is no timeline for Karlsson's return to the team, but head coach Guy Boucher said the Senators will focus on supporting the 27-year-old once he does.
"Everybody's heartbroken, it's awful," Boucher said. "As a group in there, it has been a tough year, but I think this is a real personal, devastating blow. I feel for them and Erik is going to take the time he needs and when he does come back we'll do what we can to support him the best we can. It's definitely a sad day."