Senior still No. 1 in CFL scouting rankings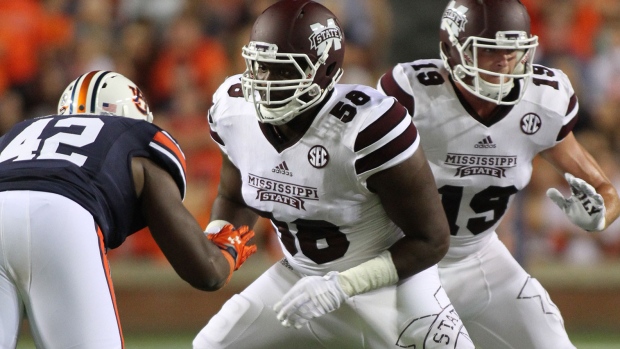 The CFL Scouting Bureau has released its third and final rankings of the Top 20 eligible prospects for the 2017 CFL Draft.
And for the third straight edition, Mississippi State offensive lineman Justin Senior is ranked No. 1.
Senior, who played all 12 games at right tackle for Mississippi State last year leads another NCAA product in defensive lineman Eli Ankou, who jumped up one spot from the last rankings to finish No. 2.
Manitoba offensive lineman Geoff Gray and McMaster receiver Danny Vandervoort are the top USports products, coming in at No. 3 and No. 4.
Faith Ekakitie, a defensive lineman from Iowa, had the biggest jump in the rankings, coming from No. 11 to round out the Top 5.
Antony Auclair, a tight end from Laval, fell out of the Top 5, dropping from No. 2 to No. 7.
CFL Scouting Bureau April Rankings
| Rank | Name | Position | School | Hometown |
| --- | --- | --- | --- | --- |
| 1 (1) | Justin Senior | OL | Mississippi State | Montreal, QC |
| 2 (3) | Eli Ankou | DL | UCLA | Ottawa, ON |
| 3 (5) | Geoff Gray | OL | Manitoba | Winnipeg, MB |
| 4 (7) | Danny Vandervoort | REC | McMaster | Barrie, ON |
| 5 (11) | Faith Ekakitie | DL | Iowa | Brampton, ON |
| 6 (8) | Christophe Mulumba | LB | Maine | Laval, QC |
| 7 (2) | Antony Auclair | TE | Laval | Notre-Dame-des-Pins, QC |
| 8 (10) | Mason Woods | OL | Idaho | Port Coquitlam, BC |
| 9 (12) | Nathaniel Behar | REC | Carleton | London, ON |
| 10 (15) | Dariusz Bladek | OL | Bethune-Cookman | Kissimmee, FL |
| 11 (9) | Junior Luke | DL | Montreal | Montreal, QC |
| 12 (6) | Kwaku Boateng | DL | Laurier | Milton, ON |
| 13 (13) | Qadr Spooner | OL | McGill | Brossard, QC |
| 14 (17) | Robert Woodson | LB | Calgary | Calgary, AB |
| 15 (19) | Kay Okafor | DL | St. FX | Enugu, Nigeria |
| 16 (-) | Braden Schram | OL | Calgary | Manning, AB |
| 17 (-) | Johnny Augustine | RB | Guelph | Welland, ON |
| 18 (-) | Fabion Foote | DL | McMaster | North York, ON |
| 19 (-) | Dondre Wright | DB | Henderson State | Ajax, ON |
| 20 (-) | Connor McGough | DL | Calgary | Medicine Hat, AB |