Sens considering Karlsson trade options
Ottawa general manager Pierre Dorion has been, and still is, engaged in some level of trade dialogue for star defenceman with more than a half-dozen NHL teams, TSN Hockey Insider Bob McKenzie writes.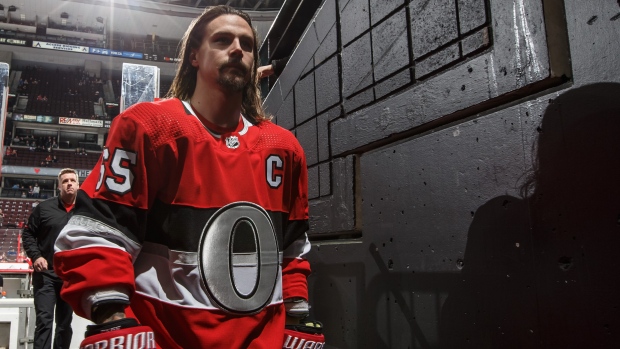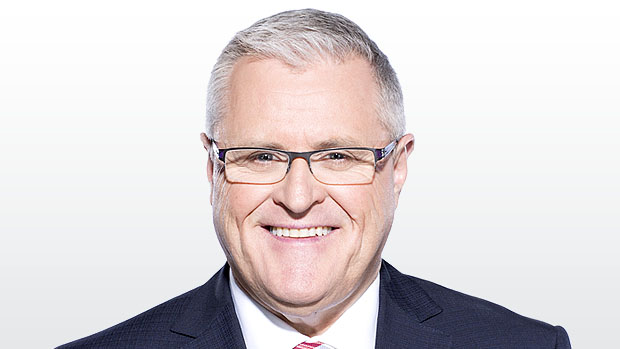 Erik Karlsson could be traded.
By Monday.
Let that one roll around the old cranium.
Now, is it less likely than more likely to happen in that time frame?
Perhaps.
I mean, if we're playing the percentage (of it happening) game, and doing so honestly and objectively, picking a number somewhere between one and 49 is probably the smarter play.
You know the drill. It's an incredibly difficult deal to make. Lots of moving parts, especially given the timing, with Monday's 3 p.m. ET trade deadline looming large.
A bold man, however, might go so far as to suggest it's a 50-50 proposition, that there's as much chance of it happening as not.
Honestly, though, it's probably a mistake to get too hung up on the numbers or odds. We should simply state what we now believe to be patently obvious: The Ottawa Senators are open to the idea of trading Erik Karlsson by Monday.
Let's not get into the semantics of whether they're "shopping" Karlsson or just "listening." We kind of went down that forked road with P.K. Subban and the Montreal Canadiens, didn't we?
The reality is Ottawa Senators' general manager Pierre Dorion has been, and still is, engaged in some level of trade dialogue for Karlsson with multiple NHL teams, certainly more than a half-dozen.
For now, that's all that matters.
The belief is that if the Senators receive an offer they believe is "acceptable," Karlsson could very well be traded by Monday's deadline.
One must concede that may be a very big IF, given what the Senators will no doubt expect to get in return for their captain and arguably the game's top defenceman — who, as recently as season's start, was regarded as one of the three most exciting, dynamic and impactful superstars in the NHL along with Connor McDavid and Sidney Crosby.
Now, Karlsson hasn't been nearly at that level this season. Neither, of course, has his team, which came within a Game 7 overtime goal of getting to the Stanley Cup final last spring.
Whether the slip in Karlsson's play is simply the unfortunate by-product of the 21-28-9 Senators' crash-and-burn season or Karlsson missing all of training camp and the first two weeks of the regular season due to off-season foot surgery or perhaps the effects of that surgery itself, well, that's for the teams interested in Karlsson to figure out.
From the Senators' perspective, though, this is a franchise player, one of the top three players in the entire game. If he's to be traded, the return must reflect that. The Senators will be looking for a veritable king's ransom.
To the best of our knowledge, the Senators have not received formal offers on Karlsson. The discussions that have taken place thus far were more Dorion laying out the general parameters of what a Karlsson deal would need to look like from Ottawa's end.
There's been talk of it taking five or six or maybe seven pieces that could include some combination of good, young roster players, top prospects and first-round picks.
And Bobby Ryan.
Bobby Ryan?
The Senators have let it be known that the number of notable pieces in the price could be discounted somewhat if Ryan and his contract are taken on as part of any Karlsson deal. The oft-injured, soon-to-be 31-year-old, who has never scored for Ottawa the way he did for Anaheim, has another four years on a contract that pays him $7.5 million per season with an annual cap hit of $7.25 million.
The Senators know full well that the "Ryan provision" could severely limit the number of Karlsson contenders; that some teams simply aren't in a position to take on Ryan's salary or cap hit at the deadline, even if the plan would be to buy out Ryan in the off-season.
And the Senators also know that their tangible hockey return on a Karlsson trade would be lessened if Ryan is included, but that would be the cost of doing business, the cost of getting Ryan's money off the books for the next four years.
A potential Karlsson trade does not absolutely have to include Bobby Ryan. Not at all. But if it doesn't, the price is that much higher.
And Karlsson isn't being traded to simply facilitate a Ryan contract dump. It's merely an opportunity for Ottawa to perhaps get out from under Ryan's contract while still getting a notable return on Karlsson.
Karlsson being available right now "for the right price" is a seismic development leading up the trade deadline. A healthy Karlsson playing at his peak could be a game changer for so many teams.
But what exactly would they be buying?
Technically, Karlsson would be, certainly at this point anyway, viewed as a longer-term rental.
Karlsson has one year beyond this season remaining on his contract. It pays him $7.5 million with a cap hit next season of $6.5 million. He is scheduled to become an unrestricted free agent on July 1, 2019. He is, however, eligible to sign an extension, for as long as eight years with his current team, any time after July 1 this summer.
There is absolutely no reason whatsoever to believe that a trade involving Karlsson by Monday would include any kind of unofficial (and illegal) side agreement on a possible extension. Trading for Karlsson now would only give the acquiring team a leg up on everyone else in terms of having exclusive rights to him until the summer of 2019 and possibly re-signing him this summer or sometime next season.

Or simply view him as a season-plus rental and allow him to go to free agency in 2019.
Either way, this is not perceived as an opportunity for Karlsson to do his free-agent shopping now.
So who's in?
Well, as mentioned, it's believed more than a half-dozen teams have either been in contact with Ottawa or perhaps have been contacted by the Senators. What's difficult, if not impossible to tell at this time, is what any one team's legitimate level of interest is.
For now, it's too soon to separate the serious buyers from tire-kickers. Also, a team could mistakenly get labelled as an interested buyer simply by having players or prospects Ottawa would like to get and answering a phone call from the Senators.
There'll be no end of speculation on who could, would or should be in on Karlsson.
Tampa Bay, of course, will lead the way on the speculative front.
The Lightning are a legitimate Cup contender. Karlsson would be precisely the type of impact defenceman the Lightning could use and to potentially have him for not one, but two, runs at the Stanley Cup could be noteworthy.
Tampa would not appear to be able to take on the Ryan contract. That seems a non-starter because of salary cap considerations. But Ryan isn't an essential piece of the puzzle either. It just would mean the non-Ryan price would be that much higher.
So who would Ottawa want from Tampa?
Mikhail Sergachev? Brayden Point? Both?
The Bolts are loaded with other prospects and picks and could deal in volume, but if the ask includes a blossoming front-line centre such as Point, well, filling one hole on the blueline would be creating another significant one up front.
You can see where this is going.
Legitimate Cup contenders, as much as they would love to add Karlsson to their blueline now, are not likely keen on giving up any significant pieces from their current roster that have brought them to the level of legit contender.
So would the Lightning be one of the teams potentially interested in Karlsson? You would have to think so, but could they or would they consider paying such a steep price on the eve of a playoff run?
What say you, Steve Yzerman?
It's believed the first-blush, broad-brush reaction to the general parameters laid out by Dorion is that the price is far too steep. It may be the "ask" from Ottawa is so over the moon, one could legitimately ask if Karlsson is really available. If so, this "Karlsson could be traded by Monday" fever could be short-lived.
Let there be no illusion here — that could turn out to be the case.
On the flip side, Karlsson's potential availability now represents a rare opportunity, especially for any NHL organization that can think outside the box and get creative in its approach. It's not often a player of this magnitude becomes available and rest assured there are multiple organizations asking themselves how or if they can make this work.
And now that the Karlsson talk is "out there," pundits will exhaust the possibilities of those clubs who should or could be interested; those who shouldn't or couldn't be in the running.
What I would suggest is that it would be a fool's game to try to predict the contenders or pretenders for Karlsson using conventional wisdom. Based on the teams I think — note I didn't use the word "know" — have had early dialogue with Ottawa, I wouldn't preclude a team just because they already have a stud No. 1 defenceman or their blueline is already loaded or their salary-cap situation or current philosophical outlook wouldn't appear to be consistent with adding Karlsson.
Karlsson is the type of player that might prompt an organization to take a long, hard look at where they currently are and where they want to get to and whether Karlsson should be a consideration.
One might suggest that's most certainly the case with the Senators.
Does it make more sense for the Sens to trade him now than in the off-season? Or vice versa? Is signing him still an option?
The mere fact that this notion of trading Karlsson is at least now being entertained by owner Eugene Melnyk and Dorion would suggest the organization either believes it's the right thing to do for the long-term future of the franchise and/or it has concerns whether Karlsson would re-sign in Ottawa.
Either way, it brings us back to the timing question — better to trade him now or trade him in the summer?
There are pros and cons to both.
Technically, Karlsson is a depreciating asset. By trading him now, the acquiring team would have him for a minimum of two runs at the Cup. In many respects, Karlsson's value will never be higher than it is right now.
The downside of a deadline deal by Monday is that it severely limits the number of teams that could make a serious play for Karlsson. Many teams are hamstrung by the cap; many teams simply don't have the wherewithal to do a deal of that magnitude right now.
By the time the draft rolls around in June, so many more options may open up but the rental period will have shrunk to just one season. Would that diminish the prices teams are willing to pay or would the potential increase in sheer volume of legit landing spots offset it? Or does Karlsson, just one season away from UFA, have greater influence/control and further chill the off-season market?
Trading Karlsson now could be clean and easy. Waiting to the summer when it's possible they have to talk contract and money — the owner perceived as not wanting to pay up or the player perceived as wanting too much — could get messy for everyone.
These are the many types of things the Senators will have to process in relatively short order.
My sense is that in the next 24-to-48 hours it will become quite apparent to the Senators whether there's a chance to make a deal by Monday. In other words, the short-term market for Karlsson will either shrivel up and die a rather quick death — especially if the Sens' asking price is perceived as outlandish — or it will sprout so many legs so quickly as to take off and virtually fly to the conclusion of a trade before Monday's deadline.
To be honest, the former still feels more likely than the latter but anything seems possible now.
The mere fact we're even talking about it seems rather extraordinary.