Sens' Duchene declines Canada's WHC invite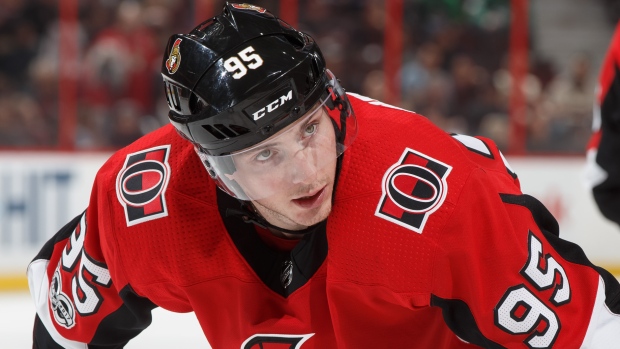 Ottawa Senators forward Matt Duchene said Monday he was offered a spot on Team Canada for the 2018 IIHF Ice Hockey World Championship, but will not attending the tournament next month.
Duchene has represented Canada six times at the tournament, including each of the previous three seasons, and owns two gold medals and one silver.
The 27-year-old was traded from the Colorado Avalanche to the Ottawa Senators in November and has 24 goals and 54 points in 78 games combined between the two teams this season.
Senators forward Mark Stone said Monday he may not play again with Ottawa this season due to his lower-body injury and will not attend the world's unless he is 100 per cent physically ready. Stone, who last played on March 9, has 20 goals and 62 points in 58 games this season.
Stone won a gold medal with at the world's in 2016, the only time he has attended the tournament.
Senators rookie Thomas Chabot told Ken Warren of the Ottawa Citizen Monday he has not yet been asked by Hockey Canada to play at the worlds, but would attend if given the opportunity. Chabot has seven goals and 22 points in 59 games with the Senators this season.
Carey Price and Brendan Gallagher of the Montreal Canadiens said last week they will not attend the tournament, which will run from May 4-20 in Denmark.