Sens' Hammond to return to action after a month
Ottawa Senators goaltender Andrew Hammond is set to return to action for the first time in more than a month.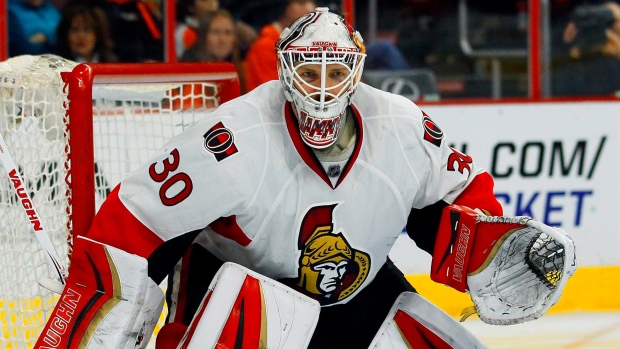 OTTAWA - Ottawa Senators goaltender Andrew Hammond is set to return to action for the first time in more than a month.
He's tabbed to start against the Washington Capitals on Wednesday night in his first game with the Sens since suffering a concussion over a month ago. Hammond played two games with AHL Binghamton last weekend as part of a conditioning stint and is ready to go.
"It's been a long time coming now with the injury," Hammond said after practice Tuesday at Canadian Tire Centre. "But (I'm) just excited to get back in there and play a real good team."
The 27-year-old netminder admits his recovery took longer than initially expected. He suffered the injury after taking a shot to the head in a Nov. 12 game against the Vancouver Canucks.
Hammond took another knock to the head on the following day at practice. It happened again last weekend with the AHL club but he did not experience any side effects.
"Any time you get injured it's frustrating," he said. "For me the toughest part was just never having been down the road of having had a concussion before. Not knowing what to expect and it took a lot longer than I thought it would, but I think there's enough going on right now in the media and everything that you can never be too safe with head injuries now.
"Obviously in hindsight now I'm pretty happy that I did take a little bit of extra time to get healthy and not rush back."
This season has not gone as planned for Hammond, who took the league by storm last season by winning 20 of 24 games and posting a .941 save percentage. The Senators rewarded his efforts with a contract extension and were looking to him to share the workload with Craig Anderson.
But Hammond is 2-0-2 right now. He missed the start of the regular season with a groin injury before being sidelined with the concussion.
Anderson made 15 straight starts at one point — posting a 8-5-2 record through the stretch — but the Senators would like to give him a break and get Hammond back in action.
"It's like every guy coming off the injured list, they get antsy, they've trained, they don't like practice, they don't like going to the AHL for games, they want to play in the NHL," said Ottawa head coach Dave Cameron. "Injury is one of the things you have to deal with obviously, but he's ready, he's got a clean bill of health."
The Senators are coming off a solid 5-3 win over the Los Angeles Kings and will be looking for a similar effort against the Eastern Conference-leading Capitals.
"It's a big game for us," said Mark Stone. "We're playing some big teams back-to-back here. We got a big win against L.A. and now we just have to move forward. They have some high-powered offensive guys over there so we're just going to have to find a way to limit them."