Sens try to find their way against Crosby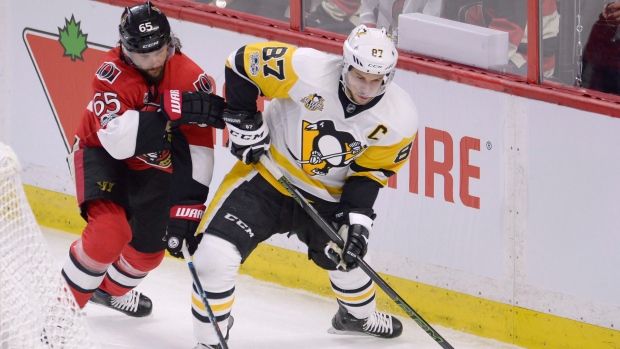 OTTAWA — Guy Boucher was there to witness Sidney Crosby's greatness in person before the future Penguins captain began terrorizing the NHL.
The now-Ottawa Senators head coach was an assistant for the QMJHL's Rimouski Oceanic when a 17-year-old Crosby drummed up 168 points in 66 games — 52 more than the next closest player.
"People thought they had him and he'll twist (around) you and he's just gone," Boucher recalled of the season which preceded Crosby's rookie campaign with Pittsburgh.
The Senators may have thought they had held Crosby in check early in the Eastern Conference final, but the reigning Conn Smythe Trophy winner broke out in Game 4. Crosby had a goal and an assist in the Penguins' 3-2 victory that evened the best-of-seven series at two games apiece.
Crosby's re-emergence greatly threatens Ottawa's chances of a surprise trip to the Stanley Cup final. He had been rather quiet before Game 4 with no assists and one meaningless goal in the opening three games of a series that was tilting the Senators' way.
Ottawa had been frustrating the 29-year-old forward and the NHL's highest scoring team, slowing the Penguins down in the neutral zone while keeping shots almost entirely to the outside.
"Obviously I'm sure he wasn't satisfied with his effort or maybe with the result that was happening," said Jean-Gabriel Pageau, the Ottawa centre tasked with matching up against Crosby. "I'm not surprised that he stepped up his game."
Crosby played with an urgency from his first shift in Game 4.
"I think he just got it all started up with his battle level," Penguins defenceman Olli Maatta said Saturday before a flight back to Pittsburgh for Sunday's Game 5.
It was in the final minute of the opening period when Crosby worked his way into the Ottawa zone, slowed up and found a trailing Maatta. The 22-year-old beat Craig Anderson for the game's first goal.
Pittsburgh eventually added two more — including Crosby's sixth goal of the playoffs — to go up 3-0 before holding on for the win. Maatta says he's always keen to jump into the action when Crosby has the puck because he has that uncanny ability to spot people coming late to the play.
"He's always good," Boucher said. "It's just sometimes we defend better against it and sometimes he gets his looks — and he will (get his looks)."
Boucher thought the toughest part about containing Crosby was ensuring he didn't slip away down low in the offensive zone, that he didn't "twist you." With puck in tow, Crosby will get low in his 200-pound frame, turn one way and then the other until he's finally escaped his foe.
"He's just so powerful," said Boucher of Crosby, a Hart trophy finalist for the second straight season. "His lower body, his centre of gravity is so low and he's bending down as he skates and twists and it makes it really hard to handle."
The safest defence was "stick on puck" and ensuring that "when he's twisting that you don't get lost on everything."
Ottawa's top defence pairing of Marc Methot and Erik Karlsson along with the line of Pageau, Mark Stone and Zack Smith, had been fairly effective in slowing those efforts in Games 1-3, but less so in Game 4. Pittsburgh used its speed, hogged the puck more often and increased the quality and quantity of looks on Anderson, who faced a series-high 35 shots.
Crosby had almost as many shots (five) through 40 minutes Friday than he had over his first three games (six). He gave the Penguins a 2-0 lead with his 55th career playoff goal — two back of Henrik Zetterberg for third among active players — on the power play, banging a puck past Anderson as he hugged the right goalpost.
Given the continued struggles of Pittsburgh's depth forwards and injury troubles on the back end, the Senators' best chance at landing an unlikely spot in the Cup final may come down to their efforts against Crosby and teammates Phil Kessel and Evgeni Malkin.
Bobby Ryan, the Senators forward and second overall pick behind Crosby in the 2005 draft, said Ottawa tries to "throw blankets over you" by not giving more than five or six feet of space to an opponent to make a play. But even he acknowledged that stars like Crosby could make use of that limited space.
In other words, the challenge in a series that's now down to a best-of-three remains great.
"It's really tough on our guys to be able to defend those guys and you know at some point or another, even if you defend well they're going to get their looks," Boucher said. "We hope that they get the least possible, but it's Sidney Crosby, it's Malkin, it's Kessel.
"That's just what it is and that's what we have to face."