Shanahan: Leafs not consistent enough, players on notice
Toronto Maple Leafs team president Brendan Shanahan gave a mid-season state of the union Friday and the message was clear that the team's performance hasn't been good enough this season. "Our assessment is that it hasn't been good enough," Shanahan said, adding, "we're going to learn a lot about our core in the coming weeks."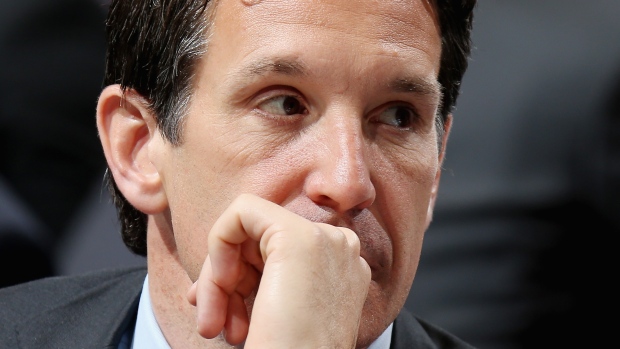 TORONTO - The Toronto Maple Leafs are Peter Horachek's team for the remainder of the season.
Club president Brendan Shanahan said Friday the club won't hire a full-time head coach until after the season, meaning Horachek will remain behind the bench until that time. Horachek was promoted to interim head coach Wednesday, a day after Randy Carlyle was fired.
"Were going to wait until the off-season now," he said. "I've been pleased with just the early reports from Peter.
"Peter will be one of the people that we will consider at the end of the year but we're going to wait until the end of the year."
Shanahan wouldn't get into the types of moves he anticipates making in the future, saying simply, "If we have an opportunity to make this team better, we will."
"We in management prepare for each and every game but you're also constantly looking down the horizon. We certainly have a good feel for what we've seen so far, we don't always share our plan because our plan can change."
"We (management) are watching and we won't be afraid to act if things don't get better."
Toronto dropped a 6-2 home decision to the Washington Capitals on Wednesday night, just hours after Horachek was promoted. The club resumes action Friday night, hosting the Columbus Blue Jackets.
Shanahan spoke following Toronto's pre-game skate, his first availability since Carlyle's dismissal. The first-year president said he was his intention to meet with reporters at the halfway point of the season to discuss the team's fortunes to that point.
Heading into Friday's action, Toronto (21-17-3, 45 points) is tied with the Florida Panthers for ninth in the Eastern Conference standings, three points behind eighth-place Boston (21-15-6), which faces Philadelphia later in the evening.
But Toronto has dropped five of its last six games and is 2-8-0 in its last 10 contests. The Leafs haven't won at home since Dec. 16 and their last victory in regulation came Dec. 28.
"I think our assessment has been fair to say that it hasn't been good enough," Shanahan said. "We've seen our team and this group play the kind of hockey we want to play, some very good hockey.
"But the fact of the matter is to have success in this league you have to be more consistent . . . we have not been consistent enough. We felt there was a change that needed to be made (and) going forward with this group as we now get into the second half we're going to learn a lot more about the entire team."
Shanahan said general manager Dave Nonis decided to make the coaching change following a discussion with the Leafs' hierarchy. Shanahan added such conclusions are usually made by committee following a discussion involving himself, Nonis, assistant GM Kyle Dubas, player-personnel director Mark Hunter and Brandon Pridham, Nonis's assistant.
"It's not any one person," he said. "Generally speaking when we have a big decision to make or direction we want to go, we discuss it as a group.
"I think Dave felt it was his job to make that call. I agree with him, he's the general manager. He made that call, he made that announcement but we make all these decisions as a group, we don't hide behind any one person."
Shanahan said with the coaching change, the onus is squarely on Leafs players to perform. Shanahan met with them following Friday's skate and made it clear management is watching with a clear mandate to make whatever changes are necessary to improve the club's sagging fortunes.
"Once you get around this time of year and obviously with the changes we made to the coaching staff i felt it was a good time to remind them of what their expectations are and try to galvanize the group," he said. "We're not at the end of the season, we're at the midpoint of the season and they're still in the hunt.
"How they're going to be defined is really up to them at this point. I also wanted to make it very clear to them that we're watching and that we're on it. Whether we've seen some good things or bad things they're not getting by us, they're not escaping us. We're not going to be a group that is afraid to act if we feel we're going to be able to make ourselves better."
And Shanahan made it clear there are no untouchables on the Leafs' roster.
"I don't know how many teams ever proclaim that players are untouchable," he said. "If we have an opportunity to make this club better, we will."
Following Friday night's home game, the Leafs will embark on a four-game road trip with contests against Los Angeles, Anaheim, San Jose and St. Louis before returning home to face Carolina on Jan. 19. Shanahan said he plans to make the trip to L.A.
"It's a tough trip," he said. "We know that this is a difficult part of the schedule.
"I think it's an important time for our guys so, yeah, I will be there."