Sharks' McLellan to coach Canada at worlds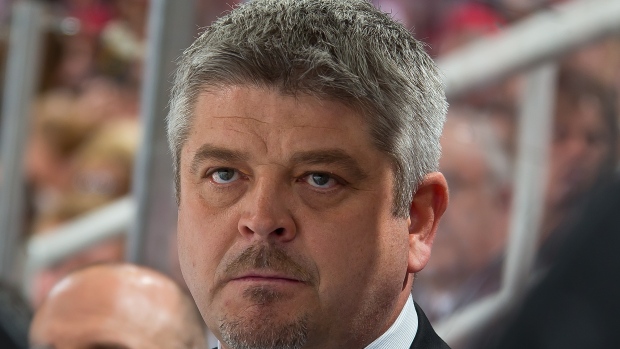 Todd McLellan will coach a young but talented Canadian team at the world championships next month in Prague.
McLellan on Tuesday was named coach of Canada's team, which will feature forwards Tyler Seguin, Claude Giroux and Nathan MacKinnon and defenceman Aaron Ekblad.
"It looks like it's a youthful, skilled, fast lineup," said assistant Bill Peters, who coaches the Carolina Hurricanes. "I see the overall speed that we're going to be able to have whether it's with or without the puck. I think that's our biggest calling card."
The 47-year-old McLellan, a native of Melville, Sask., just finished his seventh season behind the bench for the San Jose Sharks. He was an assistant at the world juniors in 2000 but will be coaching Canada at this tournament for the first time.
Along with Peters, McLellan's other assistants are New Jersey Devils coach Peter DeBoer and Sharks assistant Jay Woodcroft. Like Canadian general manager Jim Nill, McLellan, Peters and Woodcroft all have connections to the Detroit Red Wings.
"This is a coaching staff with extensive experience in the NHL and knowledge of the international game, as well," Nill said in a statement. "As a management group we are excited to work with this staff and look forward to building a roster and representing Canada in the Czech Republic next month."
Nill, and the management group that includes George McPhee, Claude Loiselle, Pat Verbeek and Sean Burke, already has 19 commitments for the tournament, which begins May 1.
Seguin, Dallas Stars teammates Jason Spezza and Cody Eakin and three Edmonton Oilers forwards led that group. Taylor Hall, Jordan Eberle and Ryan Nugent-Hopkins (pending his foot injury) will play for Canada.
The other forwards are Giroux of the Philadelphia Flyers, Matt Duchene and Ryan O'Reilly of the Colorado Avalanche, Tyler Toffoli of the Los Angeles Kings and Tyler Ennis of the Buffalo Sabres. The defencemen are Ekblad of the Florida Panthers, Jake Muzzin of the Kings, Tyson Barrie of the Avalanche, Brent Burns of the San Jose Sharks and David Savard of the Columbus Blue Jackets.
Peters, who coached Duchene, Hall, O'Reilly and Eakin at the 2008 Ivan Hlinka tournament, called it an "emerging group" of young players.
"I think they're going to be real hungry," Peters said in a phone interview. "I think they've got lots to prove still."
The goaltenders are Mike Smith of the Arizona Coyotes — the expected starter — and Martin Jones of the Kings. Duchene and Smith won gold with Canada's Olympic team in Sochi.
"We could not be more pleased with this first group of players who have committed to representing their country," Nill said. "This group includes a fantastic mix of youth and experience, and these 19 players are ready to get over to Europe and wear the red and white of Team Canada."
Canada can register four more players, including one more goalie, before facing Latvia to open the tournament.
---
Follow @SWhyno on Twitter