Sharp should play with Seguin, not Spezza
Since the acquisition of Patrick Sharp by the Dallas Stars, there's been a lot of hypothesizing about potential line combinations in Big D around whether Sharp fits better on the wing of the younger Tyler Seguin or the experienced Jason Spezza.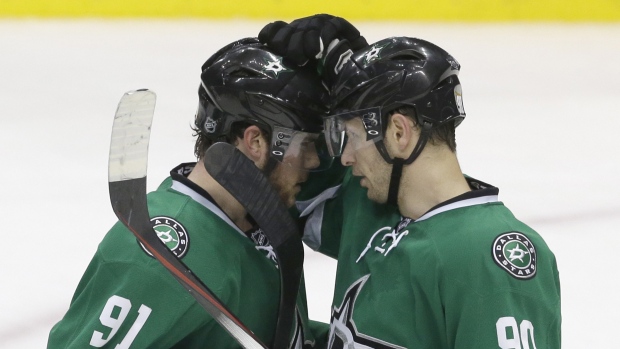 One of the biggest moves of the NHL off-season was the trade between Chicago and Dallas that saw the Stars receive winger Patrick Sharp and defenceman Stephen Johns from the Blackhawks in exchange for winger Ryan Garbutt and defenceman Trevor Daley.
From a Blackhawks perspective, this trade was more business than anything else. Sharp remains a very productive winger, but the combination of his age (33), a pricy contract ($5.9 million AAV through 2016-2017), and Chicago's cap distress made him an obvious trade candidate. With him off of the books, Joel Quenneville will look to myriad internal options to fill his loss of production at a fraction of the cost.
Dallas gets the best player in this deal in Sharp – a pure sniper and shot generator who provides an instant touch of offence whenever he's on the ice. Since coming into the league full-time in the 2005-06 season, Sharp's taken more than 2,000 regular-season shots and preserved an impressive shooting percentage (11.3 per cent) through that stretch. Only 25 other forwards have posted comparable or superior numbers in that same timespan, a list headlined by the likes of Alex Ovechkin, Sidney Crosby, and Evgeni Malkin.
Point being: with Sharp, you pretty much know what you have. He's a bona fide finisher who can find the back of the net with frequency. The key here for Dallas – as it was previously in Chicago – is putting him in the best possible position to succeed.
For years in Chicago, that meant throwing him on the wing of Jonathan Toews. Toews does just about everything well on both ends of the ice. He's renowned for his defensive play, but he's just as good at creating space for his teammates and getting them into prime shooting areas.
One of the things Toews did quietly well was get Sharp into the slot, one of his real sweet spots. We can quickly observe this by using Hextally heat maps. I've dropped two below. Our graph on the left shows the shot-rate differential (per-60 minutes) with Sharp on the ice, where red – or heat – indicates more activity compared to league norms. Our graph on the right shows Sharp's conversion rate, or where his shooting talent really comes into play. There, the darker the colour, the more deadly the shooter.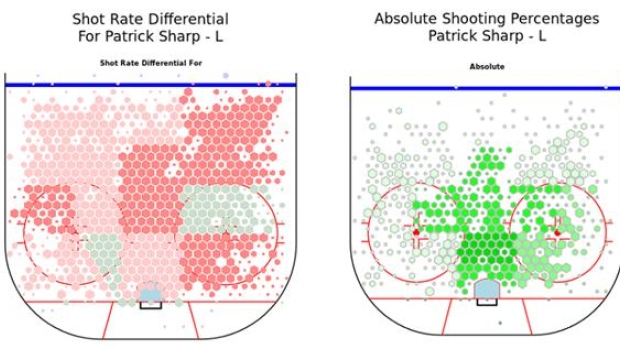 Glancing between the two, you get a feel for what was going on with Sharp on the ice. Toews, et al. would frequently create shooting opportunities for a number of players (including Sharp) in the slot and just below the left dot. In the event that it was Sharp acting as the shooter, there was a decent chance that puck would find twine. His shooting talent jumps off of the page as he inches closer towards the net, and his teammates were fantastic at providing those opportunities.
So, safe assumption: we can apportion some of Sharp's goal-scoring prowess to his teammates' ability to deliver the puck into his preferred shooting areas, and we can attribute some of Chicago's scoring prowess with Sharp on the ice to his individual shooting talent.
A second safe assumption: a lot of this has to do with playing with Toews, arguably one of the two or three most talented players in the world. It's really difficult to sustain offensive zone time and generate high-quality scoring chances in the NHL. The competition is as stiff as ever, and teams just don't let you get into these areas.
Head coach Lindy Ruff will now be tasked with the job of recreating the environment that Sharp flourished in – without the luxury of having Captain Serious. For this reason, there's been a lot of hypothesizing about potential line combinations in Dallas, and whether Sharp fits better on the wing of the younger Tyler Seguin, or the experienced Jason Spezza.
If we hold to the theory that some of Sharp's success is predicated on a centre driving the flow of play to Sharp's prime scoring areas, we can pull out shot generation numbers by zone for the Dallas centres and compare them to Toews.
What I've done below is pulled shot generation numbers (per 60) for each Dallas centre and the aforementioned Toews, focusing exclusively at Sharp's sweet spots. Here, 0.0 is the league average. (By way of example: a player with a 1.0 would generate about one shot more than league average every 60-minutes of play; a player with a -1.0 would generate one shot less than league average every 60-minutes of play.)
Does any centre on the active roster look remotely similar to Toews in the offensive zone?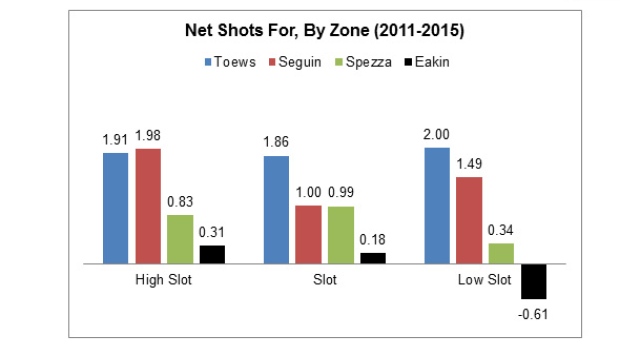 Seguin's transition from budding superstar to legitimate superstar can be articulated in many ways, and this is one of them. It's almost impossible to find a player in this league that can compare to Toews on either end of the ice, but Seguin does it here. Seguin actually generates more shots than Toews does from the 'High Slot' area, which in and of itself is ridiculous. He compares less favorably from the 'Slot' and the 'Low Slot' area, but only in comparison to Toews. Otherwise, he's more or less a wizard at creating opportunities from areas where shooting percentages spike.
Perhaps more importantly, Seguin buries other Dallas centres in Spezza and Eakin. Spezza is particularly curious. I think he's still great at finding passing lanes and forcing the attention of defences to shift, but he's just not nearly as good at creating offence in the areas where a player like Sharp thrives. Eakin is nothing more than an inclusion to highlight just how good centres like Toews and Seguin are – Eakin is a reliable option down the middle, but compared to the game's best, he looks extremely ordinary.
This analysis only focuses on the offensive side of the game, and Dallas fans should know more than anyone that the defensive side of things matters just as much. Still, I think there's a more than reasonable argument from just an offensive perspective in support of Sharp starting the year alongside Seguin. Sharp is never going to add value to your team in a defence-oriented role, so the team must cater around his specific skill set.
For what it's worth, it sounds like Lindy Ruff is on the same page. He hypothesized on the radio in mid-July that Sharp would start the year up top with the likes of Benn and Seguin, leaving Valeri Nichushkin and Alex Hemsky as Spezza's wingers. It's an impressive top-six whichever way you cut it, but I believe this is the optimal combination heading into the new season.
The Takeaway
Sharp's impressive individual shooting talent can put an awful lot of pressure on opposing defences, but he'll need the help of his teammates to get into the premier scoring areas of the ice. He benefited greatly from Toews doing the heavy lifting in Chicago, but there's no reason to believe Seguin can't shoulder the same burden in Dallas. Ruff believes that Sharp will start the season on Seguin's wing. I believe that is the right call.