Shattenkirk not worried about trade deadline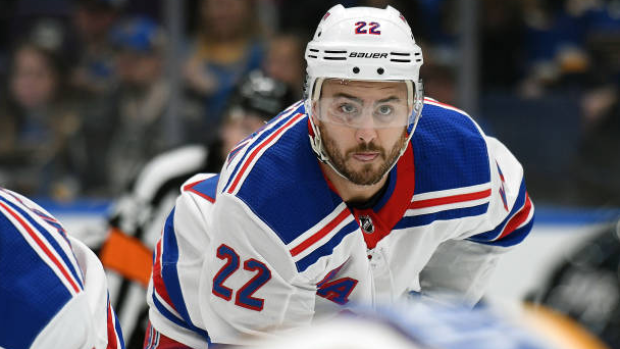 Kevin Shattenkirk appears to be finally finding his stride with the New York Rangers, but that could lead teams around the league to renew their interest in the offensive defenceman.
Shattenkirk, who served a healthy scratch back in October for the Rangers and missed three weeks due to injury last month, is averaging more than 20 minutes of ice time for the Rangers in January and has three points in his past four games.
The Rangers currently sit 11 points back of a playoff spot and are expected to be sellers once again at this year's deadline, though Shattenkirk told the New York Post he's not focused on potentially being moved.
"I haven't thought about the possibility too much, but I also don't want to say that I'm numb to it," said Shattenkirk. "Because of my past, I'm always aware of it, but I'm not worried about it, either.
"I have enough to worry about on my own plate."
Shattenkirk was ranked No. 1 on the TSN Trade Bait board two years as a pending free agent on the St. Louis Blues and was traded to the Washington Capitals for a package that included a first-round pick.
The 29-year-old noted that's he in a different situation this year with two years left on his contract at a $6.65 million cap hit.
"It's different than last time, I'm not a rental, but even then I was surprised that I went to Washington," Shattenkirk said. "I know what this time of year is like, but it's not uppermost on my mind. I'm not thinking about my game in correlation with the trade deadline."
Shattenkirk was limited to 46 games last season due to a knee injury and is on pace for just 25 points this season after topping 40 in each of his final three seasons with St. Louis. He was believed to have left money and term on the table when he signed with his hometown team in 2017 and said Wednesday he doesn't regret his decision.
"My feelings about being here and being a Ranger have not changed, but it obviously hasn't gone the way I hoped or anyone hoped," he said. "I came into this year, though, with a positive, fresh mindset. There'd been enough time last year when I wasn't playing to think about the changes and their impact on all of us here.
"What I've done is focus on the process, and I've found that to be very beneficial. I think I'm more patient, focusing on making progress individually and as a team. It's different after playing on winning teams for so long. We're a young team with young players getting a lot of responsibility, which I understand, but with that, there are going to be mistakes. That can be frustrating.
"But what the coaches have taught me is to help out the younger guys because that was me once and I was there, too. Sometimes I forget that."
Shattenkirk was not among the four Rangers - Mats Zuccarello, Kevin Hayes, Chris Kreider and Vlad Namestnikov - listed on the TSN Trade Bait board Wednesday.