"She would've been so happy" - boy from viral Price video on meeting his idol
Anderson Whitehead became an overnight sensation after a video of him meeting with his idol, Montreal Canadiens' goaltender Carey Price, went viral earlier in the week. Newstalk 1010's Lucas Meyer had a chance to catch up with Anderson to discuss his mother's legacy and his new found fame.
Lucas Meyer, Newstalk 1010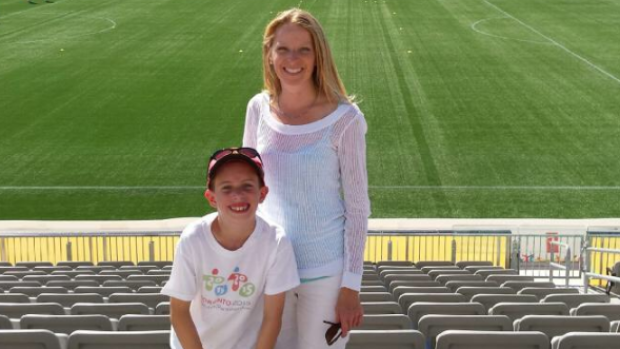 For years, Laura McKay tried to make her son's dream come true: meet his hockey idol Carey Price.
She filled out ballots and scoured contests for meet and greets, but their names were never selected.
For the loving and giving mother, it was at the top of her parental to-do list.
"She was the kind of woman that would give everything to everybody else before she would ever take," said Kevin Whitehead, Anderson's father.
Perhaps the next try would be successful for the Brantford family, but someone else would have to take over.
On November 7, Laura McKay passed away from cancer.
She was just 43 years old.
Kevin recalls speaking with his son about the future and among the many challenges of losing his loving mother, the prospect that this dream for him wouldn't happen.
"You know bud, your dreams, let's see if we can make them come true," Kevin told his son.
Dad turned to a sibling with what was in his mind, a far-fetched plan.
Through treatment for a shoulder injury, his brother Paul got to know the former athletic therapist of the Toronto Maple Leafs, who happened to know the current one for the Canadiens.
The story got around and the family got a call that they would be able to watch the practice Saturday before the game.
Anderson says all he was hoping for was a high-five.
"We didn't know anything was going to happen," he said.
Price had gotten word about what the meeting would mean to his superfan and about his mother's attempts before she died.
The goaltender came over. The boy began to cry. The mask came off.
"That turned into him giving me a big hug, telling me everything would be okay," he said.
Price ended up signing a puck, his jersey and several sticks, big and small.
His aunt caught the encounter on camera and the Facebook video to date has over 89,000 shares, making headlines across the country.
"It's unbelievable," Kevin said. "I can't lie I broke down in tears, just embraced Anderson after he was done."
The Whiteheads say Price completely exceeded their expectations and they're forever grateful for giving up his time.
And then they think of Mom.
"There's no dream more that she tried for in her life to give him than this," Kevin said. "I know from up above this means everything to her."
For Anderson, just one sentence when asked what she would think of it all.
"She would've been so happy for me."