Shestyorkin shines as Russia tops U.S. to advance to WJC semifinals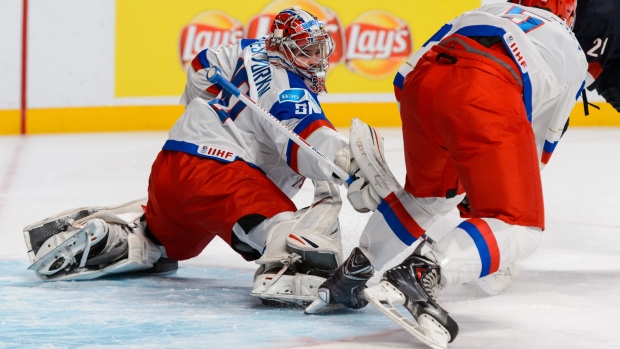 MONTREAL — Ivan Barbashev says one factor explains Russia's unexpected victory over the United States in the quarter-finals of the world junior championship on Friday.
"It's probably that we were more ready than them," the Moncton Wildcats star said after Russia's 3-2 victory put them into the semifinals and sent the Americans home without a medal for a second straight year.
The United States came out flat and fell behind 2-0 after taking five minor penalties in the first period.
They perked up in the third and poured on 20 of their 41 shots, but were thwarted by goalie Igor Shestyorkin.
"The good thing was we scored a pretty quick goal," added Barbashev. "That probably saved our game.
"The win means a lot for us. We knew all the country was watching the game, all Russia, and we knew that it was a very important game."
Barbashev and Alexander Sharov scored in the first period for Russia while Sergei Tolchinski got what would turn out to be the game winner early in the third frame. Russia will play Sweden in the semifinals at Toronto on Sunday.
Defencemen Anthony DeAngelo and Zach Werenski scored for the Americans, a team stacked with young talent that was expected to claim a medal or even challenge for gold.
"We thought we were as good as any team in this tournament, and I still do," said DeAngelo. "We just didn't get a chance to show it."
Coach Mark Osiecki said his team took time to adjust to the wide swing in officiating from the Americans' 5-3 loss to Canada two days earlier, when the officials let nearly everything go. It was much different on Friday as 14 minor penalties were called even though it was not a chippy or physical game.
The first five minors went against the Americans, preventing them from rolling their four lines or finding any flow to their game.
"Maybe our youth showed a bit," said Osiecki. "We talked about how disciplined we've been in the tournament, but it went the other way today.
"But I liked the effort."
Team captain Jack Eichel, who is expected to be a top-two pick in the NHL draft in June along with Canada's Connor McDavid, made some dangerous rushes with the puck but, like his teammates, was unable to get the equalizer.
"I don't think I did enough, I don't think we did enough as a team," said Eichel. "You're never satisfied with yourself, especially when you lose in the quarter-finals.
"I could have buried more chances and been a little better in my own zone. I definitely can take a lot out of this tournament and get better moving forward."
Eichel was also upset at the penalties.
"We've been harping since Day 1 on staying disciplined," he said. "We took too many penalties.
"There were some questionable calls, but we didn't capitalize on our power plays or the 5 on 3 in the third period. That was the difference."
Russia had 25 shots on Thatcher Demko.
It was the second year in a row that Russia beat the U.S. in the quarter-finals, after a 5-3 victory last year in Malmo, Sweden. The Russians have won the last four meetings against the Americans.
After Tyler Motte and J.T. Collins were sent off early in the first frame, Barbashev poked in a loose puck in the crease on the two-man advantage at 2:31.
Sherov found another loose puck in front of Thatcher Demko to push in at 15:25 after Maxim Mamin's pass went off Brandon Carlo's skate in the crease.
The Americans got their first power play 2:02 into the second frame, but it took until 12:43 to score their first goal. They scored on a two-man advantage when DeAngelo wired a point shot to the top corner.
Russia restored its two-goal lead when Tolchinski's deflected shot got past Demko 1:27 into the third.
"I just shot it at the net," said Tolchinski, a Sault Ste. Marie Greyhound. "I think I was a little bit lucky."
The Americans then failed to score during a second two-man advantage. They cut into the lead at even strength at 8:56 when Werenski threw a puck from the point that got through traffic and past goalie Shestyorkin.
"He's just a great goalie," added Tolchinski. "He saved us."
A sparse crowd of 8,694 turned out at the Bell Centre for the weekday matinee, with pockets of Russia fans providing most of the chants and noise.