Siakam starring on big stage for Raptors
Slowly, certain factions of the basketball community are starting to figure out what others, including Raptors fans, have witnessed firsthand this season: Pascal Siakam isn't just the NBA's most improved player, but he's also a budding star, Josh Lewenberg writes.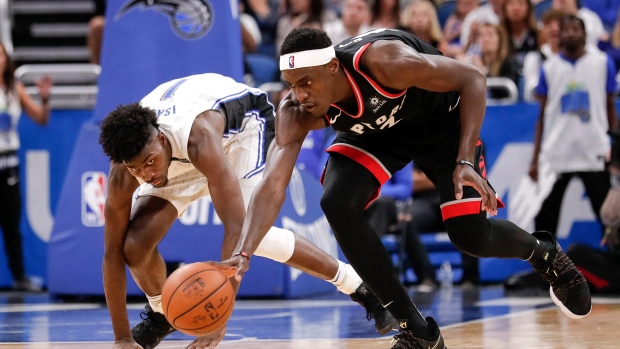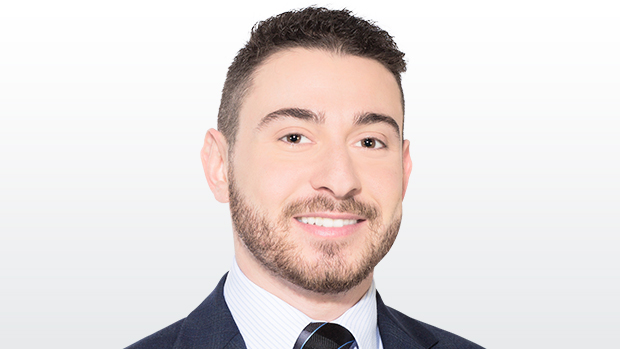 ORLANDO – Slowly, certain factions of the basketball community are starting to figure out what others, including Raptors fans, have witnessed firsthand this season: Pascal Siakam isn't just the NBA's most improved player, but he's also a budding star.
The operative word being "slowly".
As Toronto's head coach Nick Nurse spoke to the media in Orlando ahead of Saturday's Game 3 against the Magic, a local reporter asked if Siakam had become the team's third option, implying he was still behind all-stars Kawhi Leonard and Kyle Lowry in the offensive pecking order.
"If he has, he's maybe dropped down one from the second option," Nurse answered, with a good-natured chuckle.
Just last month, analyst and NBA hall of famer Tracy McGrady went on ESPN's The Jump and wondered if Siakam had improved at all, or if he's just getting more minutes.
Well, with the former Raptor and Magic star in attendance for Orlando's first home playoff game in seven years, and with a national television audience watching on ESPN, it was Siakam that stole the show.
The third-year forward scored a game-high and personal postseason-best 30 points to go along with 11 rebounds and four assists as the Raptors defeated the Magic 98-93 and took a 2-1 lead in their first-round playoff series.
"We'll have to move him up from our third option, I think," Nurse joked after the game. "He made a lot of big buckets. He was really patient. Just really mature play from a young player. Again, he just seems to keep getting better week-by-week as we go here, which is good for us."
It was an impressive showing, but it didn't catch his coach or teammates by surprise. They've seen it all year. To Nurse's point, it's been a while since they've looked at him as the third option on the offensive end.
With Lowry transitioning to more of a table-setting role this season – he averaged a career-high 8.7 assists, second in the NBA – the Raptors have needed Siakam to score, and on most nights he's delivered. In fact, on nights when Leonard sat for load management or simply had an off game, Siakam carried the load.
So, he wasn't unprepared for the way in which Game 3 unfolded. Lowry played a crucial part in the win, securing the game-clinching offensive rebound in the final moments, but only recorded 12 points. Leonard, who missed practice the previous two days and was under the weather, had an uncharacteristically quiet night with just 16 points on 5-of-19 shooting and six turnovers.
Meanwhile, Siakam was brilliant.
With his trademark spin move and an array of jukes and euro steps he blew by the Magic's long and very capable defenders. He used his speed to leak out in transition and his length to post-up smaller players. He caught an ambitiously thrown lob pass from Lowry and jammed it home in the second half and made big plays late in the fourth quarter with Leonard struggling to score. He even shot 3-for-4 from beyond the arc after missing his first seven attempts of the series.
"He's unbelievable," Lowry said. "He's the most improved basketball player in the NBA this year. He's going to continue to grow and get better. His personality is just to go play and have fun. I think he's done that and we understand this year he has the mismatch a lot of the times. It's pretty cool to see him come from where he's come from – starting but not playing much, in the G-League, winning a [G-League] championship [with Raptors 905], then have a good year last year and take the next step this year. It was great game for him. It's fun to watch."
Even for those that had watched Siakam blossom throughout the regular season, there was still some question about how he would fare on the big stage, in the playoffs, when the opposition really locks in and tries to take you out of your comfort zone.
Siakam had played postseason games before, but never in a prominent role or as an offensive focal point. There's been a learning curve and he's had to adjust on the fly, but if he's had any difficulty doing it, it certainly hasn't shown.
After scoring 66 points in his first 12 playoff games combined, he's totalled 73 in the first three games of this postseason. Coming into this series, he had never played more than 28 minutes in a playoff game. He's currently averaging 40.1 minutes, second-most in the NBA behind Thunder forward Paul George (41.6).
"It's been really interesting," the 25-year-old said on Sunday. "I think every game you learn something new."
The adjustment hasn't just come on the court. Siakam admitted that he's feeling the toll of playing almost 42 minutes the night before. It's one of the reasons why Nurse cancelled practice on Sunday to give his starters a much-needed day of rest and maintenance. With an increased workload, Siakam has had to be more conscious about how he's taking care of his body in between games.
"Last year [on] a day like today I might have went to the gym and got some shots up," he said. "But now when you play that many minutes you understand that there are certain things you can't do. I can go to the weight room and try to get some weights up a little bit. But rest, treatment, whatever I can do, it's [about] getting a little smarter with how I want to work and not over-working."
"He's young and riding a wave right now. I bet he's not that tired," Nurse said. "I bet he's enjoying this, and I think he's got plenty of energy. But it's important. It's great to have the days in between."
Magic head coach Steve Clifford and his team surely spent the day watching film and trying to devise a plan to slow Siakam down. If he wasn't already featured in their scouting report, he is now. After Saturday's game, Clifford stressed that they cannot allow Siakam to get three or four dribbles and build up a head of steam before making his move to the bucket. That could mean sending extra defenders at him, something Siakam hasn't seen a whole lot of this year, or ever.
Of course, doubling up on Siakam would create other opportunities for the Raptors offence, assuming Orlando continues to focus on stopping Leonard as well. Finding and taking advantage of the other options in those situations is the next evolution in Siakam's development. He'll have to continue to read and react, but given what we've seen from him so far, there's no reason to think he won't be able to adjust to that as well.
Siakam doesn't seem fazed by any of this – not the magnitude of these games or his role, not the added attention or even the criticism. He insists he never saw McGrady's comments about his Most Improved Player candidacy, which is a bit hard to believe. However, it's not hard to imagine him brushing them off.
"For me, it's not about who said what," Siakam said. "Most improved for me is definitely something bigger than all that. I'm just blessed to be here, happy that I'm in this position, and people from where I'm from can look at me and hopefully dream that they can be here one day. At the end of the day if I do that that's what's important for me. That's the message I'm trying to send every night I'm on the floor. If some kids or whoever come see me and tell me 'Hey, I'm watching you and your development and how you got here, and your story is an inspiration,' and maybe one day they'll be like 'I'm here today because of you,' I think that will be more important."