Sinclair tops Canada women's soccer again
Star striker Christine Sinclair has been named Canada's women's soccer player of the year for the 13th time.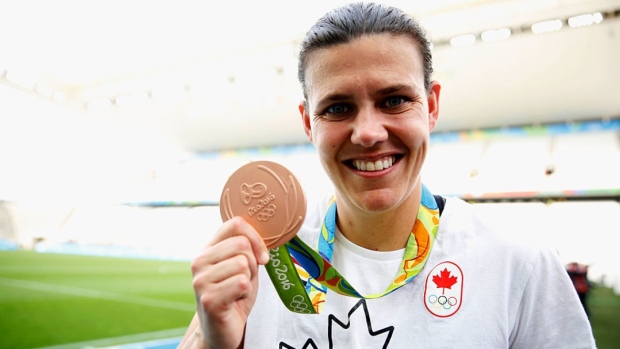 Christine Sinclair remembers dark times for Canada at the beginning of her international soccer career — routs at the hands of the powerful Americans and lopsided losses to European giants.
Now she's the heart of a Canadian team that wins Olympic medals and is emerging as a threat to claim the No. 1 world ranking.
Sinclair, Canada's talismanic captain and star striker, was named Canada Soccer's women's player of the year Thursday, winning the award for the 13th time in 17 years. That's probably the only constant for a Canadian women's soccer program that has grown in leaps and bounds since Sinclair made her international debut as a 16 year old in 2000.
"Oh God yeah, I think it's night and day," Sinclair said Thursday on a conference call. "When I first made the national team, we were losing to the Americans 8-0, and losing to Germany 6-0, and you went into those games hoping not to lose by a touchdown.
"The mentality of the team now is we're heading into every game to win. I love that these younger player expect to win and they know no different. All they know is Canada's been to back-to-back Olympic podiums, lost in the quarter-finals of a World Cup and is ranked fourth in the world. They expect nothing less and I absolutely love it."
Sinclair, from Burnaby, B.C., is the veteran backbone of a growing power in women's soccer. Canada won its second consecutive Olympic bronze medal at the 2016 Rio Games, beating World No. 2 Germany along the way.
A look at the other finalists for the Canadian women's award shows just how well Canada has been able to build around Sinclair.
Runner-up Ashley Lawrence, just 21 years old, was a big part of Canada's podium finish in Rio and helped West Virginia reach the NCAA women's soccer final. Lawrence's 21-year-old Mountaineers teammate Kadeisha Buchanan — dubbed the "Christine Sinclair of defence" by Canada women's coach John Herdman — is a finalist for the women's MAC Hermann award given to the U.S. collegiate player of the year.
Janine Beckie, 22, has 12 goals in 22 appearances for Canada's senior team. Eighteen-year-old Jessie Fleming is a star on the rise and 28-year-old Sophie Schmidt is a veteran of 137 appearances who patrols the defence for the German club FFC Frankfurt.
Still, Sinclair was a star for both country and club in 2016. She scored seven goals and added four assists in 18 international appearances, including the winning goal in the bronze medal match in Rio.
She increased her career international goal total to a whopping 165, second only to American Abby Wambach (184). In the process she passed the legendary Mia Hamm on the all-time scoring list in February.
Sinclair said eclipsing her idol was a highlight of her year.
"I had (Hamm's) jersey growing up and I remember thinking on my first year or two on the national team 'Oh my God she has so many goals, how is anyone ever going to reach that level?' To pass her this year ... that was pretty cool. That was something I'll never forget."
Saying she's not one to dwell on individual awards, Sinclair instead talked enthusiastically about Canada's rise as a top-ranked squad.
"We performed as a team pretty much every time we stepped on the field and you saw that in Rio," she said. "The depth of the team and this program is like we've never seen before. For me it's exciting because I've waited my whole career for this.
"There is no turning back from this moment on, and we are only going to get better."
Sinclair also helped the Portland Thorns win the National Women's Soccer League's Shield, scoring four goals in the last five games to help her club clinch the title.
The award was voted on by Canadian media and Canadian coaches.