Sixers accept Colangelo's resignation
The Philadelphia 76ers have accepted the resignation of team president and general manager Bryan Colangelo, the team announced on Thursday.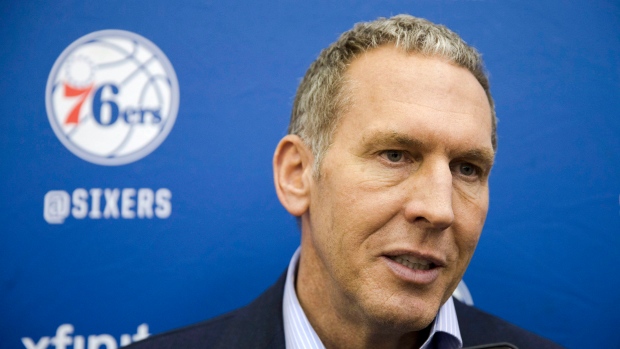 The Philadelphia 76ers have accepted the resignation of team president and general manager Bryan Colangelo, the team announced on Thursday.
"We appreciate Bryan's many contributions during his time leading our basketball operations and thank him for the work he did in positioning the team for long-term success," managing partner Josh Harris said in a statement. "An independent investigation by New York-based law firm Paul, Weiss, Rifkind, Wharton & Garrison LLP was conducted into certain anonymous social media accounts that posted information concerning the club, personnel, and related topics."
The investigation was a result of last month's report from The Ringer that Colangelo had a number of anonymous Twitter accounts that he allegedly used to criticize Sixers players, former GM Sam Hinkie and other league executives.
Tweets from these accounts revealed medical information about former centre Jahlil Okafor and took shots at current players, centre Joel Embiid and guard Markelle Fultz. Along with Hinkie, the accounts were critical of Toronto Raptors president Masai Ujiri, the man who replaced Colangelo with the Raptors. The accounts also appeared to defend Colangelo on issues ranging from basketball-related decisions to the size of his shirt collars.
Colangelo denied knowledge of four of the five accounts, saying he did use one account to monitor news and updates throughout the industry. This account, unlike the other four, did not actively tweet.
ESPN's Adrian Wojnarowski reported the parting of ways earlier on Thursday and noted that it would be framed as a resignation.
On Wednesday, NBC Sports' John Clark reported that the team believed Colangelo's contention that he had no knowledge of the accounts and that they were operated by his wife, Barbara Bottini, who had reportedly been the centre of the Sixers' investigation last week.
Harris's statement said that the relationship between Colangelo and the club had become untenable.
"It has become clear Bryan's relationship with our team and his ability to lead the 76ers moving forward has been compromised," Harris said. "Recognizing the detrimental impact this matter had on the organization, Colangelo offered his resignation. We find the situation to be disappointing for our entire organization. We are determined to continue the tremendous progress we have made over the last two seasons in our quest to win an NBA Championship."
Yahoo!'s Chris Mannix reports that the law firm hired by the Sixers to look into the accounts were able to connect the accounts to Bottini, who admitted to running them during an interview.
The full report from the investigating law firm of indicated that Bottini did a factory reset of her iPhone before submitting for investigation that impeded the process.
Later on Thursday, Colangelo released a statement of his own in which he denied that he shared any privileged information with Bottini.
"While I am grateful that the independent investigation conducted by the 76ers has confirmed that I had no knowledge of or the Twitter activity conducted by my wife, I vigorously dispute the allegation that my conduct was in any way reckless," Colangelo said in the statement. "At no point did I ever purposefully or directly share any sensitive, non-public, club-related information with her."
Colangelo maintains that Bottini acted entirely independently.
"Her actions were a seriously misguided effort to publicly defend and support me, and while I recognize how inappropriate these actions were, she acted independently and without my knowledge and consent," Colangelo wrote. "Further, the content she shared was filled with inaccuracies and conjecture which in no way represent my own views or opinions. While this is obviously a mistake, we are family and we will work through this together."
When news of the accounts came out, Colangelo and Embiid reportedly spoke.
"I talked to him, and he said that he didn't say that," Embiid told ESPN. "He called me just to deny the story. Gotta believe him until proven otherwise. If true though, that would be really bad."
The 76ers lost to the Boston Celtics in five games in the second round of the playoffs after finishing the regular season 52-30.
The club also announced that head coach Brett Brown will take over basketball operations on an interim basis. A search for Colangelo's permanent replacement has begun.