Skinner is the 'Canes forward teams should pursue
The Hurricanes winger is a young, productive scorer with a manageable cap hit on a long-term deal, writes Travis Yost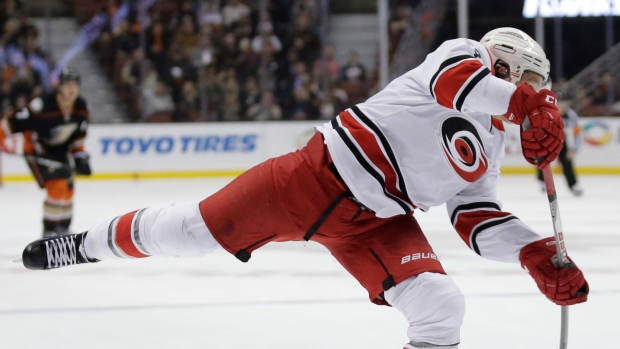 The Carolina Hurricanes aren't making life very easy for general manager Ron Francis these days.
This Hurricanes team was earmarked for lottery status by most prognosticators. Most figured shoddy goaltending and a young blueline would sink the team well before the 60-game mark, making them certifiable sellers at the trade deadline.
The Hurricanes may still be moving pieces in the coming days – the team has spoken at length about having a long-term vision, one that ensures proper turnaround and preservation of the ultimate goal of winning a Stanley Cup – but as much as I sense this team wants to become a seller, the reality is they are very much in the Eastern Conference playoff race.
Their point-per-game pace puts them at around 89 to end the season, maybe a shade below the projected playoff cutline. If you look more recently – say the last 30 games the Hurricanes have played – they're actually playing at a 104-point pace. (Oh, and if you are curious, their underlying numbers are mint.)
At the bare minimum, it's going to make any kind of roster purge a difficult pill to swallow. Surely Eric Staal's name will come up as a trade piece – his contract is expiring and Carolina doesn't want to be left holding nothing but thin air in the event he signs with another team come free agency. Regardless of whether the Hurricanes want to sell or go for it, Staal is very possibly headed out the door before the deadline.
I understand why teams are and will be calling about Staal. But, if I'm a contender looking to seriously upgrade on the wing, I'm trying for Jeff Skinner – a player Bruce Garrioch reported earlier in the season as "the name heard the most in trade circles," and "a player they would like to get off of the books."
I concede that Staal's potential departure would mitigate Skinner's availability, but it is curious that Carolina – assuming the above reports are true – was somewhat keen on moving on from Skinner. Other than a troubled concussion history, there's an awful lot to like about Skinner. He's a productive scorer, his cap hit is a manageable $5.7MM on a long-term deal, and he's still just 23 years of age.
The scoring aspect, I suspect, has been at least part of the disconnect about his value as a player.
There is a perception that he's had trouble meeting expectations, though I think this is more or less nonsense. His 31-goal rookie season set the bar ridiculously high, and although he's only cleared it once, he's been a pretty reliable scorer during his career.
He does this the same way a number of other high-end forwards do it – through shot volume and an ability to battle for time and space in the most dangerous areas of the ice. This is a real and measurable talent, one that repeats on a year-to-year basis.
You can see from the graph below that generating shots from this dangerous area of the ice is a repeatable talent. A forward who excels at this in a given season should reasonably be expected to replicate that performance the following season; a forward who struggles at this in a given season would be expected to struggle at this in the following season, which is precisely why we care about it.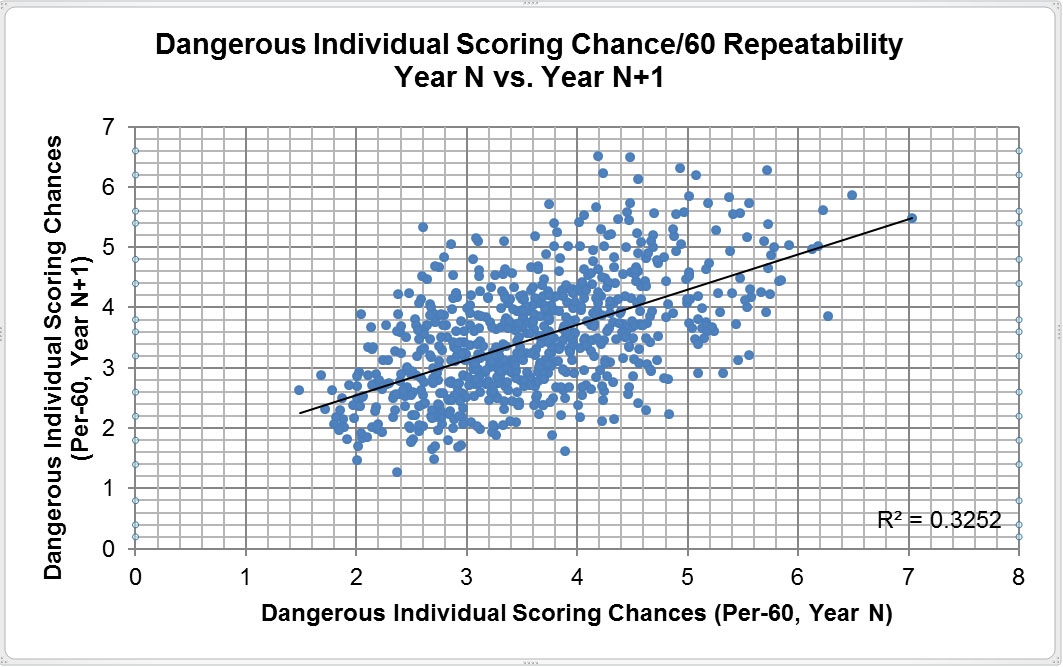 Since we know that getting to and generating shots from these areas of the ice is a valuable expertise, we should probably hold the players who have exhibited this skill over long periods of time up as our gold standard of attackers.
I don't have to tell you the players who are on this list – it's names like Steven Stamkos, Corey Perry, and so on. Their sheer combination of speed and strength gets them into these prime shooting areas. The only problem is their point totals generally reflect it. And since point totals drive our expectations, we know – by merely glancing at the numbers – that these are some of the most impactful skaters in the league.
But here's some interesting food for thought. The average forward generates about 3.4 dangerous individual scoring chances per 60 minutes of play. A high-end forward – call it one standard deviation from our observed average of 3.4 – generates about 4.3 dangerous individual scoring chances per 60 minutes. Any player who consistently surpasses this number is one who can (a) get to these premier shooting areas with frequency; and (b) generate real shot volume. In other words: a great attacker.
So, let's look at the last five years of data for all forwards – specifically, those who played at least 500 minutes at 5-on-5 and generated dangerous scoring chances in exceedance of one standard deviation from the league average. How many guys exceeded the one standard deviation benchmark (approximately 4.3 dangerous individual scoring chances per 60) four times? Did any exceed it five times? And, what are the career averages of these players?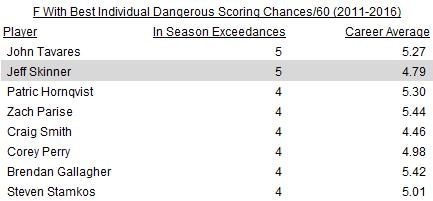 So, despite the health concerns and alleged inconsistent scoring, Skinner has developed into one of the league's best at forcing shots from in tight. And, as you might have expected, this is an exclusive list – I'd imagine of the eight names listed, you would have guessed at least five of them, with Craig Smith and Patric Hornqvist being the toughest gets.
Maybe you'd be curious as to how Skinner compares against other elite attackers whose injuries have kept them from being included. Well, he beats both Evgeni Malkin (4.53) and Sidney Crosby (4.48).
I think Skinner is still one of the league's more dynamic forwards. I think his contract is a valuable one – not an albatross. I think he's a far more intriguing addition than a pure rental like Staal. And I think he's more than exhibited an ability to stay in the lineup, consistently force the play onto the opposition and generally add goals and wins to his team.
He's exactly the kind of player you want, both short and long-term.
The Takeaway
Go get Jeff Skinner. He may no longer be available, but the numbers certainly suggest he'd be a mega-value added acquisition.