Sloan focuses on golf amid distractions galore
With his wife about to give birth to their first child in the hurricane-ravaged city of Houston, the Merritt, B.C., product is staying in the hunt for a PGA Tour card ... and getting his green card so he can continue working and living south of the border.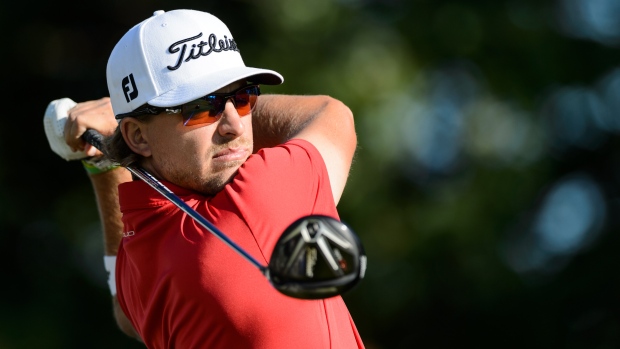 If Roger Sloan seems a bit distracted when he tees off Thursday in Columbus, Ohio, at the Nationwide Children's Hospital Championship, the first of four events in the Web.com Tour finals, it's with good reason.
The Merritt, B.C., golfer is, after all, in the hunt for a PGA Tour card with 135 players vying for 25 passes. If he plays well over those four starts, he'll head back to the big leagues where he played in 2015.
But there are a few other pressing matters on his plate as well. For example, he's scheduled for an interview with U.S. Immigration to get a green card that will allow him to continue working south of the border. That meeting is set for the Tuesday of the tour final and can't be re-scheduled.
There's also the fact that his wife, Casey, is about to give birth to the couple's first child. She's 37 weeks along, meaning she's just three weeks shy of full term and the arrival of a baby girl.
And if that wasn't enough stress on Sloan, consider where he and his wife now reside.
Houston.
While Sloan tries to focus on hitting fairways and sinking putts, his attention is rightly aimed at his pregnant wife who is in a city that was hammered by Hurricane Harvey.
"It sucks," he summed up. "You feel helpless."
Sloan was playing in the last Web.com Tour event in Portland, Ore., when the storm hit Houston and, with the local airports closed, he had no way to get home.
Luckily, for the 30-year-old, his house remains dry although his wife has relocated several times since the hurricane first hit on Friday.
"She went to a friend's house to be around people," he related. "She barely made it out of the neighbourhood before the streets flooded over. There was two to three feet of flooding on our streets."
A few days later, however, with the water levels continuing to rise, Casey left again ahead of flash floods, this time to her sister's house, which is out of the affected area.
The section of Houston where the Sloans live received 35.5 inches of rain in five days. Some parts of the Texas city have had more than 50 and, Sloan said, the golf course where he plays and practices is currently under 15 feet of water.
With all the rain clouds, if would be easy to see nothing but negativity. Not Sloan. He can still see a silver lining in a city that is clearly devastated.
"The neat part of it is you watch the news coverage and you see the people from Houston and surrounding areas offering help," he said.
"They're donating food and donating clothes. It so encouraging to see humanity at its finest at times like this."
Without any real way of helping first-hand, Sloan is trying to focus on his job and earning his way back to the PGA Tour. He ended the season in 53rd spot on the Web.com Tour's money list, posting three top 10s in 19 starts.
"This is going to be my fourth trip through these finals, so I'm totally aware of the pressure that goes with it," he said. "I think, at this point, it's just about playing golf. You get to be disciplined and focus on each shot. I know that's cliché, but you just have to ignore the fact there's a PGA Tour card at stake.
"I'm confident that if I just play my golf, at the end of four tournaments we're going to be right where we need to be."
Sloan has always been a guy focused on the positive and seeing good things even when those around him might not, golf or otherwise. This current situation might test the will of anyone, but he looks at it from a different side.
"There are plenty of things to distract me from getting a PGA Tour card," he stated, "but at the same time a lot of things that motivate me to play really good golf."
If he can somehow manage to be there for the arrival of his baby girl, go back to an intact home and be successful in getting his green card, then putting a golf ball into a hole should be no problem whatsoever.