Smoak aiming to follow up breakout campaign with more of the same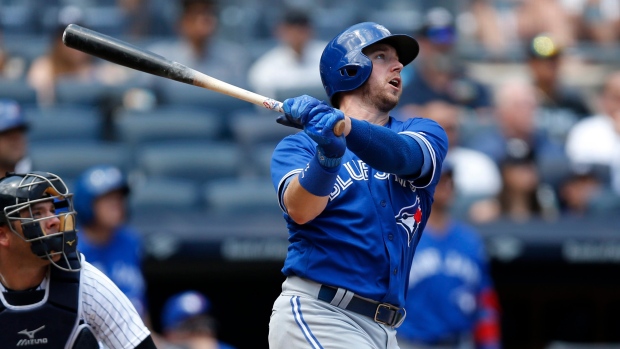 DUNEDIN, Fla. — A year ago, outsiders were questioning the Blue Jays front office's extreme faith in Justin Smoak after he spent the 2016 season striking out at a career-high rate.
Instead, he went out and authored a career year.
Now everyone is wondering, can he do it again?
There's no doubt Smoak's success in his eighth big-league season was the feel-good story for the Blue Jays.
His hot start — Smoak slashed an impressive .302/.379/.601 with 31 homers through Aug. 1 — earned him his first all-star nod in Miami, and he had turned his career around in the blink of an eye after whiffing in 32.8% of his at-bats the previous season.
Once an afterthought in the Jays' lineup, he's now a focal point and being asked to put up the same kind of numbers.
That expectation is not new for Smoak.
"I've had those expectations, I feel like, every year," Smoak said Sunday, one day before the Jays' first full team workout at Dunedin Stadium. "Coming up, I was a guy everybody expected to do what I did last year and it didn't work out for me that way for the first five or six years of being in the big leagues, but it was something that I finally got back to what I knew I was as a player and how I wanted to feel when I was at the plate or in the field or whatever it was. I feel like I put that together, and I feel the expectations are always there for anybody at our level."
Smoak's improvements came in an interesting way.
For the first time as a major leaguer, he stopped trying to hit home runs.
The result?
A career-high 38 bombs.
Only six players in baseball hit more.
"For me, it was just trying to throw power out the door," Smoak recalled of his mindset around this time last year. "I never thought about power my entire life growing up playing baseball until I got to the big leagues. I feel like I'm a first baseman, I had to be a power guy now. I never tried to hit homers my whole life and I hit them, and when I got to the big leagues I tried to create that and it made my swing long and not on time and it just wasn't me."
Smoak's season was a win in every sense, but it wasn't perfect.
From Aug. 2 on, the 31-year-old hit just seven more home runs in 220 plate appearances and slashed just .208/.309/.391.

The Jays and Smoak both attribute it to part fatigue, part injury, as he fouled a ball off his foot late in the year and also battled a knee issue that he said isn't new to him.
"I think it was just the grind of the season," Smoak said. "You're going to have ups and downs, days you feel great, days you don't. I've dealt with an issue in the past of a little patella tendinitis and that was kind of the main thing, but I feel like I've done some things this off-season to make that better and just keep doing the things I was doing to keep it strong and to try to alleviate that pain."
This winter, Smoak focused on working small muscles in his hips, quads and glutes in order to help prepare his body for the wear and tear of 162 games and take some pressure off his knees.
"I feel like I'm in a good place now and ready to go," Smoak said.
He also sees a team that's ready to go out and improve on a disappointing fourth place finish in the AL East.
"I feel like some of the guys we've traded for and gotten over are, under the radar, really good players," Smoak said.