Solarte, Travis among decisions facing Jays ahead of Friday deadline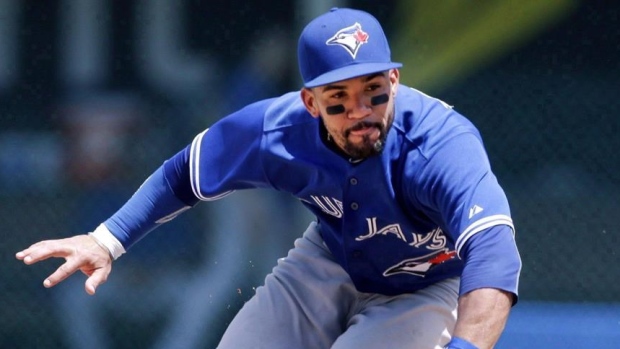 TORONTO - Today is the day that brought us the hashtag #communication, courtesy of Marcus Stroman not being happy about Ryan Goins' unceremonious exit.
Similar to the plucky Goins not being tendered a contract one year ago, Friday's 8 p.m. ET deadline for teams to offer contracts to arbitration-eligible players should have Blue Jays fans paying close attention when it comes to a couple more fan favourites.
While some have surmised Kevin Pillar, pegged to earn $5.3 million in his second trip through arbitration this winter by MLB Trade Rumors' annual projections, could be non-tendered, jettisoning one of the three players on your roster to accumulate more than 2.0 WAR this past season for nothing doesn't seem like the best use of an asset.
Despite his obvious deficiencies in the batter's box, his declining defensive metrics, as well as his rising price tag, Pillar is still an asset for a non-contending club heading into his age-30 season.
With Anthony Alford's regression, it's not like there's a glut of starting-calibre outfielders in the pipeline that are knocking down the door, either.
Along with Pillar, right-hander Marcus Stroman ($7.2 million projection by MLBTR), reliever Ken Giles ($6.6 million), outfielder Randal Grichuk ($4.8 million), right-hander Aaron Sanchez ($3.8 million), reliever Ryan Tepera ($1.7 million), and infielder Brandon Drury ($1.4 million) are all assets that GM Ross Atkins is going to want to keep around.
Another player you could debate on the same level as Pillar is the curious case that is Joe Biagini.
Slated to earn just $1 million in his first arbitration year, much of Biagini's last two seasons have been split between the rotation and the bullpen, with the yo-yo effect clearly taking a toll on his performance.
Since the Jays will be scouring for high-upside bullpen arms this winter, it wouldn't make a whole lot of sense to wave goodbye to one already on their roster, even if Biagini has been a frustrating arm to see called upon recently.
On the flip side of the no-brainers mentioned above, one player that is a certainty to be non-tendered by the end of the day is infielder Yangervis Solarte.
Atkins already declined the $5.5 million option on Solarte earlier this off-season, but for whatever reason — likely as a last-ditch effort to find a trade partner — decided to keep him on the roster as a player still eligible for arbitration.
Trimming Solarte, in addition to the trade of Aledmys Diaz earlier this month, will help Atkins clear the logjam of infield options, leaving Lourdes Gurriel Jr. and Brandon Drury on the left side of the infield until Vladimir Guerrero Jr. arrives, with Troy Tulowitzki also somewhat in the mix based on his ability to walk when spring training arrives.
That brings us to second base.
Once The Franchise takes over at the hot corner in mid-to-late April, Drury will be without a home and would likely slide to second base.
That's the spot Devon Travis may or may not call home, depending on how a lot of dominoes fall between now and then.
Projected by MLBTR to earn $2.4 million in 2019, Travis' stock within the organization is hard to put a finger on.
Travis, who turns 28 in February, did play a career-high 103 games in 2018 and is seemingly past the knee issues that robbed him of time in 2016 and 2017.
The issue, however, was that he wasn't very productive with the bat, posting a .232/.275/.381 slash line with 11 homers in 378 plate appearances, and his defensive work graded out as well below average.
The easy assumption is that Travis' body has taken too much of a beating over the years and the lack of a production is a result of that, but the Jays still haven't seen what he could look like with the benefit of a healthy off-season, which this winter is expected to finally provide.
That leaves Atkins with a decision, as $2-plus million is quite a bit for a player who could end up in Triple-A – Travis has options left and could be send down – if he struggles in spring training.