Sombre Jays fans hold out hope for next year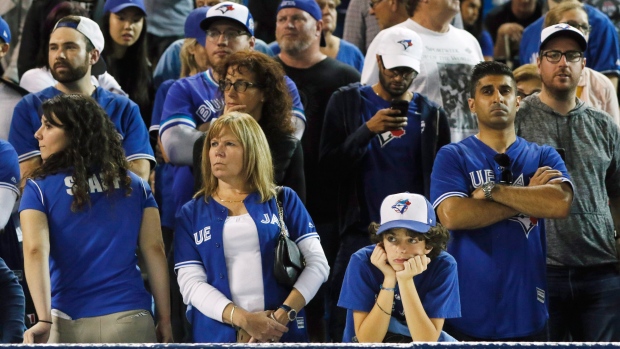 TORONTO — Sombre Blue Jay fans stepped into the night after watching their team fall short of the World Series for the second consecutive year.
Some questioned the coach's tactics. Others wanted new players.
Yet others called the season a success after losing the American League Championship Series to the Cleveland Indians four games to one Wednesday.
"It was disappointing, but we're still in good spirits," said Samantha Buch, smiling broadly in a sea of frowns outside the Rogers Centre after the Blue Jays lost 3-0 to the Indians.
Her friend Michele Grenier agreed.
"The bats went silent again, but it's still a great team," she said, referring to the Jays paucity for runs this series.
They scored eight runs in five games, but five of those came in their only win on Tuesday.
Two of the Blue Jays big sluggers, Jose Bautista and Edwin Encarnacion, may have played their final games with the team as both are both unrestricted free agents this off-season and can sign elsewhere.
"I think the changes will be meaningful and I think management has bought in and believes we can win now, and I think they'll bring something in for next year if Edwin and Jose leave," said Mikelis Vasarais.
Michael Phillips had many words about the Jays, most of which were obscene.
"Bautista has got to go, he's a lemon," Phillips said as he ate a giant hot dog outside the stadium.
George Campbell chided his friend Phillips. "The whole team had trouble scoring, it wasn't just Bautista's fault," Campbell said.
And despite the sorrows, fans managed to wish their Cleveland brethren well in the World Series, where they await the winner of the National League Championships Series between the Chicago Cubs and the Los Angeles Dodgers.
"We shook hands with tons of fans and everyone congratulated us," said John Wilson, who was in Toronto from Cleveland for three straight games.
There was one additional sour note, though, when a shirtless fan stormed the field near the end of the game and was taken down by security.
A man allegedly assaulted a security guard to force his way onto the field, according to Toronto police Const. David Hopkinson.
He has been charged with assault and mischief, Hopkinson said.
"That's not who we are," lamented Grenier. "That is not Toronto. We're good fans and we'll be back next year."