Sources: Outdoor game planned for 2018 World Juniors in Buffalo
When Buffalo is named as 2018 World Junior Championship host on Friday, an outdoor game pitting Canada against USA at Ralph Wilson Stadium will also be announced, according to sources.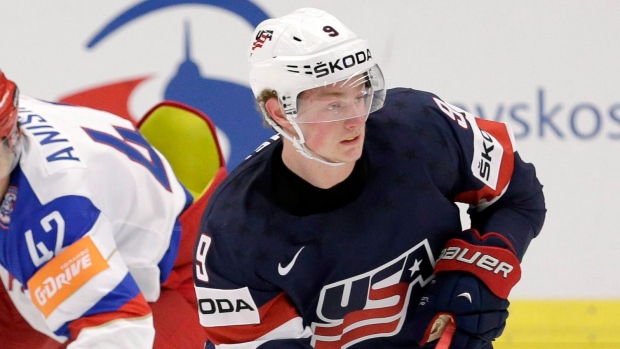 When USA Hockey officially names Buffalo host of the 2018 World Junior Championship on Friday, an outdoor game pitting Canada against the United States at Ralph Wilson Stadium will also be announced, according to sources.
Organizers expect a sold-out crowd of more than 71,000 fans for a late December, 2017, clash between the best Under-20 players from both sides of the border, making for the largest single game crowd ever to watch a junior hockey game.
Attendance from that one game alone will be nearly half of the total tournament gate from both 2014 in Sweden (144,268) or 2013 in Russia (110,175).
The announcement will be made Friday at the 18-yard line of Buffalo's Ralph Wilson Stadium, home of the Bills. The NFL's Bills and NHL's Sabres are both owned by Terry Pegula. Ralph Wilson Stadium was site of the NHL's first Winter Classic in 2008.
USA Hockey will announce the outdoor game's components as "likely" the United States against Canada, only because the tournament's pool and schedule has not yet been officially determined.
With whatever pools the International Ice Hockey Federation determines, the host may petition for one team to be moved from one pool to another, virtually guaranteeing the desired matchup.
The remainder of the 30-game tournament will be played at First Niagara Center, home of the Sabres, and the 1,800-seat HarborCenter across the street in downtown Buffalo. HarborCenter opened in late 2014 and will host the more intimately attended games of the tournament. It is connected to First Niagara Center by an enclosed skywalk above the street.
Buffalo previously hosted the tournament in 2011, when Russia erased a 3-0 third period deficit in the gold medal game against Canada.
St. Louis and Pittsburgh were the other finalists to host the 2018 tournament. Either city would have marked the furthest south the tournament has been held - following stops in Buffalo, Boston, North Dakota, Alaska and Minnesota.
Boasting the capability of selling out an outdoor game boosted Buffalo's bid over the top.
TSN holds exclusive broadcast rights to the World Junior Championship in Canada through 2024. In the United States, NHL Network holds the tournament's broadcast rights through the 2018 tournament.
Frank Seravalli can be reached at frank.seravalli@bellmedia.ca.