Sparks seeing the results of more serious approach
Marlies goaltender says strong start to his AHL season can be attributed to a summer that was transformative, both mentally and physically, Kristen Shilton writes.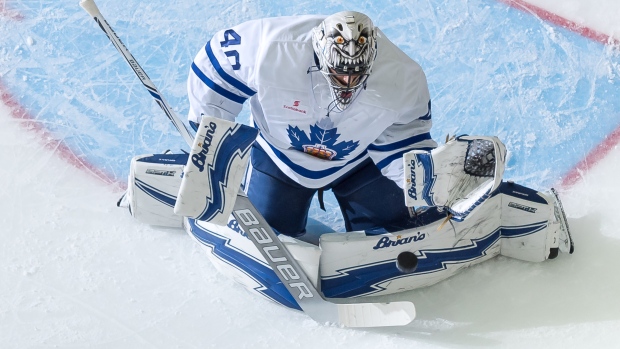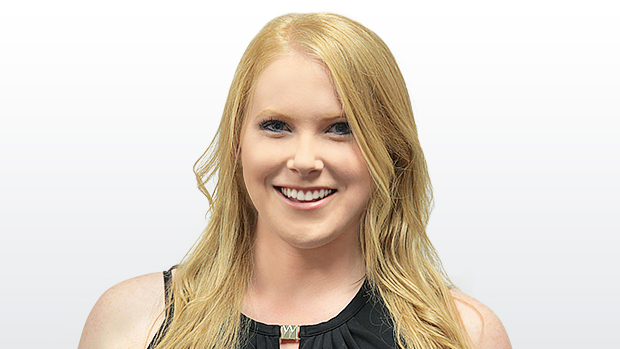 TORONTO — There was nowhere Garret Sparks wanted to be more than in his net last April, guiding the Toronto Marlies through a playoff berth they'd fought hard to earn.
But that chance was cut short for the netminder. During the second game of the Marlies' first-round series against Albany, Sparks suffered a leg injury that would cap off a roller-coaster year spent battling ailments, veteran competition and a few problems of his own making.
Instead of practising with his teammates, Sparks was relegated to doing rehabilitation exercises in the dim hallway outside Ricoh Coliseum's visitor dressing room. Some days it was strength work with resistance bands; others involved pushing a weight-laden sled back and forth the length of a dingy carpet.
When the Marlies' playoff run ended in a second-round defeat, Sparks used the ultimate sports platitude ¬– "best shape of my life" – to describe his progress. With a long summer looming, Sparks resolved not to let the headway he made go to waste.

"Last season was a huge period of growth for me, from how it started, to having my season just taken from me at the end after all I'd done," Sparks said after practice recently. "It was a lot of things happening to me in a short period of time. [The season] was up, it was down. It was adversity, it was success. It was being out, coming back, finding your game again. It gave me an opportunity to maybe step back and focus on the important things, the things that make me better, the things that make my game better and remove everything else that I didn't think contributed to what I'm trying to do here."

The next four months were transformative for Sparks, both mentally and physically. He became an eager student of his own health and nutrition, dropping 10 pounds by shunning empty calories and remaining purposefully hungry. Any outside distractions that once pulled his focus from the goal of being an elite netminder were cast aside.
In coach speak, Sparks finally put in the work.

Since he entered the American Hockey League in 2012, Sparks has consistently posted strong numbers. In 31 games last season, the Elmhurst, Ill., native put up a 21-9-0 record, 2.16 goals-against average and .922 save percentage. But it's not enough to simply be a good AHL player. Sparks magnified his focus in the off-season to take the next step.
The results so far speak for themselves. After 14 games Sparks leads all AHL goaltenders with double-digit starts in goals-against average (1.64) and is second in save percentage (.944) with an 11-3-0 record.
"My whole mentality is in economy of movement and energy and how all those things are related," he said of what's changed this season. "But the way to become economical is to put in the work to perfect those movements and put in the work to give your body an opportunity to get to the positions you need to get to. I did a lot of that, not with performance in mind but longevity, health and overall functionality in net. I wasn't saying, 'Hey, I'm doing this so I'll have incredible numbers.' I'm doing it because I'm going to do things right from this point on."
Sparks is first to admit he hasn't always followed that path. Since the Maple Leafs drafted him in the seventh round, 190th overall, in the 2011 NHL Entry Draft, Sparks has had just one stint with the big club, when stakes were at their lowest. He was recalled for 17 games with the Leafs in November and December of the 2015-16 season, the one head coach Mike Babcock prefaced with a promise of pain in store for fans.

Sparks' debut was the opposite of painful, a 3-0 shutout of the Edmonton Oilers that drew tears of disbelief from the goalie in an on-ice interview. He was the first goaltender in franchise history to blank a team in his NHL debut. But from there, Sparks was average at best. His final numbers were a 6-9-1 record, 3.02 goals-against average and .893 save percentage.

Mike Parson watched every game Sparks played for the Leafs, and has seen at least the highlights from most of his games with the Marlies. It was Parson who scouted Sparks for the Ontario Hockey League Guelph Storm when he was their goaltending coach. At the time Sparks was relatively unknown but Parson saw his potential and encouraged the Storm to draft him in the eighth round of the 2009 OHL Priority Selection.

Parson, who has since left hockey to work in finance, helped mould the "raw, passionate" goaltender from an early age, and they remain close. He knew instinctively that Sparks didn't give that NHL tour his best effort.

"We have a little philosophy between the two of us that we've had since junior, which is 'be happy, but never satisfied,'" Parson said. "I thought he got too comfortable after about the third or fourth game. I saw his mannerism in the net change as the games went on. I thought he was too comfortable, and I thought he did not stick to that mindset."

"I don't know if my focus was there the way it is now," Sparks admitted. "I was caught up in the fact I was in the NHL and I was there at the same time as a bunch of other guys I've come up through the system with. We were all just a little bit starstruck and enjoying the experience, the people we were playing against, the cities we were going to. There were no expectations on us to win hockey games and my mentality wasn't as sharp."

Sparks' standing with the Leafs took a hit last November when he was suspended three games by the Marlies for violating team policy on social media use. Sparks was an administrator on a Facebook page for goalies and directed violent and sexist language at another user who was mocking a disabled person. The incident drastically altered his approach to online interactions.

"I always saw myself as someone normal who gets the opportunity to play a professional sport," Sparks said. "I was really open and honest with people. I thought that would be a good thing. I thought that made me different and human, but really it just made me vulnerable to things getting in the way of where I want to be."

Other than a few emergency recalls, Sparks hasn't gotten a look from the Leafs since his first go-around. But they've kept the 24-year-old close, signing him to a two-year, $1.35-million contract extension over the summer that will include the first one-way clause of his career next season. When that kicks in Sparks will be owed his full $700,000 salary regardless of where he plays, while Toronto will also have $850,000 on the books for current backup Curtis McElhinney.

Despite the fact the Leafs have traded for, signed, released and claimed several goalies in the last 15 months alone, management maintains Sparks has a future with the team.

"The only thing we have to get is to try and keep him healthy," said general manager Lou Lamoriello in July. "Every time things seem to go well he gets an injury. He's working very hard at it this summer, we've put him in a two-year contract to make him understand that we believe in him and now it's up to him to do what has to be done to get that opportunity."

With the departure of Antoine Bibeau as an untendered restricted free agent in June, Sparks started the season with college free agent signee Kasimir Kaskisuo as his main competition for AHL ice time. That is until Toronto swapped Tobias Lindberg and a 2018 sixth-round pick with the Vegas Golden Knights for goalie Calvin Pickard on Oct. 7.
Pickard was coming off a starter's gig with the Colorado Avalanche last season, and suddenly the Marlies' crease was looking awful crowded.

"It's a wake-up call every time you're out of the net and he's in the net, that you have to be at your best when you're back in there. I don't think either of us has taken a second off since he got here," said Sparks. "Obviously when the organization brings in another goalie, you immediately go to how it impacts you. But I think the only thing it did to impact me was give me a partner here who stabilizes the second half of this goaltending tandem with NHL experience and an insightful mind. He's a great teammate and he pushes me every day."

But what is Sparks' next step? Parson is adamant his protégé is finally ready to be a full-time NHL goalie, and at least one Western Conference scout agrees he would be a solid backup. Yet the Leafs have a system in place with their goaltending, where the backup only plays on the second night of a back-to-back, which is why they re-signed McElhinney to a two-year, $1.7-million contract last June. Better a 34-year-old spends his time charting faceoffs from the bench than a mid-20s upstart who needs playing time to keep improving.
Sparks has no control over when or if his time will ever come with the Leafs. McElhinney is a solid veteran with average numbers this season (2-2-0, 3.07 goals-against, .900 save percentage) but without extenuating circumstances, the Leafs likely won't alter their goaltending plan in-season. Should the strategy be forced to change, Sparks will be more than ready to contribute.

"His confidence is the main thing I've seen [this season], and the main thing he's seen in himself," Parson said. "The more work [he] put into being a good goalie in the [off-season] means when you start to hit a bit of a speed bump, his valleys aren't nearly as severe as they used to be. And so he's becoming more consistent. That's what you see from a pro goaltender who really understands the game and will one day be an elite goaltender in the NHL."

For now, Sparks has a personal blueprint to follow. With security mostly an illusion in sport, he's micromanaging where he can to possibly create his own – there's the pads he personally designed that he says have helped him make saves he wouldn't have before, the unrelenting commitment to his physical health and that pursuit of being as perfect as possible between the pipes.

"This year [Garret]'s really put together the whole package," said Marlies head coach Sheldon Keefe. "He's here early. He's putting in a lot of work to take care of his body, both in being in good shape and staying healthy. So the biggest thing is he's been able to [play] consistently. He's been a great goalie in this league, but he's had interruptions to his season almost every season I've been here. This year he hasn't had that and he proving he's top of the class in this league."