Spezza, Klingberg score as the Stars top Kings
Jason Spezza and John Klingberg each had a goal and an assist, and the Dallas Stars snapped a three-game losing streak with a 4-2 victory over the Los Angeles Kings on Tuesday night.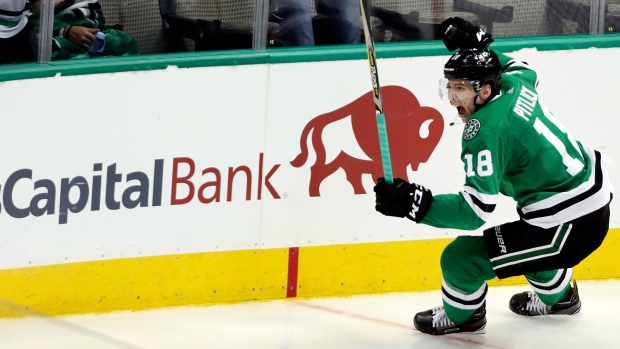 DALLAS — Limited to 11 forwards because of injuries, the Dallas Stars got the game they needed from top scorers Jason Spezza and John Klingberg.
Spezza and Klingberg each had a goal and an assist and the Stars snapped a three-game losing streak with a 4-2 victory over the Los Angeles Kings on Tuesday night.
Blake Comeau and Tyler Pitlick each scored their first goal of the season, and seven of the 11 forwards had at least one point.
"I enjoyed the 11 forwards tonight," Stars coach Jim Montgomery said. "Everybody was into the game."
Pitlick skated with Tyler Seguin and Jamie Benn on the top line because Alexander Radulov was still out with a lower-body injury. Pitlick's goal was his first point this season and the first power-play goal in his 146-game career.
"We had a couple guys that got them and got the monkey off their back," Pitlick said.
Montgomery wasn't committing to keeping Pitlick on the first line.
"He did OK," Montgomery said, "but I want (Radulov) back."
Despite missing the last three games, Radulov has 10 points in six games, trailing only Seguin's 11 points.
Defenceman Klingberg leads the Stars with five goals. He has eight points, and Spezza seven.
Ben Bishop made 31 saves for Dallas, which never trailed.
"Besides breakaways, it didn't look like anything would get by (Bishop), who was by far our best player tonight." Montgomery said. "The shots were perfect shots or perfect moves that had to get pucks by him."
Anze Kopitar and Tyler Toffoli scored second-period goals for the Kings, who lost their fifth straight. Jonathan Quick stopped 19 shots for Los Angeles.
"I thought this was a step in the right direction," Kopitar said, "but we can't just get satisfied with getting close. I thought we moved the puck better, but there are still breakdowns that happened, and we have to correct them."
Defensive breakdowns, especially in front of Quick, resulted in a fifth straight game allowing four or more goals.
Comeau started the scoring at 5:14 of the first period on assists from Jason Dickinson and Spezza.
"I'm thinking wraparound first," Dickinson said. "I'm thinking Quick has me beat to the short side, so I wanted to draw it back side, thinking (Spezza) would be going back door. I got lucky that it rolled off my stick."
There was Comeau in front.
"It was a great play by Jason. He got the puck, carried it all the way around the net. I just tried to find a little hole in front of the net. I didn't do much on that play," he said.
Pitlick scored on a Stars power play at 4:23 of the third period, with assists going to Seguin and Klingberg.
"They have a great power play over there - best in the league," Kings coach John Stevens said. "You don't want to give them opportunities to get on the power play. A lot of detail that comes back to bite you."
With an extra skater, Los Angeles put the puck in the net with 30 seconds to play, but the goal was disallowed because of goaltender interference.
NOTES: Dallas RW Valeri Nichushkin (lower-body injury) also missed his third straight game. ... The Stars played with seven defencemen and just 11 forwards. The Kings have been outscored 25-7 in their five straight losses. Dallas opponents had a 10-2 advantage during the Stars' losing streak. ... Dowling was playing his first NHL game since 2016-17. He was recalled from Texas of the AHL on Monday. ... Kings D Sean Walker assisted on Toffoli's goal in his NHL debut after being recalled from Ontario of the AHL. ... Kopitar has 16 career goals in 59 games against the Stars.
UP NEXT
Kings: At Minnesota on Thursday to finish a two-game trip.
Stars: Complete a three-game homestand on Thursday against Anaheim.
___
More AP NHL: https://apnews.com/tag/NHL and https://twitter.com/AP_Sports