Spieth believes struggles nearing an end
The 25-year-old's golf game has faded in a confusing manner since he captured the Open Championship in 2017, Bob Weeks writes.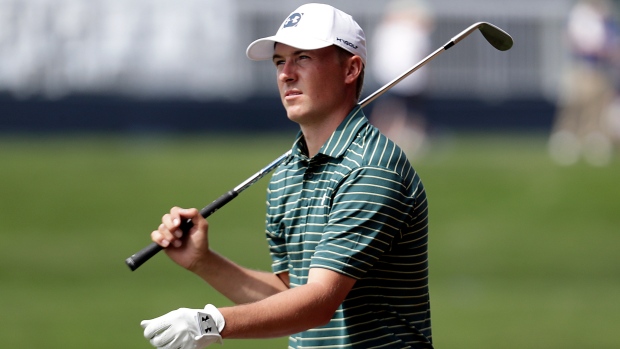 FARMINGDALE, N.Y. – Jordan Spieth would like us all to know that he is no longer in a slump. He made that abundantly clear in his press conference on Wednesday when he interrupted a questioner mid-sentence.
"Was," he said, changing the reporter's present tense to the past in reference to his troubles.
Whether he's completely out of the woods with his struggles remains open for debate. There are signs he's playing better lately, but in some ways it almost feels as if he's trying to convince himself that his game is back in order by talking positively about it.
That's understandable considering the regular onslaught of questions from the media about his lack of performance.
What's wrong with your swing? Why aren't you winning? Can you explain what's going on? Week after week, tournament after tournament, he dutifully responds.
"I didn't go away from the game for five years," said an exasperated Spieth. "I just happened to not win in the last year and a half or so."
The 25-year-old's game has faded in a confusing manner since he captured the Open Championship in 2017.
Two years ago he had the best scoring average on tour (68.846). This year he is 96th (71.175). He's posted more rounds over 70 than under this year and hasn't finished inside the top 20 once.
The questions keep coming and Spieth keeps deflecting them by focusing on the bright side of things.
"Actually, it could be looked at positively as well because if I didn't have the success that I've had, then, first of all, I wouldn't be in here right now," said Spieth while sitting in the PGA Championship's media centre.
"Second of all, it would be, 'Oh, his game is progressing nicely,' you'd be actually looking at the progression of the game instead of the comparisons constantly to when someone is at their best, which I think is unfair to anybody in any field."
Spieth's slide hasn't been a result of one part of his game. At first it was his putting, dropping from one of the best in the game (second in Strokes Gained: Putting in 2016) to well back in the pack (123rd in 2018). While he seems to have that part back on the rails, it's now his driver that is causing all the troubles.
He currently ranks 204th in driving accuracy with his misses going both left and right. The cause, he says, is a poor setup and that led to a swing flaw that had his club going up instead of around his body. He seems to head to the woods to search for a ball at least once or twice a round.
"Even on some of the good rounds I get away with a bad couple of drives," admitted Spieth, "but then over the course of four rounds, you just can't continue to get away with them. Kind of the foul ball type thing. Balls need to start more on line, and it's happening. It's getting there. And I feel like I'm working on one swing feel now instead of changing it up each round, which allows me to be more consistent, to recognize where the club face is and be able to time it a little bit better. And that's only been the last week or so that I've been really sticking to kind of one swing feel, really nailing it down."
Bethpage, however, is not a course where you want to be searching for some driver consistency. With wet rough and long holes, getting the ball onto the greens will be a chore from anywhere other than the fairway.
Without a reliable tee shot, the odds will be long that Spieth can win and close out the career grand slam. At this point, however, he may be satisfied with four solid days without spraying the driver and with a putter that stays hot.
If nothing else, that might slow the spigot on the questions he's grown so tired of facing.