St-Pierre: Bad move for UFC to approve Bisping-Gastelum fight
Aaron Bronsteter , TSN.ca Staff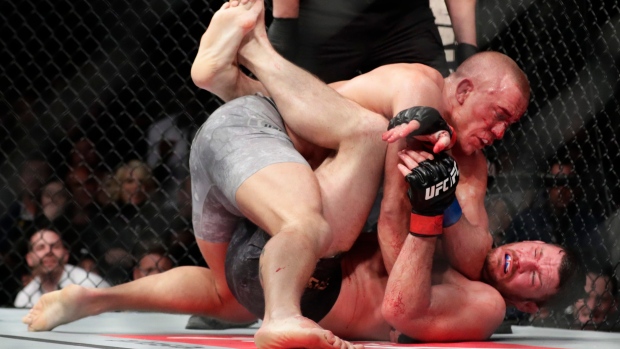 It was just one month ago that Georges St-Pierre captured the UFC middleweight title via a third-round submission victory over Michael Bisping at UFC 217 in New York.
And while he hasn't decided what is next in his fighting career, St-Pierre's opponent has already fought.
Bisping lost in a first-round knockout to Kelvin Gastelum in the main event of the UFC's debut in mainland China at UFC Fight Night Shanghai on Nov. 25.
While St-Pierre did not agree with the UFC's decision to allow Bisping to fight so soon (just 21 days) after his loss, he understands why Bisping wanted to take the fight.
"Medically, that was not a good thing to do; it was not the right thing to do, medically," said St-Pierre. "He took a big risk and I can respect that, if he would have succeeded, he would have been a hero. They would have said, 'oh my God, he just lost the title and then he came back with no preparation and boom, he won the fight.' "
In an interview with MMA Junkie, Bisping's coach, Jason Parillo, said that he doesn't think that Bisping ever has to fight again as he is set financially.
However, on his podcast "Believe You Me," Bisping said he will probably fight one more time before calling it a career. He has stated that his preference would be to fight in March when the UFC heads to London, where he can do battle for one last time in front of friends and family in his native England.
Notwithstanding Bisping's future plans, St-Pierre feels that the decision to let Bisping take the short-notice fight was not a good look, at least from a medical perspective.
"I believe, for the UFC, it was not good to let an athlete fight after getting concussed in a fight for the world title and then getting choked out. I don't think it was medically a good thing for the UFC," said St-Pierre. "For Michael, as a fighter, I understand his point of view, he wanted to do something that was special."