Staal lifts Wild over Oilers in shootout
Eric Staal scored in the sixth round of a shootout and the Minnesota Wild beat the Edmonton Oilers 3-2 on Friday night. Matt Dumba and Jason Zucker scored in regulation for Minnesota, which has won three straight.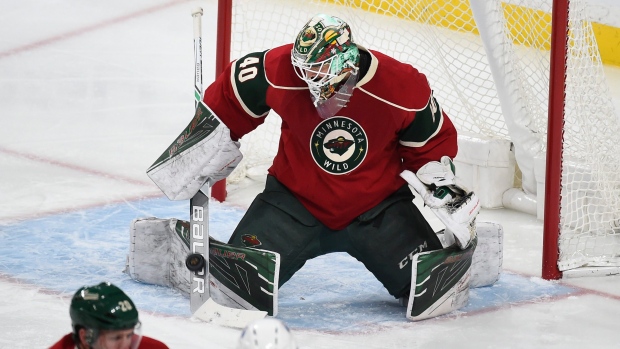 ST. PAUL, Minn. — The Wild are getting comfortable in close games, and good thing, because they got another nail biter Friday night.
Eric Staal scored in the sixth round of a shootout and Minnesota beat the Edmonton Oilers 3-2.
Eighteen of the Wild's 26 contests have been one-goal games, including the last six. Three of those went to a shootout, and one was decided in overtime.
"If anything, it teaches you how to be calm in a one-goal game, whether you're up a goal or down a goal, whether you're pushing or protecting," Wild coach Bruce Boudreau said.
Matt Dumba and Jason Zucker scored in regulation for the Wild, who have won three straight and are 5-1-2 in their last eight games.
Minnesota's Devan Dubnyk made 25 saves to improve to 5-0-2 in his last seven games. He has a league-best .946 save percentage and 1.66 goals-against average.
Leon Draisaitl and Ryan Nugent-Hopkins had goals for the Oilers, whose four-game losing streak began with a 2-1 home overtime loss to the Wild on Sunday.
Staal scored on a backhand deke and Nugent-Hopkins couldn't counter in the sixth round.
"When I had the opportunity and had a chance to go down there, I wanted to make sure I buried it for the group. Because I felt like I should've had that one (in overtime)," said Staal, who hit a pipe in overtime.
Jason Pominville beat Cam Talbot high on the glove side on Minnesota's first shootout attempt, and Draisaitl countered on Edmonton's third. Chris Stewart and Jordan Eberle each scored in the fifth round.
Edmonton lost 4-3 in overtime Tuesday in Buffalo after the Sabres tied the game in the final 30 seconds of regulation, and allowed three third-period goals to lose 6-5 in Philadelphia on Thursday.
"For sure the last two games we deserved better," Eberle said. "We gave away two points in Philly and for sure one in Buffalo. Tonight, on the back-to-back, I thought it was a gutsy effort for our team."
Edmonton's Connor McDavid, the league leader with 38 points, was held scoreless for just the fifth time in 14 games. He was also without a point in Sunday's loss to Minnesota.
"We did a good job again tonight, having our forwards come back hard on him so that we could close the gaps and just try and be in his face the whole time and try to take away that time and space," Dumba said. "He's the player of a generation, he can just flip the switch on you, like that. You gotta take five men to contain him."
McDavid's turnover in the Edmonton end led to Zucker's goal 1:18 into the third period for his third goal in five games. Talbot had 34 saves.
Nugent-Hopkins tied it with a power-play goal with 4:39 left when his wrist shot beat a screened Dubnyk. The goal was upheld by video review.
"Tonight was a good lesson for us that we know that we can bounce back when we need to," Edmonton coach Todd McLellan said.
Draisaitl scored his team-leading 13th goal with 55.4 seconds remaining in the first for a 1-0 lead.
After a give-and-go with Benoit Pouliot, Draisaitl's first shot was stopped by Dubnyk, but he scored on the rebound. The third-line centre has goals in three straight games and six goals in the past six games.
Dumba snapped an 11-game scoring drought with a wrist shot past a screened Talbot 4:26 into the second to tie the game. It was Minnesota's first shot of the period.
NOTES: Wild D Christian Folin, out since Nov. 25 with a sprained MCL in his left knee, took part in the pregame skate but did not play. ... RW Tyler Pitlick, a healthy scratch Thursday, replaced RW Jesse Puljujarvi in the Oilers lineup and had an assist. ... The game was the first in a stretch where Minnesota plays five of six games at home. The Wild have played 11 home games, tied with New Jersey for second-fewest in league. Carolina has 10.
UP NEXT
Oilers: Return home to host Winnipeg on Sunday night.
Wild: Home against St. Louis on Sunday night.