Stamkos is so much more than a sniper
TSN's Travis Yost takes a closer look at the subtleties in the Tampa Bay Lightning star's game that impact his teammates.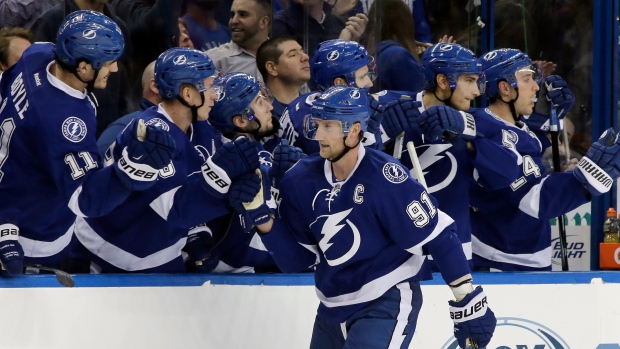 The fury of the NHL rumour mill knows no limits, and the longer Steven Stamkos remains unsigned in Tampa Bay, the more we will hear about a potential move out of the Sunshine State.
I think it's far more likely than not that Stamkos ends up staying in Tampa Bay. It's the ideal situation for his playing career, which is the only thing I can really opine on – he's surrounded by immense talent on the ice, and some of the brightest minds in hockey have filled out the prominent hockey operations positions in the front office.
The cost for Stamkos, be it in Tampa Bay or somewhere else next season, is going to be immense. The raw counting numbers that historically drive contracts for forwards explode off of Stamkos' stat page like a shot from the blade of his stick. Just look at where he sits by the most basic of statistical measurements:
Stamkos' Production
| Stat | 2011-2015 | League Rank |
| --- | --- | --- |
| Goals | 166 | 2 |
| Assists | 122 | 67 |
| Points | 288 | 10 |
| TO/Game (Forwards) | 20.7 | 7 |
Top 10 in goals, points, and average ice time is extremely impressive. You might be curious which other players sit in that top 10 over the same timeframe. The list includes Alexander Ovechkin and John Tavares. That's it.
One of the things I find interesting about Stamkos is his "super sniper" reputation. In part, it's understandable. The goal-scoring, year after year, is Rocket Richard calibre. His individual shooting talent (just about 18 per cent over the last four years) is preposterous. This combination alone makes him a nightmare matchup for opposing coaches, because any time he's on the ice, he's a threat to score.
However, I think this reputation undersells his true value. Sure, Stamkos has an electric shot and a nearly unparalleled ability to generate chances from the prime scoring areas. But the impact he has on his teammates is just as crucial – and, if you're preparing a contract offer in excess of $80-million, it's probably something you'd like to see.
Fun fact about Stamkos' teammates: they instantly become better shooters the moment they take a shift with number 91. When they are separated, their conversion rates reverse heavily towards their historical averages.
Why is that? I think there are a number of contributing factors. Stamkos is such a diverse and gifted talent that he's capable of putting teammates into the most dangerous of scoring areas with regularity. But his general goal-scoring capabilities also act as a magnet for opposing defences who are trying to slow him down at all costs. What it does, at the very least, is open up the ice for many of his teammates.
The shooting percentage change is very real, though. I compiled shooting percentages with/without Stamkos for 10 regular teammates over the last four years. Just about every player sees a big spike in their conversion rate:
Stamkos' seven regular forwards shot around 9 per cent without him on the ice. But when playing together, those same seven forwards shot about 12 per cent. Further, the only forward who doesn't seem affected by Stamkos' unique talent here – Martin St. Louis – is very possibly headed to the Hall of Fame.
You'd anticipate that there would be less of an effect on his defensive teammates, since defencemen don't contribute as much on the pure goal-scoring front. But, all three defencemen see a bump to some degree here, with Brewer (from 3 per cent to 7.3 per cent) and Carle (from 1.5 per cent to 6.5 per cent) seeing the biggest bumps.
Collectively, it's hard not to be impressed with the impact Stamkos is having here. Whether it's extra attention to Stamkos when he's on the ice, the Kobe Assist or his underrated 200-foot game and general passing ability, it's clear that players get a goal-scoring boost when skating with the captain.
The Takeaway
There are a thousand reasons why Stamkos is about to get the payday of a lifetime in the coming months. His ability to improve the shooting percentage of his teammates is just one of those. But, this is a great example of how elite players have extra subtleties in their game that can be caught by new-age hockey data. You just have to know where to look!